About the North American Classics
Barry-Roubaix in Michigan is by far the Largest Gravel Race in North America, featuring around 3,500 riders.
Paris to Ancaster, "Canada's Spring Cycling Classic", is a 70km ride that does everything it can to pump up the hardness factor to Paris-Roubaix levels. There are a number of mud sections that see most riders shoulder their bikes and celebrates it's 26th edition this year. Other hellish rides in Canada are Hell and Heck of the North, Steaming Nostril and later on the Golden Ears Gravel Fondo in BC.
The Tour of Battenkill Gran Fondo allows amateur cyclists to experience the 68 miles of rolling terrain on both dirt and paved roads as they travel through the world famous Battenkill Valley. Set in early spring, the race starts and finishes in the scenic village of Cambridge, New York and courses through covered bridges, family farms, and rural villages along the many challenging backcountry roads that traverse Southern Washington County, New York.
The Canyon Belgian Waffle Ride, in California, is the most unique one day cycling event in the country, was created as an homage to the storied history of bike racing in Belgium—a wonderful country considered to be the epicenter of the hardest one-day bike races in the world. "A tribute to the beautiful—and equally grueling—races staged in Belgium during the early spring, this year's route will once again be different than all of the previous years with some new and sinuous gravel, dirt, and rocky sections, and more climbing than rural Belgium could offer, promising more fun, more pain and more opportunity for excuses than ever before. Though the course will be shorter this year, but we hope to have at least 36 miles of dirt sections, more than 13,000 feet of climbing and headwinds no matter which direction you ride.
At the same time as the Belgian Waffle Ride, up in Montana is the new Montana Gravel Challenge, featuring 3 rides over 3 days, including the Montana Hell Ride and the Rocky Mountain Roubaix. Three days of riding, three events. Do one, two, or all three which we call the challenge and receive a commemorative prize!
For riders who like both Road and Gravel, the course of the Rouge Roubaix in Louisiana, is one of the best in America and is celebrating it's 20th edition in 2018. Coined the Deep South's Most Unique Race, it is on par with the likes of California's Canyon Belgian Waffle Ride in terms of its unique and challenging course. Sunday's Road Race is an opportunity for riders to battle it out for cash prizes, custom trophies, category champion's jerseys and most importantly - Rouge Roubaix Glory! Saturday's fast growing Gran Fondo, is a great opportunity for first timers or non-racers to tackle the race course with no time limits and fully supported stops and mechanical support from Mavic. This race is a classic test of man and his machine vs. the terrain and elements.
Vermont Overland Maple Adventure Ride on March 25th, is an incredibly tough scenic gravel road circumnavigation of the Ascutney Basin area of Vermont featuring trademark "Vermont Pave" sectors (unmaintained town roads). Depending on the weather, the road conditions could range from frozen solid with sand spread on them to all-out mud season!
Photo Credit: Vermont Overland Maple Adventure Ride, Vermont, March 25th 2018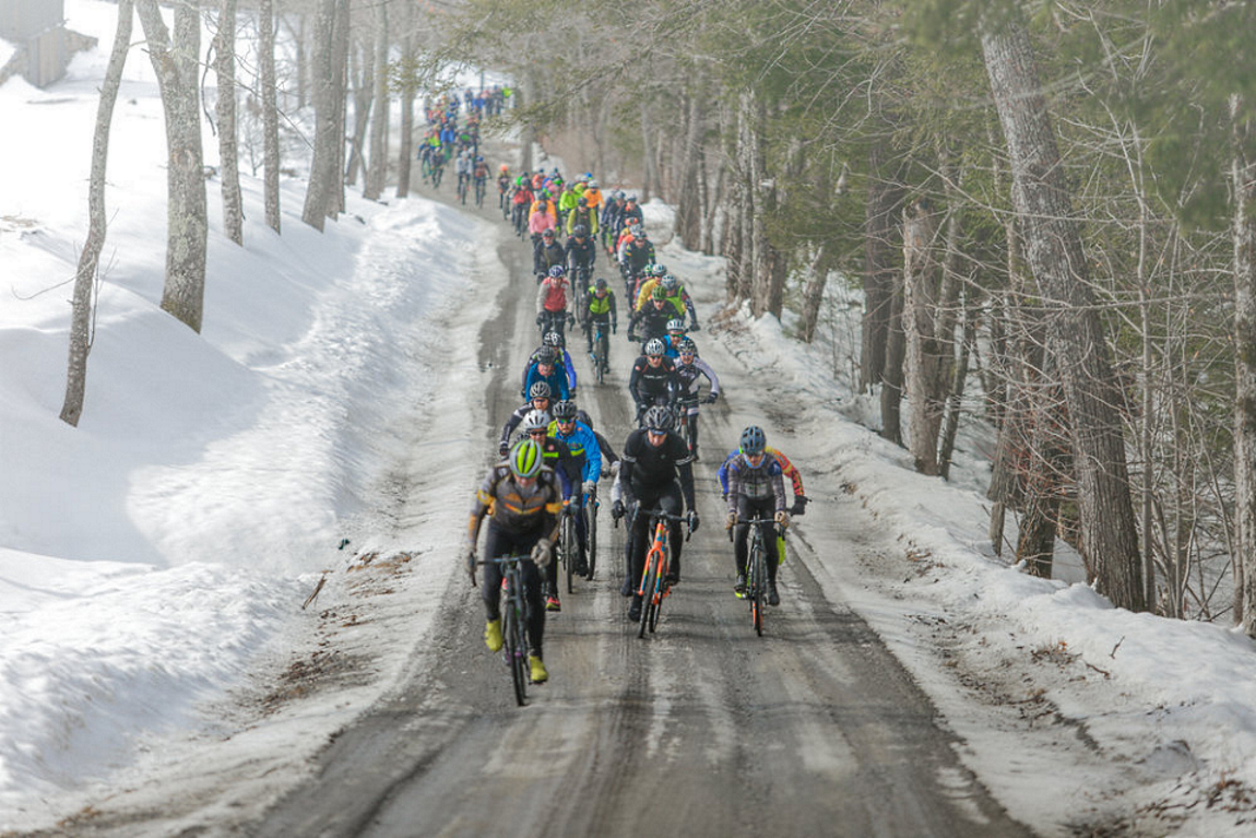 One of the events kicking off the Classics Season in North America, is the Sourland Semi-Classic, part of Kermesse Sports Series of Classics. The Spring Classics are not all about the Monuments! In tribute to the second tier classics, the Sourland Semi-Classic (SSC), is a 62 mile ride that explores the Sourlands Region of Central New Jersey. It offers a gentler way to prepare for the main spring events, with some of the roads having been used by the Hell of Hunterdon. Be sure to enter any one of their four events quickly, as promoted by Gran Fondo Guide a few weeks ago, the "series discount" offer is "sold out" already.
>>> Conquering the Dirt – The Hell of Hunterdon, by By Nikki Ragonese <<<
Also sold out well in advance is Lu Lacka Wyco Hundo, which opened entry in November and was sold out "in under a day".
The Rasputitsa Spring Classic, Rasputitsa is Russian for "mud season", which gives you a pretty accurate preview of this 45-mile race for bragging rights in northern Vermont. In keeping with the Russian theme, the highlight of the course is "Cyberia," a Class IV road that a former race participant described as "a scary backwoods where at any time a Yeti or Bengal tiger may jump out of the woods, bludgeon you with a blunt object, and either leave you for dead or drag you back into the woods for a nice little Saturday brunch." It features Yeti's, maple syrup shots and, of course, Cyberia.
The Stokesville Strade celebrates the Strade Bianche classic Pro race which is famous for its rough "White Roads" and cobble stone streets. The routes will showcase a great variety of gravel, dirt and pavement. With rolling Shenandoah Valley roads this is a great early season event.
Three-times world champion Peter Sagan is working with Bike Monkey, the producer of Levi's GranFondo, to promote two new gran fondo events in California this year. The first event, called Sagan Fondo Dirt Edition is on May 5th in Truckee, CA on gravel and dirt roads near Lake Tahoe.
>>> Peter Sagan Hosts Two New Gran Fondos in California <<<
Sadly the Boulder Roubaix Road Race is only conducted every other year and 2019 marks the next edition, so you'll have to wait. One of the Most Hallowed Races in the Western US, held the day before the real 'Queen of the Classics', the French race that goes from Paris to Roubaix. A 19 mile (30k) loop with 43% paved roads & 57% unpaved roads in North Boulder County.
Whatever you do, make sure you add at least one of these Classics to your Bucket List this Spring.
North American cyclists have never had it so good!
For a comprehensive, up to date, accurate and continually growing calendar of events througout the year, please visit:
2018 North American Gran Fondo Calendar
2018 North American Gravel Fondo Calendar
2018 North American Century Ride Calendar
2018 North American Cycle Tours, Bike Festivals, Leisure Rides, Expo's Calendar
Help Us! Do you know of an event that should be on this list? Email us at events@granfondoguide.com and we'll make sure they get added!
The European Spring Classics
On the other side of the Atlantic, the 73rd edition of Omloop Het Niewsblad marks the start of the European Spring Classics season for the Pro's and features 3 ascents of the Haaghoek and 3 ascents of the Leberg with the Muur and Bosberg featuring in the final showdown after 100 miles of racing!
The Kings of the 2017 classics are preparing for battle this season, Peter Sagan (Bora-Hansgrohe) wants to win Milano-Sanremo and Paris-Roubaix, but Michal Kwiatkowski (Sky), Philippe Gilbert (Quick-Step Floors), and Greg Van Avermaet (BMC Racing) are ready for the challenge as well.
Magical, exceptional, incredible, that about sums up Greg Van Avermaet's incredible 2017 season, the strong man of the Spring classics. Winner of all the Spring classics apart the Tour of Flanders, his racing is impressive in every way, one in which the Belgian could not hope for a better outcome. Van Avermaet won Omloop Het Nieuwsblad, E3 Harelbeke, Gent-Wevelgem and Paris-Roubaix. Many Pro's would be happy with these results, but not Van Avermaet. The BMC leader is already planning his season, what to tackle and the priority for the year to come, with his target Strade Bianche and Tour of Flanders.
Phillipe Gilbert won the Tour of Flanders in 2017 and Van Avermaet, after a crash with a fan, finished second and fell short of getting his dream win.
"I will always say Flanders is the most important," Van Avermaet said. "It's the race that fits me the best, and I'd like to win. If I am honest, my biggest dream is to win Flanders. I want to be good there."
Three times World Champion Peter Sagan when asked about his main goals and future plans, Sagan said that he would love to win Paris-Roubaix and Milan San Remo.
"Not much has changed," Sagan told La Gazzetta dello Sport, "I'll race Strade Bianche and Tirreno-Adriatico before Milano-Sanremo. It's a classic run to Flanders and Roubaix. My wish is Milano-Sanremo and Paris-Roubaix victories. But if I could pull off Flanders again … that wouldn't be bad!"
Team Sky's Michal Kwiatkowski out sprinted Sagan and Alaphilippe to win Milano-Sanremo. It looks as if Team Sky will support Kwiatkowski in the opening classics, with Ian Stannard and Gianni Moscon supporting along with Luke Rowe, Owain Doull and Jonathan Dibben making a strong Classics lineup for Team Sky. Kwiatkowski could return to the Tour of Flanders for the first time in two years, a race that suits him, having already won Milano-Sanremo, Strade Bianche, and E3 Harelbeke.
The classics start with the opening weekend in Belgium (Omloop Het Nieuwsblad and Kuurne-Brussels-Kuurne on Feb. 24 and 25), and continue with races like E3 Harelbeke, Dwars door Vlaanderen, and Ghent-Wevelgem. The big ones fall on March 17 (Milano-Sanremo), April 1 (Tour of Flanders), and April 8 (Paris-Roubaix).
After that, another group of riders will compete for the Ardennes and build towards the Grand Tours starting with the Giro d'Italia in May.
You can find out more and follow the European Spring Classics season here.
| | | | | | |
| --- | --- | --- | --- | --- | --- |
| Date | Event | Location | Routes | Category | My Rides |
| Feb 24 | Omloop Het Nieuwsblad | Ghent, Flanders, Belgium | 196 km | WORLDTOUR | |
| Feb 25 | Kuurne-Brussels-Kuurne | Kuurne, Belgium | 201km | WORLDTOUR | |
| Mar 03 | Strade Bianche | Siena, Tuscany, Italy | 176 km | WORLDTOUR | |
| Mar 17 | Milano Sanremo | Milan, Italy | 291 km | WORLDTOUR | |
| Mar 23 | E3 Harelbeke | Harelbeke, Belgium | 203 km | WORLDTOUR | |
| Mar 25 | Ghent-Wevelgem | Ghent, Belgium | 243 km | WORLDTOUR | |
| Mar 28 | Dwars Door Vlaanderen | Roeselare, Belgium | 200km | WORLDTOUR | |
| Apr 01 | Tour of Flanders | Antwerp, Belgium | 255km | WORLDTOUR | |
| Apr 05 | Scheldeprijs | Antwerp, Belgium | 208 km | 1.HC | |
| Apr 08 | Paris-Roubaix | Compiègne, France | 258 km | WORLDTOUR | |
| Apr 11 | Brabantse Pijl | Overijse, Belgium | 205km | EUROPETOUR | |
| Apr 15 | Amstel Gold Race | Maastricht, Netherlands | 250 km | WORLDTOUR | |
| Apr 18 | La Fleche Wallonne | Marche-en-Famenne, Belgium | 196km | WORLDTOUR | |
| Apr 22 | Liege–Bastogne–Liege | Liege, Belgium | 250 km | WORLDTOUR | |