Organizers Plan Third Annual Giro di San Diego Gran Fondo
Proceeds To Benefit USO/Wounded Warriors and Promises2Kids Foundation
San Diego, Calif. – Organizers of the Giro di San Diego Gran Fondo have announced dates and opened registration for their third annual event. The two-day celebration of cycling, food, and San Diego's North Coast will be held September 6 and 7, 2014 in the coastal town of Solana Beach, California.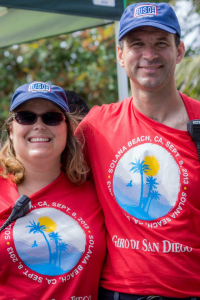 "We're getting ready for an epic weekend, and to double attendance and attract numerous international participants," said Tobias Panek, the event's organizer. "I'm truly impressed with the support that we've received from Solana Beach and I'm proud to be supporting Wounded Warriors and Promises2Kids Foundation."
The Giro di San Diego features five different cycling events, including three road riding options: 35, 66, and 106 miles, and mountain bike courses of 10 and 30 miles.
The event is held in the tradition of Italian Gran Fondos which are extremely well-supported semi-competitive, long-distance bicycle rides. While the Gran Fondo caters primarily to casual riders, it offers VIP entry to professional racers in both road and mountain biking.
All rides are scheduled for Sunday, September 7, 2014.
The 106-mile "Gran Fondo" route of the Giro di San Diego is the only major event to feature a timed climb up the South Grade of Palomar Mountain. Often compared to France's Alpe d'Huez, Palomar is a fabled climb with that has been featured twice in the Tour of California bicycle race. Summiting at 5,240', it is the preferred route for 50% of Giro attendees.
Prior to Sunday's rides, on Saturday, September 6 the Giro di San Diego includes the Solana Beach Super Tasty 5K, a unique 5K restaurant walk featuring over 21 restaurants that has been deemed "America's Toughest Gourmet Walk!". "I have big visions for the Giro di San Diego," confessed Panek, whose inspiration for the event stems from participation in numerous Gran Fondos in Italy with his tour company Gran Fondo Cycling Tours and other major cycling events that he organizes with his wife Carrie.
"From our charity tie-in, to finding ways to involve the community, to welcoming international cyclists and enjoying the gorgeous cycling that's avaliable here, the Giro will deliver."
For more information or to register, please visit www.girodisandiego.com