Giro di San Diego Gran Fondo Cycling Kit Revealed
Organizers of the 5th annual Giro di San Diego Gran Fondo, reveal new kit for 2016 designed by local Artist Donna-Rob Skaggs.
Southern California meets Italy at the Giro di San Diego Gran Fondo, a celebration of cycling, food, and San Diego's North Coast on September 11th starting in Solana Beach.
Due to the popularity of the design and fantastic combination they are offering Matching Men's Bibs and Women's Shorts.You can add the jersey or shorts on when you register or if you are already registered you can get the shorts in their online store.
Men's Jersey & Women's Sleeveless Jersey Kits Order Yours Today and Save $15 off Registration Hurry Only 100 Discount Codes Available Code: JERSEY
girodisandiego.com/giro-store/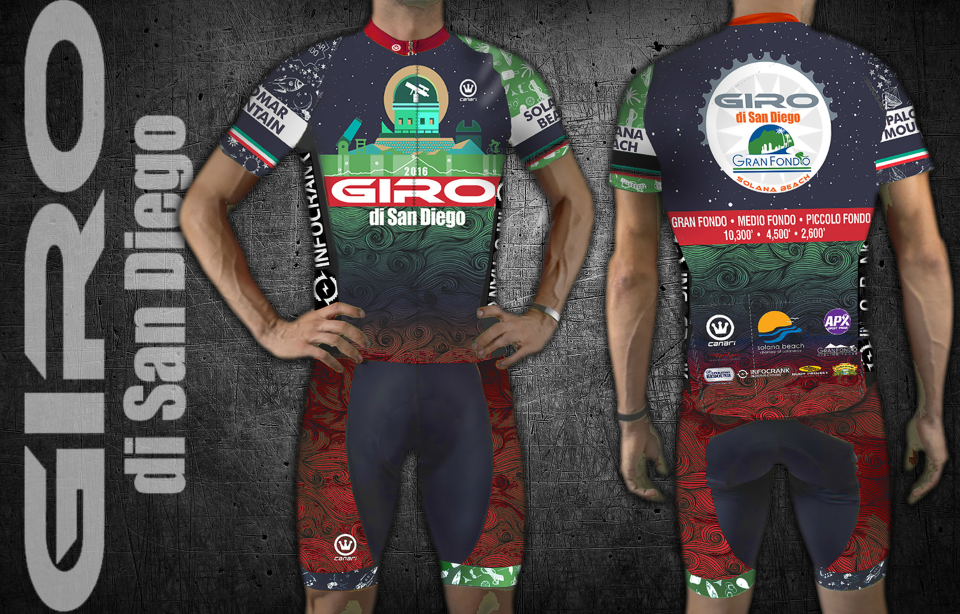 All the kit is made in the USA by Canari. Sinc 1979 they has been producing cycling garments in Southern California designed to help you Go Ride, Have Fun, and Look Good!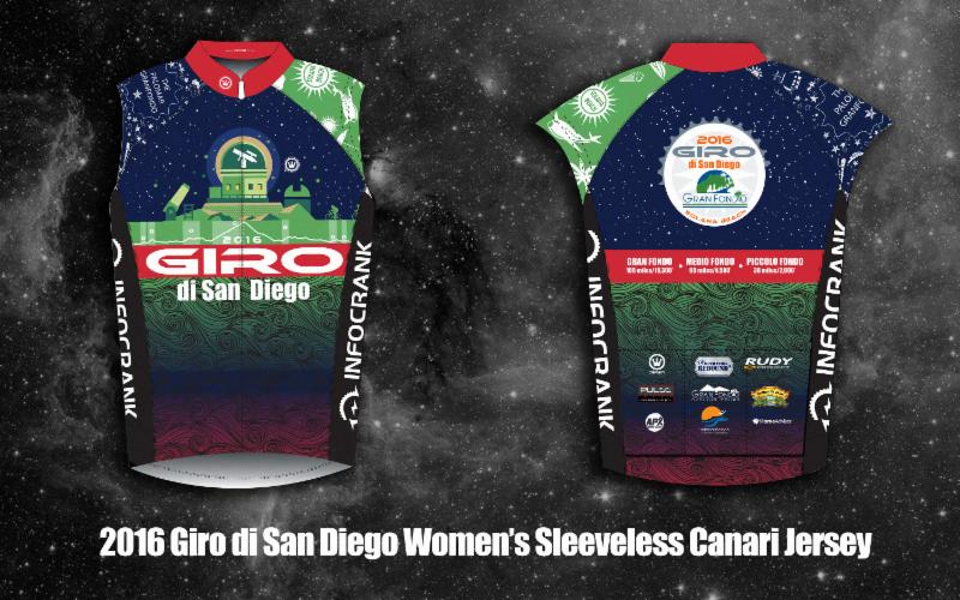 Do You Have What it Takes to Tackle Southern California's Most Difficult Long Distance GranFondo?
The 105-mile "Gran Fondo" route is the only local event to feature a timed climb up the South Grade of Mount Palomar. Often compared to France's Alpe d'Huez, Palomar is a fabled climb, summiting at 5,240', which has been featured twice in the Tour of California bicycle race.
Lastly, over the entire weekend of the Giro di San Diego, a Bike and Fitness Expo with the ambience of a Southern California street fair is held in Solana Beach's Fletcher Cove area, just steps from the Pacific Ocean.
The routes for this event will host many of the best rides in the north county as well as the most frequently traveled paths taken by the many professional athletes that ride in the area. These roads have likened the wheels of riders as Lance Armstrong, Chris Horner, Axel Merckx, Thurlow Rogers and many others. The long Gran Fondo will also boast the fiercest of all climbs in San Diego, the south grade of Mt Palomar. This climb was featured on the 2009 Tour of California and will be our official KOM/QOM for the Gran Fondo course riders.
Included in your entry fee:

3 Routes to Choose From 105, 65, & 35 Miles
Very Challenging 105 miles from Solana Beach to the top of Palomar Mountain and back!
KOM / QOM on Palomar Climb
Closed Road at Lake Wolford
6 Rest Stops
Mechanical and SAG Support
Finisher Medals - You have to REALLY EARN this one!
Includes Lunch and Beer Garden at Finish
All Women that Register Receive Awesome Cycling Earrings
"I always loved doing GranFondo's in Italy, many of them offered special incentive gifts to women to participate, as cycling is such a male dominated sport in Italia. I thought we could continue in that Granfondo Tradition with the Giro. There are so many strong women in Southern California and I want them all to feel welcomed and invited to this challenging event." - Carrie Panek - Director, GranFondo Cycling Tours
SAVE $15 off ANY ROUTE by Registering Now, Only 100 Codes Available Code: JERSEY