The California Girl Series – Active Lifestyle Events for Women
Bright and early at 8:00 am on Sunday March 13, women from all over Southern California – both avid and novice bicyclists alike – will participate in the forth annual Senorita Century & Rico Suave Challenge. The Senorita Century is the first event in the California Girl Series® which includes four premium bike rides and two half marathons in iconic locations throughout California.
Long Beach, CA – January 25, 2016

Gentlemen riding as "Rico Suave" will line the red carpet starting area to cheer the ladies off before beginning the ride from Lakehouse Hotel & Resort in San Marcos, San Diego County. The 70 or 50 mile course options wind through hills and vineyards to the beautiful So Cal coastline and famed Pacific Coast Highway, experiencing chic- chic towns of Solana Beach, Encinitas, and Carlsbad before heading back inland to the finish line and resort style celebration party.
This boutique-style event offers gourmet rest stops catered by local chefs bringing fresh, locally sourced food to riders, while providing a sustainable, low waste event. The courses are easy to challenging, designed by the event organizer so host cities can showcase their bike-infrastructure which allows women to feel safe and confident while cycling.

Individual tickets for the Senorita Century are $125 per person, with special prices for early registration and groups. Online registration is available now at www.CaliforniaGirlSeries.com

About the California Girl Series

The company organizes and hosts six annual women's events in California under the California Girl Series banner:
4th annual Señorita Century, March 13, 2016, in San Diego.
2nd annual Women's Gran Fondo, April 30, 2016, in Calistoga.
5th annual Beach Babe Bicycling Classic, July 17, 2016, in Long Beach.
2nd annual Beach Babe Half Marathon, July 17, 2016, in Long Beach.
9th annual Princess Challenge Bike Ride, September 25, 2016, in Folsom.
2nd annual Princess Challenge Half Marathon, September 25, 2016 in Folsom.
The California Girl Series was created for women to enjoy all levels of cycling, from recreationists to professional competitors. Since our inaugural event launched in 2007, thousands of women have taken to the streets of California for a day of health, fun and camaraderie—with our youngest participant to date age 3 and our most experienced, 67.
About Noble Pursuit

Noble Pursuit, Inc. is a fitness and events company specializing in lifetime fitness programs for women. Noble Pursuit offers four annual women's rides and two half marathons; the Senorita Century & Rico Suave Challenge (San Diego), Women's Gran Fondo (Calistoga/Napa), Beach Babe Bicycling Classic and Beach Babe Half Marathon (Long Beach), and the Princess Challenge Women's Ride and Princess Challenge Half Marathon in Folsom, CA. All are registered service marks of Noble Pursuit, Inc., © 2016.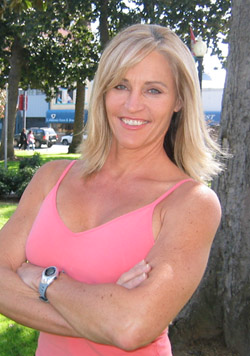 Janaé Noble is a noted fitness and healthy lifestyle advocate and president & CEO of Noble Pursuit, Inc., a southern California-based fitness and events company specializing in lifelong health programs for women. Coming from a family that struggled with obesity, Noble designed her fitness lifestyle brands to remove the common barriers to physical activity. Its training programs, destination fitness events, social/online communities and brand merchandise offerings support behavioral changes and incentives to participate in active lifestyles.
Noble herself is an accomplished athlete, winning the 2003 Ms. California Natural Championship; and finishing the 2000 Ironman Australia Triathlon, the 1998 Ironman Canada Triathlon; the 1998Trans-Donner Lake Open Water Swim; the 1998 Sierra Deathride (five mountain peaks, 15,000 + vertical feet climbed) and the 2000 California & Honolulu International Marathon.
Noble is also a fitness guest on television, including fitness segments on Discovery Channel's Travel Daily and on news broadcasts throughout California. She also speaks at sports and health & wellness conferences across the country, including such gatherings as the Nevada Department of Transportation Bike, Hike & Walk Conference, the Sacramento Regional Health & Wellness Conference and the NorCal Triathlon Association Conference.

Noble is a CSCS Certified Trainer with the National Strength & Conditioning Association, a PADI Advance Open Water Certified scuba diver; and has been certified by the American Council on Exercise.
Prior to following her passion for health and fitness into a career pursuit as a certified personal trainer, Noble held key marketing roles in the cellular, cable and software technology industries. Prior to that, she spent four years as an active duty preventative dental hygienist with the U.S. Air Force, and two years with the U.S. Air Force Reserve 940th Medical Group in Sacramento, California.
Noble earned a B.A. in communications from California State University, Sacramento and attended UC Berkeley Extension for marketing. She resides in Long Beach, CA.
Gran Fondo Guide supports an d covers women cycling, so please type women into our site search - to find all about women specific events and content.