Organizers Of Campagnolo Gran Fondo San Diego Gear Up For Eighth Year Of Popular Ride
Cycling event draws thousands of new and returning participants; title sponsor Campagnolo returns for third consecutive year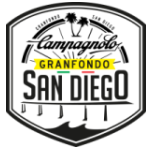 SAN DIEGO, Calif. – March 14, 2016 - The Campagnolo Gran Fondo San Diego, a rite of spring for cyclists, will be held on Sunday, April 10 in downtown San Diego. The bike ride starts in Little Italy and finishes in Ruocco Park on the waterfront of San Diego Bay. Sponsors of the eighth annual event include Campagnolo, Peloton Magazine, Primal Wear, Rudy Project, and Sierra Nevada.
Known for its picturesque routes, great weather, outstanding on-course support, and Italian finish line feast, the Campagnolo Gran Fondo San Diego attracts repeat riders and new participants. Registration is filling up quickly and expected to reach capacity.
"Every year, we're amazed at the loyalty riders have to the Campy Gran Fondo," said Tobias Panek of GranFondo Tours, the owner of the event. "People come back to challenge themselves with a harder route, or try to improve their time on the same route. We've become a tradition."
The event offers four riding options that appeal to all levels of cyclist: a 20-mile Fun Fondo, a 34-mile Piccolo Fondo with 900' of climbing, a 56-mile Medio Fondo with 1,500' of climbing, and the competitive 105-mile Gran Fondo with 5,000' of climbing and a timed King/Queen of the Mountains challenge.
In addition to attracting repeat riders, the Campagnolo Gran Fondo San Diego is notable for drawing out-of-state and international participants who enjoy visiting America's Finest City. Local bike shop and Campy Gran Fondo sponsor Pulse Endurance Sports rents carbon and aluminum bikes, as well as high-end wheels, for riders to upgrade their bikes or have the convenience of traveling without them.
"Our weather is similar to Italy's, so many people come to enjoy San Diego's Mediterranean climate," said Panek. "We offer the best of San Diego and the best of Italy - right down to the Ferrari lead out and the post-ride Italian feast – complete with cannolis."
To honor San Diego's military heritage, the Campagnolo Gran Fondo San Diego is a charity ride benefitting Challenged Athletes Foundation Operation Rebound, which is the premier sports and fitness program for American military personnel, veterans and first responders with permanent physical disabilities.
Primal Wear, a leading custom apparel manufacturer in the bike industry, is back for its second year as sponsor and designer of the commemorative kit for the 2016 Campagnolo Gran Fondo San Diego. The shorts and jersey – along with matching armwarmers and caps – are available for pre-order on the event website.
Registration for the 2016 Campagnolo Gran Fondo San Diego is open to cyclists of all abilities. For more information, and to register, please visit www.sdgranfondo.com.
About the Campagnolo Gran Fondo San Diego
The Campagnolo Gran Fondo San Diego is a one-day, mass-start cycling event in the spirit and tradition of the great Italian cyclosportives. Since 2009, thousands of riders have gathered under the iconic "Little Italy" sign in downtown San Diego to embark on a journey through San Diego and the East County. Sponsored by some of the most iconic companies in cycling, the 2016 Campagnolo Gran Fondo San Diego offers 20-, 34-, 56- or 105-mile routes and a post-ride pasta party. It is scheduled for Sunday, April 10, 2016.
For more information or to register, please visit http://www.sdgranfondo.com.
Experience the Gran Fondo Campagnolo San Diego
Recently released drone footage from Hangtime Aerial allows you to get a bird's eye view and experience what it's like taking part in one of America's top Gran Fondos.