Sonoma County celebrates 10 years of America's Coolest Gran Fondo
Weekend festival in Santa Rosa a huge hit with Echosmith headlining music festival, as thousands of cyclists took on the challenge of Levi's Gran Fondo
Levi's Gran Fondo was cool before anyone knew Fondo's were cool, right?
It was 10 years ago, the first Fondo rolled out onto arguably some of the most spectacular roads north of San Francisco. Back in the day, no-one really knew what a 'Gran Fondo' was, except for Sonoma County resident and former professional cyclist Levi Leipheimer. Having raced all over the world he brought some Italian flavor home with him and it was a hit, a huge hit, pushing anywhere up to 7,500 riders one year.
A founding father in the North American Gran Fondo Format, Levi's ride has stood the test of time. The event is one of Northern California's definitive big rides that should be on every cyclist's Bucket List.
Nowadays there are hundreds of Fondo's across North America that come in all shapes and sizes, Levi's Fondo continues to be a yardstick that many other Fondo's can only hope to measure themselves against.
Bizarrely, the date of this year's event fell nearly one year on from the devastating wildfires that ripped through Northern California that destroyed thousands of homes, businesses and people's lives. Levi himself lost his house, burnt to the ground, just the stone chimney left standing. Seriously not cool.
Leipheimer quite literally, dusted himself down and responded along with the Sonoma community with Sonoma Pride, helping to rebuild and move forwards. It attracted the likes of three time's world Champion Peter Sagan, who rocked up and helped raise hundreds of thousands of dollars, collectively millions of dollars.
The community is still recovering, support continues.
Congressional Honor Awarded
The festival cranked open on Friday evening with the Fiesta Del Fondo fundraiser at Olympia's Valley Estate, and incredibly raised over $117,000 for at-risk youth.
Rep. Mike Thompson presented Leipheimer and Perez with a Congressional honor for their fundraising work. All GranFondo registration fees are donated to charities. Cyclists who raised $1,000 for the King Ridge Foundation, an organization that supports at-risk youth, received free registration.
"Over the course of the last couple years, and with the natural disasters that we've been having — the fires — they really stepped it up," said Thompson. "And they've really made a difference in our rebuilding effort, and they've really made a difference in the lives of everyone in our community."
Photo: Leipheimer looks forward to the next decade, doing inspiring things on a big scale in Sonoma County and beyond. Photo Credit: Bike Monkey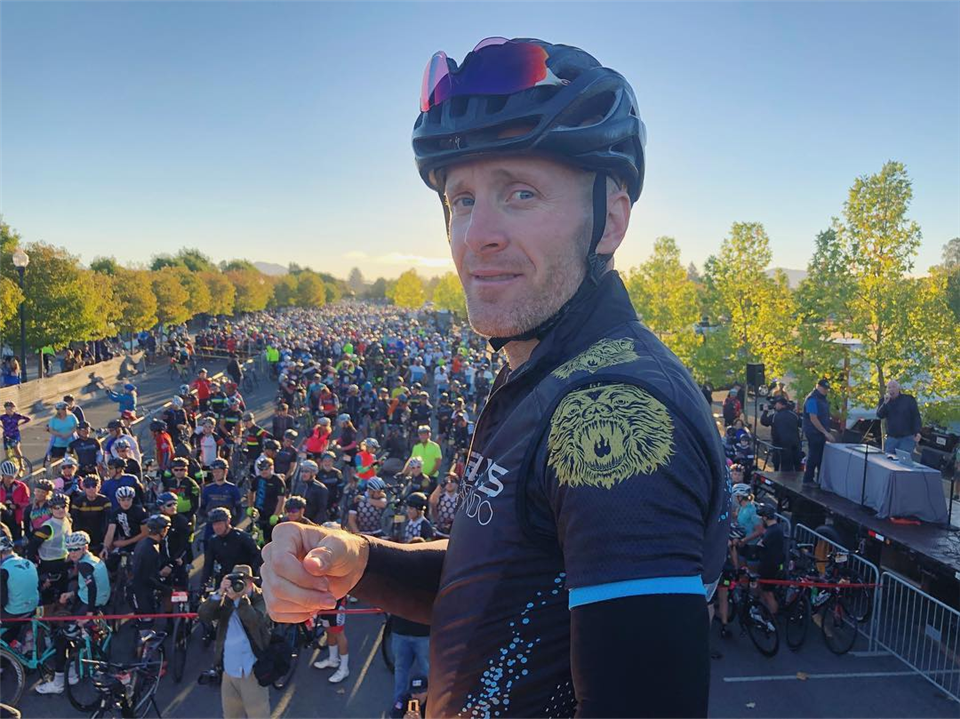 Levi's Fondo is relaxed, and has never gone out of style, it has raised over $2 million dollars for disadvantaged children and it doesn't need to shout out about either. It takes "cool" to whole new level, I mean were talking "old school" cool in Fondo terms these days.
For cyclists of any ability, and with 11 distances to pedal on, it showcases some of the best road riding in the world, borrowed in 2017 by America's biggest race, the AMGEN Tour of California. You'll experience cool majestic forests, wide open vista's, super cool descents with the warm winds of the Pacific coastline to push you along before you head back to the finish line, high fives and celebrations that will probably go on into the early hours, probably longer.
After nine years under the direction of Northern California's highly regarded and respected event organizers, Bike Monkey, the weekend festival has breathed new life into its format. "VITA" mean's "life" in Italian.
It's not just a bike ride, but a whole weekend of fun, with live music that this year included bands like Echosmith, Coast Modern and Foreign Air.
VIDEO: Sonoma VITA Music Festival
It boasts running races, children's bike rides and activities, Paella cook-offs, local beer and wine from dozens of the world's best breweries and wineries. There's something for everyone.
---
To this day I still remember what Levi said way back in 2011: "My dream is to wake up for the 25th Annual edition of Levi's GranFondo. My results will fade in people's memories, but this could last forever."
---
If you haven't ridden, contemplate it. Life is short and you might regret doing the things you didn't do, rather than the things you did.
Something you too can look back on one day in your rocking chair and say "Yea I remember, I rode it and man King Ridge really kicked my a*s, we were all suffering that day. The beer and Paella at the end sure tasted good."
Fondo's are supposed to be fun right? That's why we all started riding them?
Join 4,000 other fun-loving grownups with "positive attitude " who come to enjoy good company, make new friends, beautiful roads, and one of the most fun days of cycling in Sonoma county every year.
All under 24's sponsored by Specialized ride free.
Make some seriously cool memories and make sure you add Sonoma VITA to your Bucket List.
Happy 10th Birthday - here's to the next decade!
2018 Levi's Gran Fondo Results
Link to 2018 results - https://www.sonomavita.com/granfondo-results
Checkout the amazing stories on instagram, twitter and facebook.
Register Now for the 2019 Gran Fondo
Sonoma VITA returns with Levi's GranFondo October 5, 2019.