Armstrong's former manager Johan Bruyneel banned from cycling for life
Lance Armstrong's former US Postal team manager Johan Bruyneel has been handed a life ban from cycling by the Court of Arbitration for Sport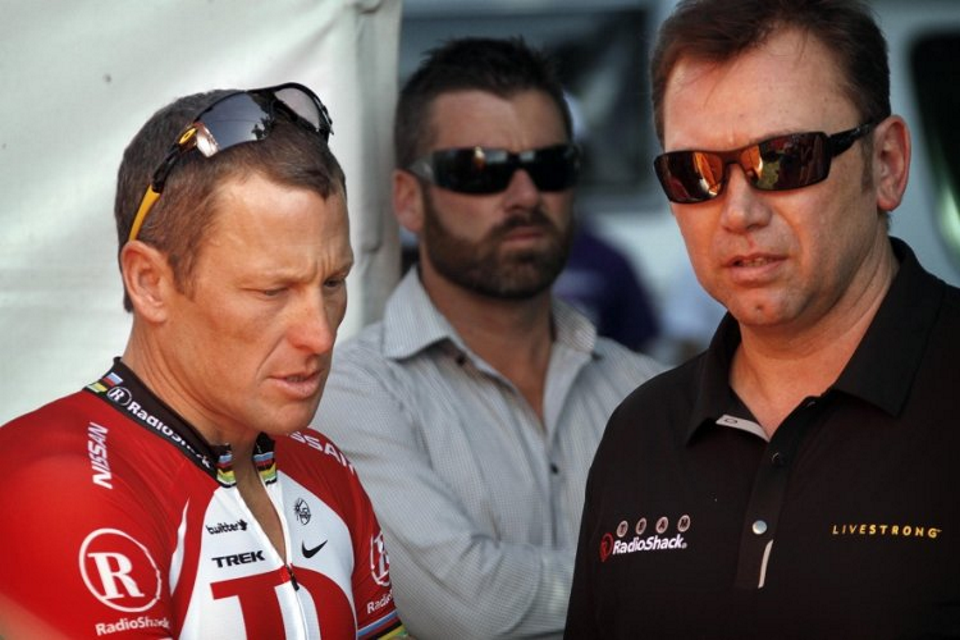 Bruyneel, 54, was the team manager for all of Armstrong's seven Tour de France victories from 1999-2005 - triumphs that were erased in the US superstar's stunning fall from grace amid revelations of the biggest drugs scandal in cycling history.
"I want to stress that I acknowledge and fully accept that a lot of mistakes have been made in the past," Belgium's Bruyneel wrote in an open letter posted on his Twitter account after the Swiss-based CAS rendered its decision on Wednesday.
"There are a lot of things I wish I could have done differently, and there are certain actions I now deeply regret. The period I lived through, both as a cyclist and as a team director, was very different than it is today."
Wednesday's decision was the culmination of a case that began in 2012, when the US Anti-Doping Agency (USADA) charged Bruyneel as part of its investigation into Armstrong.
Three team doctors and trainer Michele Ferrari were accused of possessing, trafficking in and administering prohibited substances.
The American Arbitration Association slapped Bruyneel with a 10-year ban in 2014, when the World Anti-Doping Agency responded with a demand that he be banned from the sport for life - as Armstrong was in 2012.
In its conclusion to the long-running and complicated case, CAS noted that the AAA panel concluded in 2014 that "the evidence establishes conclusively that Mr Bruyneel was at the apex of a conspiracy to commit widespread doping on the USPS and Discovery Channel teams spanning many years and many riders."
CAS therefore found that "if a lifetime ban is a possible sanction, as it is, the Panel sees no reason why it should not be imposed in this case for Mr Bruyneel's active involvement in widespread, systemic doping in the sport of cycling spanning many years."
In the same ruling, CAS increased the sanction for Spanish doctor Pedro Celaya Lemaza to a lifetime ban, and increased the ban of Spain's Pepe Marti to 15 years.
"While it's been an arduous effort to fully expose the truth, our job is to pursue justice even when the road is long and winding, because that's exactly what clean athletes expect and deserve," USADA Chief Executive Officer Travis T. Tygart, said in a statement welcoming the CAS decision.
Tygart said Bruyneel, Celaya, and Marti "pulled out every trick to avoid the truth"
"This is another powerful example that playing by the rules matters and doping is never justified and always inexcusable," he said.
WADA also welcomed the decision and slammed the tactics used by drugs cheats like Bruyneel.
"It is the result of a long process, which was resisted at every turn by these men, who by their actions did a great deal of damage to their sport," a WADA spokesperson said on Wednesday night.
"It was always our contention that the sanctions handed down by AAA were not strong enough and, in order to stand up for clean competition and to protect the sport of cycling, we demanded more."
In his open letter, however, Bruyneel reiterated his belief that USADA had no jurisdiction over his actions and that the CAS appeal process was flawed.
"In spite of the CAS decision, I firmly maintain my position that USADA does not have - and never had any legal authority over me," Bruyneel wrote.
"It is still my goal and my wish to contribute, to help grow my sport and make it better in the years ahead."
Open Letter From Johan Bruyneel pic.twitter.com/BvJDARqCYP

— Johan Bruyneel (@JohanBruyneel) October 24, 2018