Sign up for the Oregon Triple Crown Series Pass and SAVE!
Oregon is a wonderful State built on adventure, so get ready to saddle up
The 2019 Oregon Triple Crown is a series of three incredible events on mixed surfaces, packed with adventure, superb support and great food.
These events are cumulatively timed and tracked by points for age group awards with a Pactimo finisher's jersey provided for those that sign up for the Oregon Triple Crown Series Pass.
The pass grants the holder a special 15% discount code at registration for each event in the series and includes some great gear too. Do one or do them all with the Oregon Triple Crown Series Pass.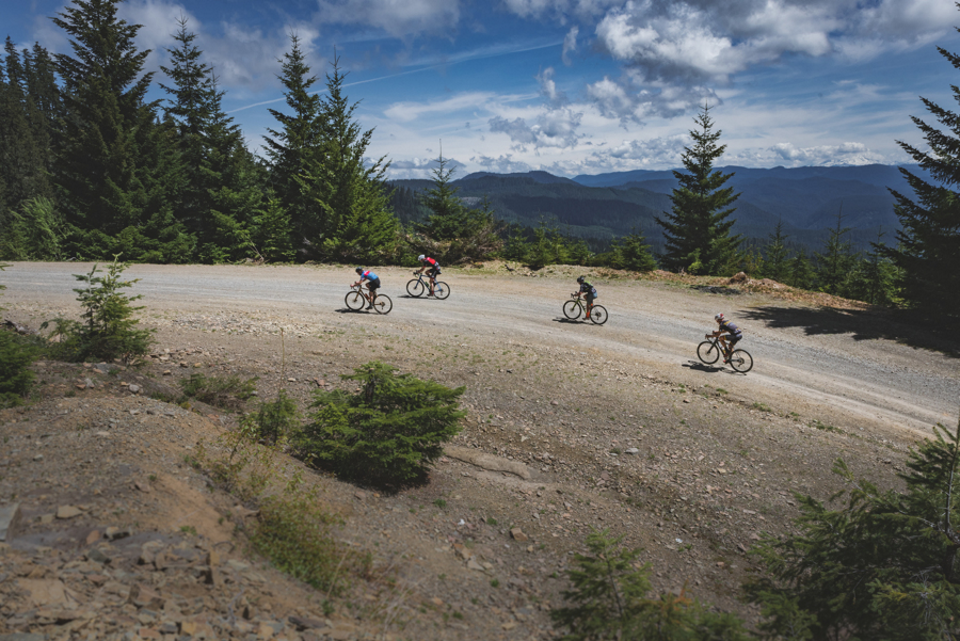 The 2019 Oregon Triple Crown Series
The Oregon Coast Gravel Epic
Sunday May 4, 2019 - Waldport, OR
A mix of pure logging roads and smooth pavement, this challenging Gravel Grinder showcases the raw beauty of ancient Siuslaw National Forests and the stunning Oregon coastline communities and offers two routes; the 62 mile Abomination and the 38 mile Son of Abomination. The Siuslaw National Forest has some of quietest roads that cyclists will ever encounter – a well-kept secret, a cyclist's paradise!

The Sasquatch Duro
Saturday May 18, 2019 - Oakridge, OR
Oakridge is the logging capital of the Pacific Northwest. Join us in the Kingdom of Gravel with two routes; the 43 mile Big Squatch and the 30 mile Little Squatch, both tough with plenty of fun along the way! Beware, the initial climb on the 1912 is 6 miles long!

The Oregon Gran Fondo
Saturday June 1, 2019 - Cottage Grove, OR
One of the west coast's Premier road cycling events, the Oregon Gran Fondo returns for its 8th edition in 2019. Designed to suit cyclists of all abilities, it features four routes; the 40 mile Piccolo, 71 mile Medio and 117 mile Gran Fondo.
For those looking for the ultimate endurance challenge there's the 130 mile Sherman with over 8,000 feet of climbing with four sections of gravel, making it one of the toughest one day Gran Fondo's in North America!
VIDEO: The Oregon Coast Gravel Epic
What's Included?
All events in the series are professionally organized including; safety flagging, route marking, medical support, lead and following vehicles, timing, multiple aid stations with an ample selection of food and hydration, SAG support, valet bike parking, a delicious post-ride meal and complimentary beverage, age group awards and raffle prizes from great sponsors.

Local camping is available with special early bird hotel room discounts while they last.
Sign Up for the Series Pass and SAVE!
Triple Crown Series Pass participants receive a special 15% discount code at registration for all three events, a custom Triple Crown Gear Bag, Pint Glass, Triple Crown T-shirt and Socks!
They also collect your style and size of your 2019 Oregon Triple Crown Finishers Jersey.
The three events are spaced out by two weeks so make your plans and sign up for the Series Pass and all three events or make it to one or two of the events and have a truly Oregon cycling experience!
Register by January 1st 2019 before the early bird series pass price increases. This is your chance to SAVE longer term.
For detailed information and to find out more, please visit: http://www.oregontriplecrown.com