We Ride Flanders 2019 Registrations Open
The event takes place next year on Saturday, April 6th. 'De Ronde' is the ultimate cycling event in early spring for recreational cyclists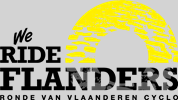 Now is the first day to sign up for the Ronde van Vlaanderen – We Ride Flanders.. The start and finish line are located in Oudenaarde, except for the longest distance (departure in Antwerp). Sign up and feel like a pro for a day.

Just like the previous editions we can only allow 16,000 participants. On request of the authorities and because we want to guarantee maximum safety on the tracks. Early registrants enjoy a discount, so don't hesitate and sign up as soon as possible! Traffic signallers, road supplies, technical and medical assistance, a frame sticker and a massage are all included in the price, as well as a bicycle light, increasing the visibility and the safety of the riders. Besides that, there is a starter package for every participant.

The wonderful track and the unique atmosphere are the reasons why thousands of passionate cyclists from home and abroad choose for the Ronde van Vlaanderen Cyclo – We Ride Flanders. Mythical ascents like the Oude Kwaremont, Paterberg, Koppenberg or the Muur van Geraardsbergen fire the imagination of every cycling fan. Every recreational rider can pick a challenge of their own size. The distances vary from 74 to 139, 174 or 229 kilometres. Start and finish lines of the first three distances are located in Oudenaarde. The longest track (229km) starts in Antwerp and goes all the way to Oudenaarde. Just like in the previous editions we provide a shuttle service from Oudenaarde to Antwerp for the participants who choose the 229km track.

Riding the Ronde van Vlaanderen Cyclo – We Ride Flanders guarantees a 100% experience along the way. Giving everything you have got on the same track and only one day before the professional race and being encouraged by the many supporters… as a recreational cyclist this will be the closest you will get to the feeling of being a pro.

Signing up for the Ronde van Vlaanderen Cyclo – We Ride Flanders is now possible, on www.werideflanders.com.