Bend's Sarah Max finishes second in Oregon Trail Gravel Grinder
Bend's Sarah Max finished second in the Oregon Trail Gravel Grinder cycling race, last week on gravel roads through the Central Oregon Cascades
The five-day race started and finished in Sisters and included 362 miles and 33,560 feet of climbing. It featured some of the top gravel cyclists in the country.
Sofia Gomez Villafañe, of Heber City, Utah, won the women's competition in 17 hours, 39 minutes, 20 seconds. Max was second in 17:54:28, and Sarah Sturm, of Durango, Colorado, took third in 17:58:31.
Photo L to R: Sarah Max 2nd, Sofia Gomez Villafañe 1st and Sarah Sturm 3rd overall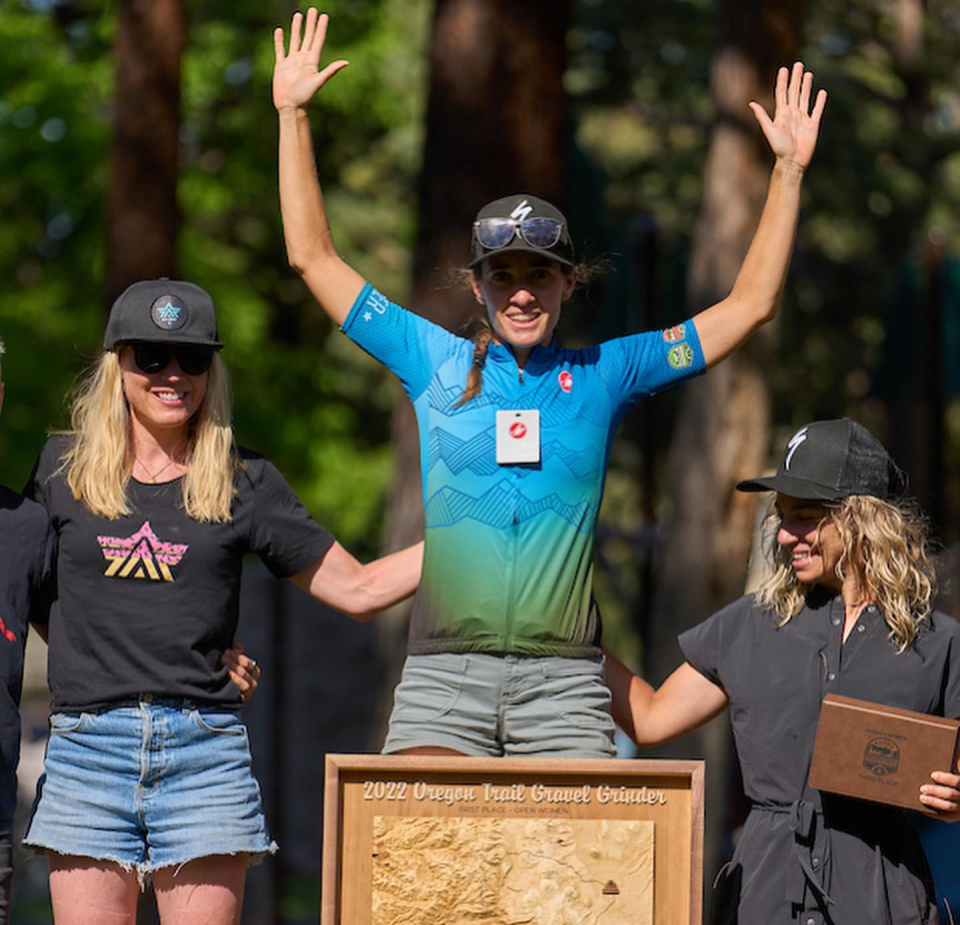 Bend's Heather Jackson was fourth in 18:00:55 and Serena Gordon, also of Bend, finished sixth in 18:29:26. Another Bend rider, Rebecca Fahringer, took seventh in 18:51:37.
Max, 47, won the 129.5-mile Belgian Waffle Ride North Carolina on June 11, only one week after finishing 11th (11:19:06) in the 200-mile Unbound Gravel race in Kansas, widely regarded as the most prestigious gravel race in the world. Gomez Villafañe was coming off a victory at Unbound.
In the men's race at the Oregon Trail Gravel Grinder, Christopher Blevins, of Durango, Colorado, won in 14:56:45 and Peter Stetina, of Santa Rosa, California, was second in 14:58:53. Howard Grotts, of Durango, took third in 15:03:39.
Sofia Gomez Villafañe the women's winner just won Unbound and leads the lifetime series and Christopher Blevins is a Mountain Bike World Champion. Huge talent this year at the event.
Organizers from Breakaway Promotions spend a lot of effort clearing deep snow on some of the higher passes leading up to the event, instilling yet again, their reputation as one of the best gravel series organizers in North America.
The next event in the series is the Ochoco Gravel Grinder & Festival on July 16-17, 2022, in Prineville, OR - Register Now.
Photo L to R: Peter Stetina 2nd, Christopher Blevins 1st and Howard Grotts 3rd overall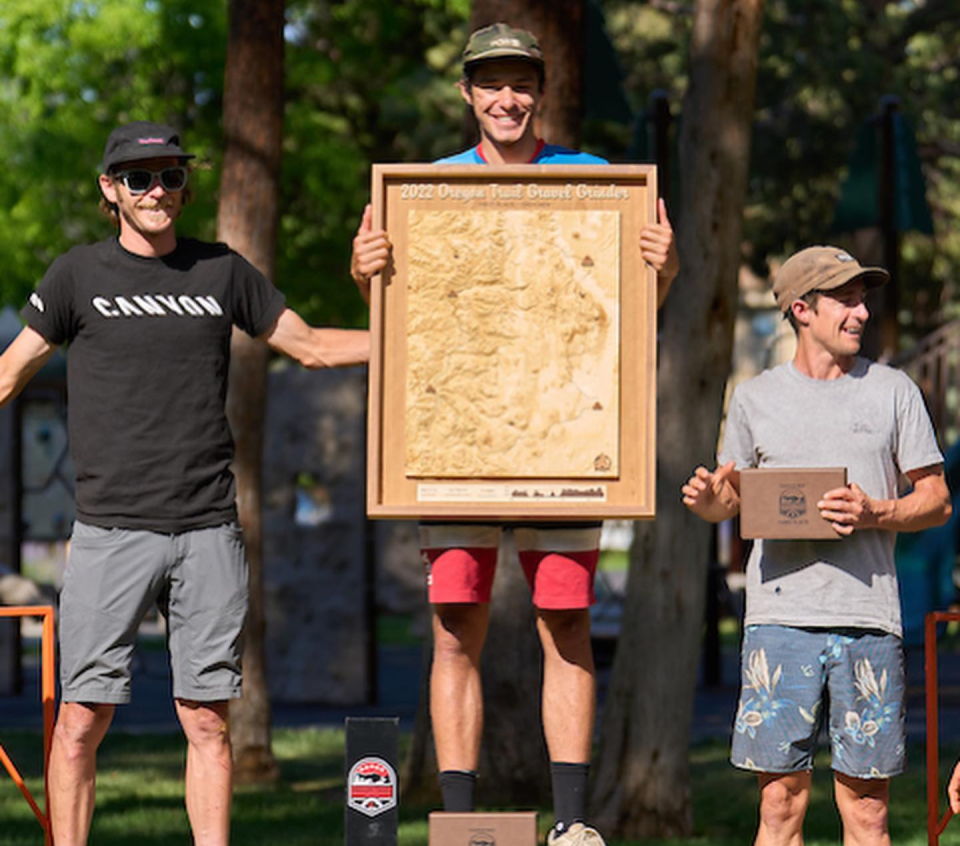 Link to 2022 Oregon Trail Gravel Grinder Results: https://my.raceresult.com/209192/results
Men's Top 5
1. Christopher Blevins (Specialized Off-Road)
2. Pete Stetina (Summercamp, Canyon)
3. Howard Grotts (Specialized Off-Road)
4. Russel Finsterwald (Specialized Off-Road)
5. Edward Anderson (Alpecin-Fenix)
Women's Top 5
1. Sofia Gomez Villafañe (Specialized Off-Road)
2. Sarah Max (Argonaut Cycles)
3. Sarah Sturm (Specialized Rapha Sram Velocio)
4. Heather Jackson (Waterfall Bank.)
5. Caroline Dezendorf (Easton Overland // Cervelo)
2022 Oregon Gravel Grinder Series Calendar
The state of Oregon on the United States' Wild West coast has arguably some of THE BEST gravel roads in the North America, if not the world.
The Oregon Gravel Grinder Series showcases the best gravel trails in Oregon with four EPIC Gravel Adventures; the Gorge Gravel Grinder in April, the Cascade Gravel Grinder in May, the Oregon Trail Gravel Grinder in June, and the Ochoco Gravel Grinder and Festival in July.
| | | | |
| --- | --- | --- | --- |
| Event | Date | Location | Registration |
| | April 24, 2022 | Dufur, OR | SOLD OUT |
| | May 13-15, 2022 | Bend, OR | SOLD OUT |
| | June 22-26, 2022 | Sisters, OR | SOLD OUT |
| | July 16-17, 2022 | Prineville, OR | |
You can experience miles and miles of the great gravel that Oregon has to offer by signing up for one, two, three, or the full Oregon Gravel Grinder Series.
For full information, please visit: https://www.oregongravelgrinder.com