Spin the District wraps up the 2022 season with the Union City Fondo & Gravel Grind
Another Spin the District series is now behind us, courtesy of the ATL Airport District, the convention and visitors' bureau for Union City, Hapeville, and College Park, Georgia. They are proud to call this year's Fondo yet another triumph, their fourth and best so far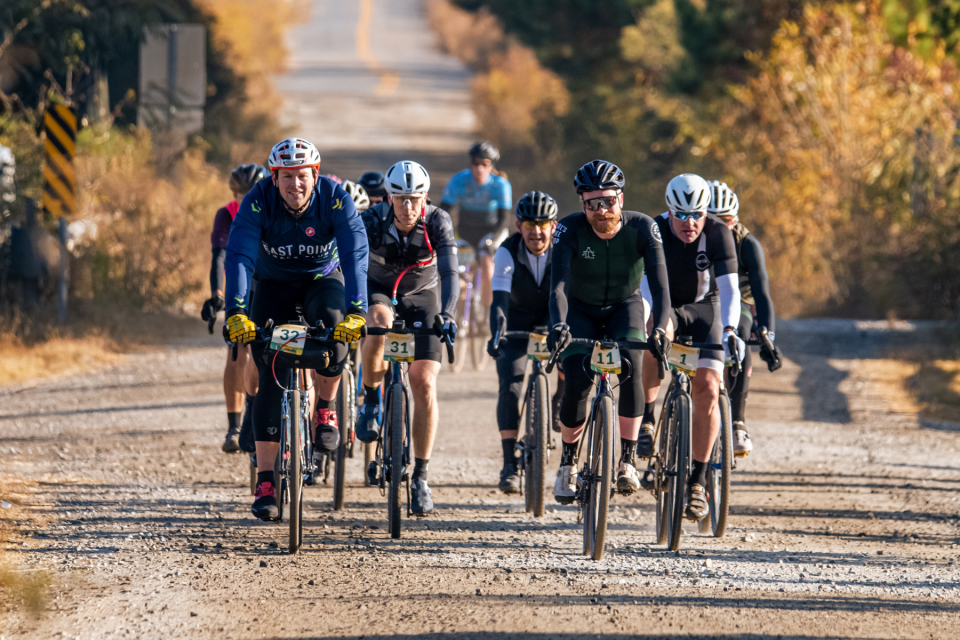 The day began as most October mornings do: dark and chilly and, for our ToughSkin Open riders, on a steep downward spiral. That's right, after a neutral start, this year's official start began 400' down to the bottom of Martin Marietta's Red Oak Quarry, a deep, rocky pit of granite and glory from which our most extreme mixed surface riders were forced to rise like shivering, helmeted phoenixes. Now, a 40-degree morning might seem cold on the surface, but rest assured, it's nothing compared to the chill of the depths. The deliciously frigid misery of the pit gave our riders the motivation they needed to hit out hard and make tracks up the 22% grade back to the top. A million thanks to Martin Marietta for giving this year's ToughSkin its ridiculously extreme start, inspiring that special mix of giddiness and rage that kept us going for the full 200 kilometers and 8,300' of elevation.
"Partnering with Martin Marietta was a dream come true, and that they're a business within Union City was the icing on the cake.", said Wayne Whitesides, route creator. "It was a bit of an experiment, and we wanted to make sure it was feasible, so we had our strongest field plunge down into the quarry. Next year we're hopeful we can partner again to allow all of the other gravel distances to head down in. It's challenging and stunningly beautiful, and Martin Mariette went all out, lining the course with all their cheering staff, plus having a large hauler and loader at the bottom for the perfect photo-op. Although I have to say, I'm a bit jealous; I have yet to ride into the quarry, myself!"
Photo: Martin Marietta Quarry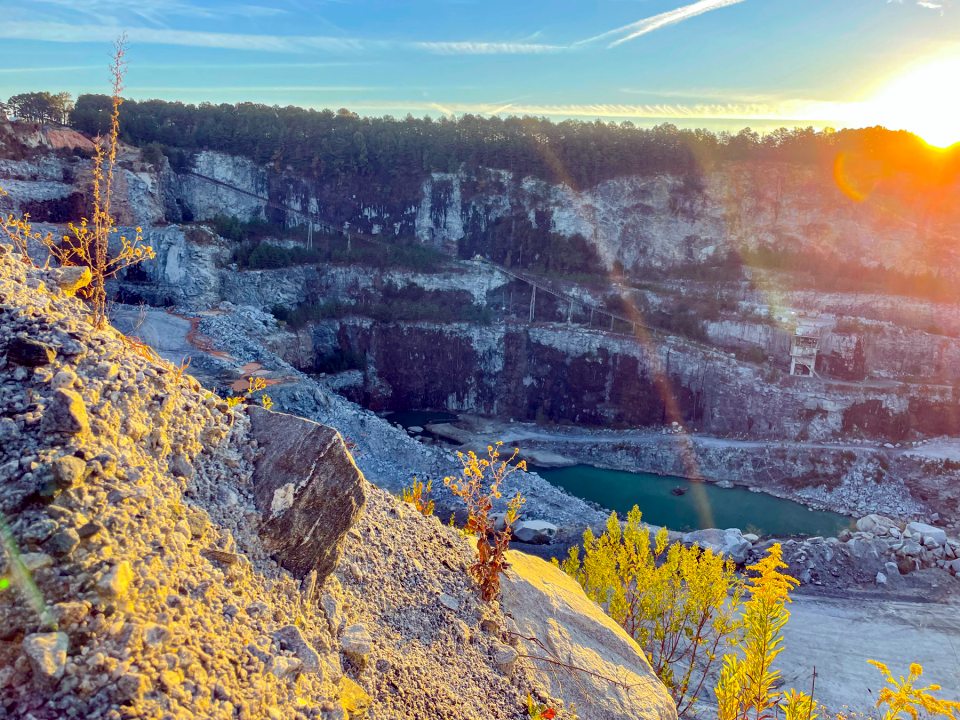 The rest of Saturday's ride was gorgeous and scenic as the weather warmed to an unbeatable 75 degrees under clear South Fulton skies. Union City, Chattahoochee Hills and Douglas County welcomed our road and mixed surface riders with open arms and open gates, making way for some tight races and exciting conclusions.
The ToughSkin Open was a photo finish between last year's top finisher, Jon Atkins, and rival Chad Conley on his 1-speed steed. The ride ended up in a neck-and-neck sprint to the finish line, with Jon Atkins taking the W with a time segment difference of just 11 minutes over the 61 miles of segments. Third place came down to just 26 seconds, as ultra-distance runner Jeff Allen edged Greg Hermes and Alberto Morales, split by just 2 seconds for forth and fifth.
Congratulations are also in order for Tricia von Dusseldorf, this year's top female ToughSkin Open rider, and the third woman in Spin the District history to finish a ToughSkin course.
Photo: L to R: Chad Conley 2nd, Jon Atkins men's overall winner, Jeff Allen 3rd and Tricia von Dusseldorf overall women's winner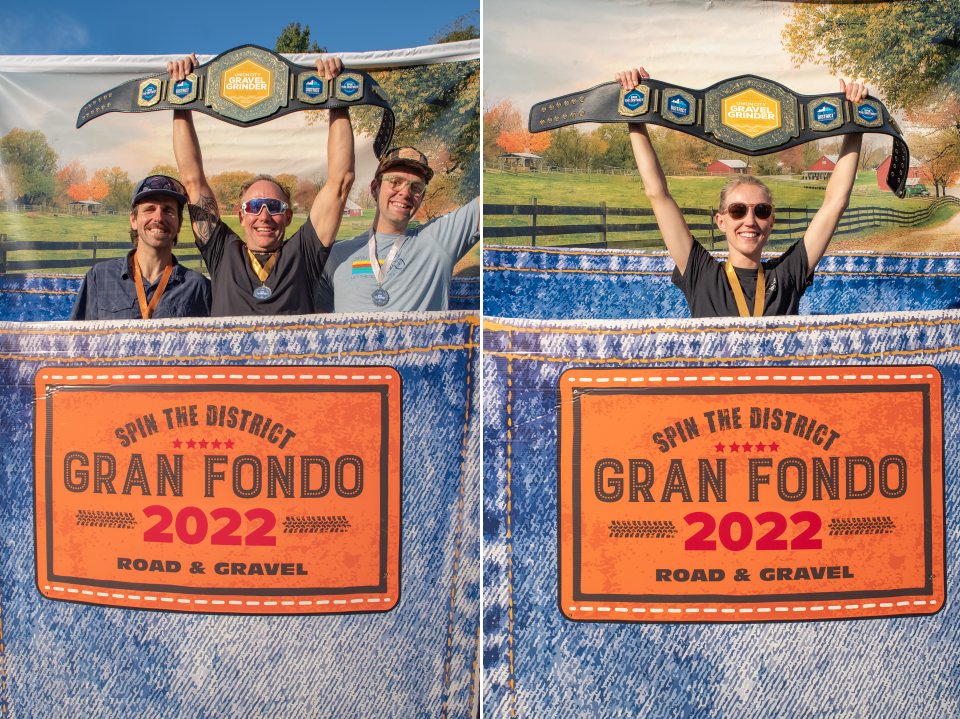 Both the gravel courses (60 and 120-mile) and the three road routes were well-traveled this year, making their fourth year another great year on the bike.
Full results of all races have been posted at spinthedistrict.com.
On behalf of Spin the District and the ATL Airport District, organizers would like to thank each and every rider for making this year's event worth its weight in chili, as well as Wayne Whitesides and Michael Barman for organizing and executing these events to perfection; our amazing community sponsors for making it all possible; our event partner, Q&A Events, for keeping us on schedule; our beer partner, Arches Brewing, who produced this year's Spin All Day Lager; and our marketing partner, Ethic Creative Works.