2023 Gorge Gravel Grinder in Oregon this April Almost Full
With 3 months to go until the 2023 Gorge Gravel Grinder on April 23rd the event is already 90% full. If you are planning to attend this year's ride in Dufur, you will need to register now so you don't miss out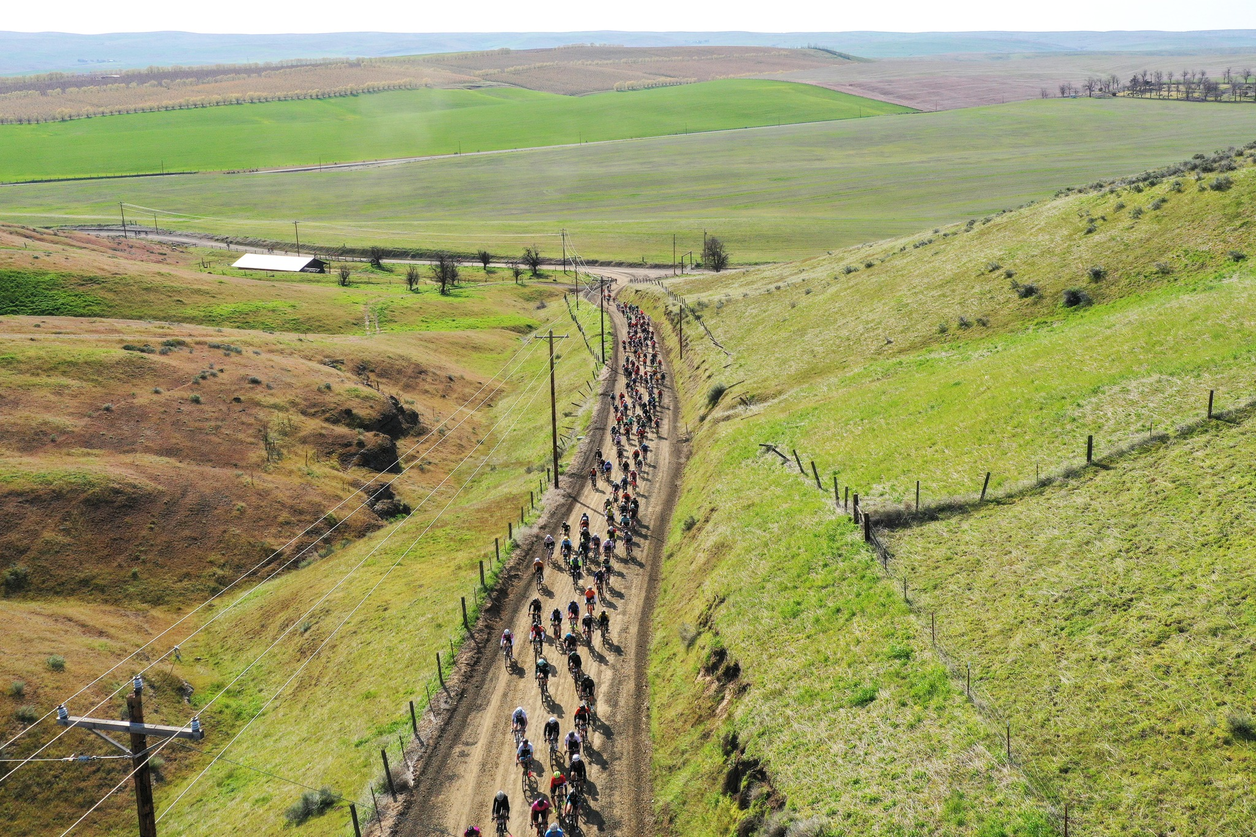 If you have friends or teammates planning to join you make sure they are signed up as well. The team behind the Oregon Gravel Grinder Series, Team Breakaway are committed to providing each and every rider with the best experience possible so are sticking to their current registration cap of 800 riders.
This year's Gorge Gravel Grinder is going from a one-day race to a weekend of festivities.
The team encourage you to come and stay at lodging partner in The Dalles, Cousins Country Inn, or camp out at Dufur City Park and then join them for Saturday's celebration.
Saturday April 22nd Festivities
10:30 am, Course Shake-Out Ride
Noon to 5 pm, On-Site Packet Pickup
3 to 4 pm, Gravel Seminars, nutrition, mechanics, tire changing
3 to 5 pm, Gravel Pace Group leaders meet and greet at the Dirty Freehub tent
6 to 8pm, Party In The Park!
Dinner fundraiser for the Dufur School
Oregon Gravel Series Bar open and pouring Fat Tire libations (so drinks are on us! ??)
Live music and games
Sunday April 23rd Gorge Gravel Grinder
Big Grinder
Rider Lineup: 8:30-9:50 am
Ride Announcements: 9:50 am
Race Start: 9:00 am
Medium Grinder
Rider Lineup: 9:10-9:25 am
Gravel Pace Group Check-In- 9:15 at Dirty Freehub Tent in the field
Ride Announcements: 9:25 am
Race Start: 9:30 am- *pace groups roll out following mass start*
Small Grinder
Rider Lineup: 9:40-9:55 am
Gravel Pace Group Check-In- 9:45 at Dirty Freehub Tent in the field
Ride Announcements: 9:55 am
Race Start: 10:00 am- *pace groups roll out following mass start*
Supporting the Local Community
The event will benefit Dufur Schools & the Ranger Pride Education Foundation, who bring the volunteers that make the event possible.
Gravel Pace Groups for new Riders
Check out the Gravel Pace Groups on race day, as well as seminars we will be offering on Saturday afternoon on tire pressure and repair, basic road side mechanics, and race nutrition. Pace Groups have been created to help new and beginner riders have a great experience by removing the fear of being alone on the course.
Six pace groups will be available for all rider levels, with four groups for the 56-mile Small Grinder and two for the 67-mile Medium Grinder. Each group will be headed by an experienced Ride Leader, organizing and keeping the pace, while hand-picked Ambassadors will be within the pack cheering riders on and celebrating with every accomplishment.
Ride Leaders and Ambassadors will offer guidance, course knowledge, and be able to support the pace group throughout the course.
You can RSVP for your ride group through the registration page here by adding on the Pace Group RSVP to your registration.


Register NOW to Secure a Place!
Gorge sold out all 700 places last year in advance and the team at Breakaway Promotions want to make sure you can saddle up for this early-season gravel grinder with something for every ride level with the 53 mile Small Grinder (great for first time racers!), 67 mile Medium Grinder, and the 93 mile Big Grinder.
Registration includes; a Custom Pint Glass, Lunch, Custom T-Shirt, Beer, Well Stocked Aid Stations, Well Marked and Amazing Courses, Chip timing and Mechanical Support!
There are well-stocked aid stations located every 20 miles along the course. Mt. View Cycles will be at the start and on course with tubes, tires, tire pump and assistance
For more information, please visit: https://www.oregongravelgrinder.com or click the button below to register now: