Stetina and Oliveira Parks Win Cascade Gravel Grinder Stage Race
This years the Cascade Gravel Grinder changed to a traditional GC timing format, which meant that every day counted, and made for some exciting racing and 3 days of incredible riding through the Cascade Mountain Range
The 3 day stage race featured a Gravel Time Trial and two Big Grinders to determine the strongest riders.
On the Stage 1 Time Trial, Rob Britton (Factor – Ovrlnd) was fastest over the 6.8 mile Swampy Lakes Time Trial in a time of 11 minutes ahead of Peter Stetina, 26 seconds behind in second, and Cassius Anderson (Marin Service Course/Castelli), 1m 13s behind, in third place.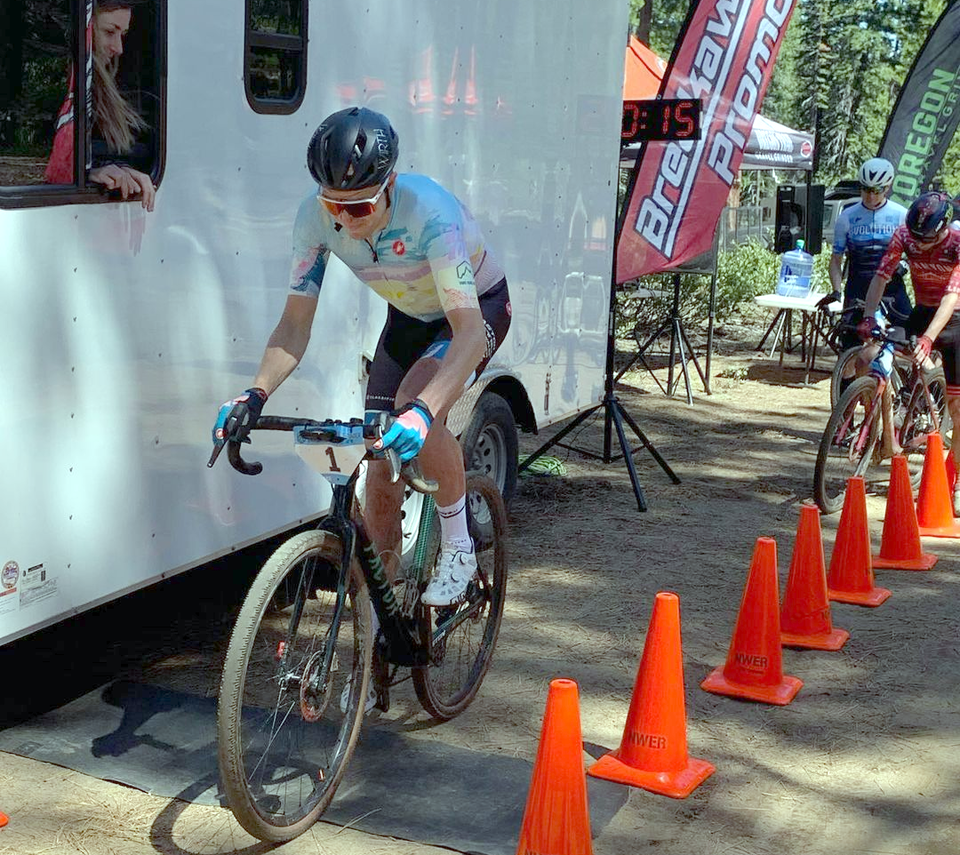 Photo: Rob Britton was the first at the start of the opening Time Trial on Stage 1
For the women, Molly Cameron was fastest in a time of 13m 50s ahead of Flavia Oliveira Parks (EXCEL SPORTS p/b SPECIALIZED), just 6 seconds behind, and Serena Gordon (Sunnyside Sports) in third, 20s behind.
David Sjogren (Hutch's / Bend Dental) was fastest in the men's 45-59 category, Jeremy Eden in the men's 60+ category, Ryan Levering fastest in the women's 45-49 category.
Stage 2 was the 60-mile Bust Your Butte Grinder with 3,975 feet of climbing. The fast-rolling course took riders along the eastern edge of the mighty Cascade Mountain Range to the southwest of Bend with stands of huge ponderosa pine forests and views of Mt. Bachelor and Broken Top. In the men's race 4 riders, Pete Stetina, Rob Britton, Ian Boswell and Kiel Reijnen formed a breakaway. Pete Stetina outsprinted Rob Britton to win the stage with Ian Boswell just behind in third.
In the women's race, Sarah Max (Argonaut Cycles), Serena Gordon (Sunnyside Sports), Flavia Oliveira Parks and Molly Cameron formed a breakaway. Sarah attacked to solo to the finish line with Serena Gordon 2 minutes behind and Flavia Oliveira Parks 3 minutes behind in third.
On Saturday evening, participants joined Pete Stetina, Ian Boswell, and Kiel Reijnen to celebrate their "Dad's Camp" gravel reunion at Cascade Gravel Grinder. They retold stories of how they started gravel riding together in Bend.
Sunday was the Queen Stage, the Three Creeks Gravel race, a whopping 86-mile Grinder with over 6,800 feet of climbing. It threw everything at the riders. Big climbs, snow fields, fast descents, super smooth cinder, chunky rock, sand, and expansive views of the Cascade Mountains kept everyone's attention from the start to the very end. Two big climbs in the first 35 miles of the race created separation in the peloton. Ian Boswell, Pete Stetina and Rob Britton opened up a gap with Cassius Anderson, Walker Bohannan and Aris Sophocles in a chase group behind.
Once again the beloved "4 Miles of Hell" returned. Pete Stetina took the KOM $200 prize on the Queen Stage ahead of Ian Boswell and Rob Britton, with race organizer Chad Sperry shouting "We got cookies, coca cola and apple sauce, we got the whole smorgasbord!" to all the riders.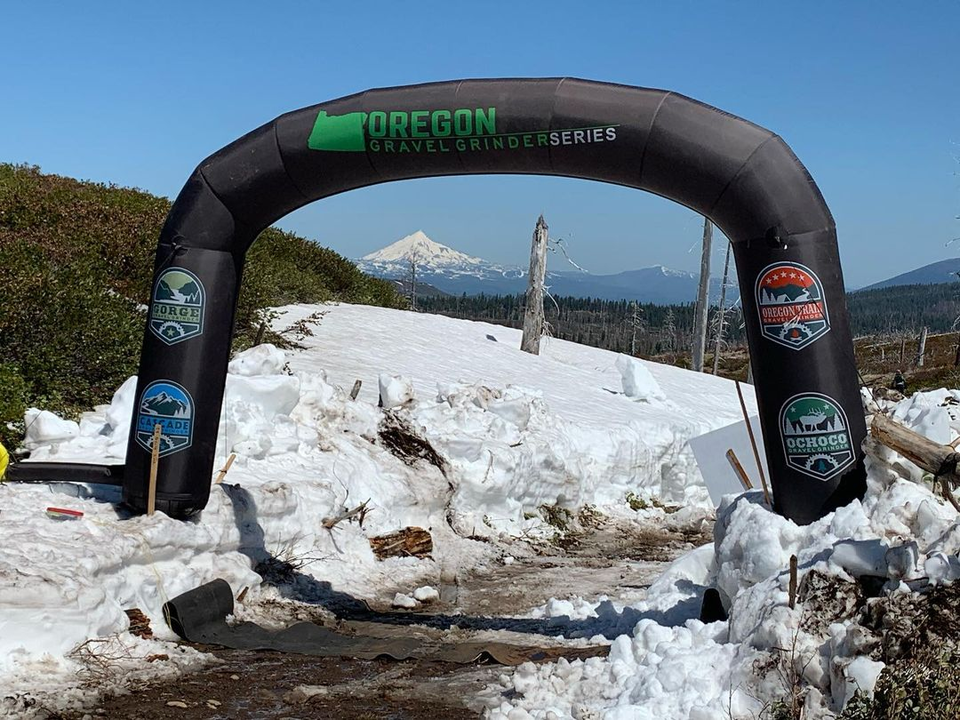 Photo: Best KOM/QOM Ever on the Queen Stage!
At the finish line, Ian Boswell outsprinted Pete Stetina with Rob Britton 10 minutes behind in third place after hitting a rock and bending his front chainring. Pete Stetina, of Santa Rosa, California, who won the overall stage race with an overall time of 7 hours, 13 minutes, 8 seconds. Boswell was just 1 minute, 7 seconds behind Stetina.
In the women's race Flavia Oliveira Parks attacked and soloed to stage victory 6 minutes ahead of Sarah Max and 8 minutes ahead of Serena Gordon.
Brazilian and 2016 Olympian Flavia Oliveira Parks won the women's overall stage race in 8:25:11, as Bend's Sarah Max finished second overall in 8:29:36 and Bend's Serena Gordon took third in 8:33:16.
Stetina put the plan together for him, Boswell and Kiel Reijnen, of Bainbridge Island, Washington, to all meet up in Bend and race the Cascade Gravel Grinder. All three are former professional road racers who raced in the Tour de France and also competed in the junior national championships when they were held in Bend in 2009 and 2010. "We all have really good memories of racing in Bend," Ian Boswell said. "We also all brought our families because we're all parents now. Bend's a great spot to hang out with families and a great spot to race and ride a bike."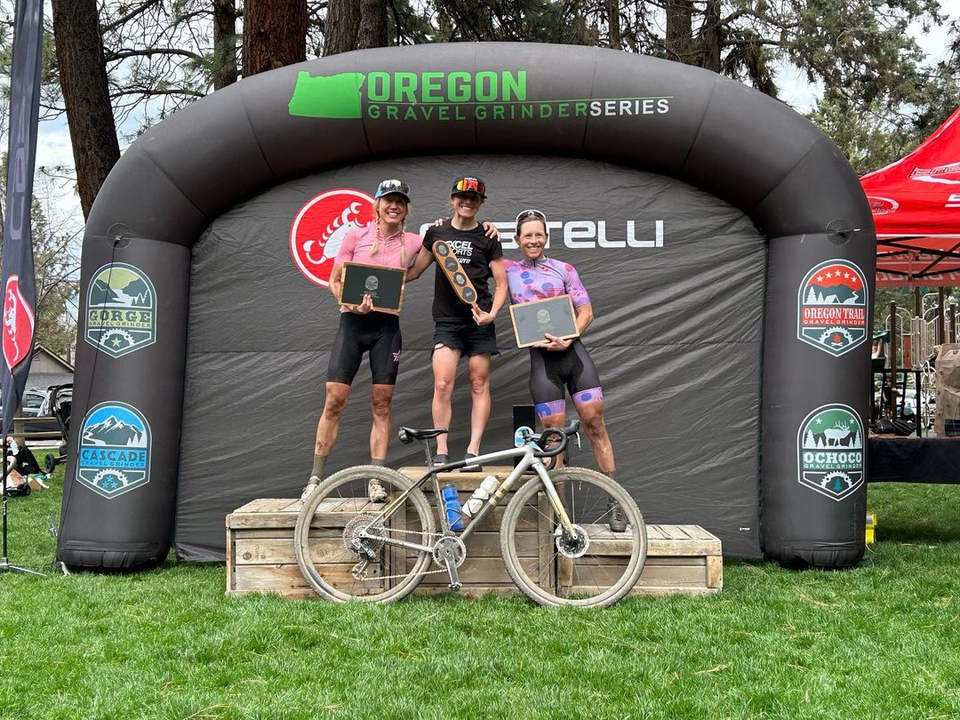 Photo: 2023 Cascade Gravel Grinder Womens Podium (LTR: Sarah Max 2nd, Flavia Oliveira Parks 1st and Serena Gordon 3rd. Photo Credit: @lilcrush27
Chad Sperry said on the final day "Sorry for putting the event on Mother's Day weekend – My Bad!" Chad made up for it with Mother's Day Massages & Mimosas at the post ride cheers and awards ceremony at Village Green Park.
Chad and his team from Breakaway promotions spent hours clearing the snow on the highest passes, to lessen the amount "Hike-a-Bike" endured out on the courses!
"Ian and Pete are easily the two best pros for gravel racing right now, which is exploding," Chad Sperry said. Sperry's Oregon Gravel Grinder Series has taken over road racing events as the premiere cycling events in Oregon.
Pete Stetina said afterwards, "The routes are wild, scenic, and FUN! It was the perfect excuse to gather friends and family for a weekend in Bend full of fun dinners and baby play time."
"Racing wise I came home with a stage win and the GC. There was a different winner each day and I had a great battle out there. Rob Britton was in the driver's seat as the final blows began but an unfortunate mechanical for him ended our slugfest early (I feel for you man!). That's off road racing for you though, all the respect for this all-time race course and competition"
"My heart is full and legs tired. Thanks Boswells, Reijnens, and Breakaway promotions for making this reunion happen."
Link to 2023 Cascade Gravel Grinder Results: https://tinyurl.com/2h3p7qzz
For photos, please visit: https://tinyurl.com/2pc9axyp
Next up is the Oregon Trail Gravel Grinder June 21-25, 2023, Limited places left for the so register now!
About the 2023 Oregon Gravel Grinder Series
The Oregon Gravel Grinder Series showcases the best gravel trails in Oregon with four EPIC Gravel Adventures; the Gorge Gravel Grinder in April, the Cascade Gravel Grinder in May, the Oregon Trail Gravel Grinder in June, and the Ochoco Gravel Grinder and Festival in July.
| | | | |
| --- | --- | --- | --- |
| Event | Date | Location | Registration |
| | April 23, 2023 | Dufur, OR | Sold Out |
| | May 12-14, 2023 | Bend, OR | Sold Out |
| | June 21-25, 2023 | Sisters, OR | |
| | July 8, 2023 | Prineville, OR | |
You can experience miles and miles of the great gravel that Oregon has to offer by signing up for one, two, three, or the full Oregon Gravel Grinder Series.
The series is organized by the amazing team at Breakaway Promotions, well-known for THE BEST race support, the friendliest smiles and huge post-race parties with great food and beer!
With participant caps of between 400-600 riders per event, Breakaway Promotions has created these epic events, ensuring riders of all abilities achieve accomplishments beyond their expectations, and have an unforgettable experience out of the saddle too.
The Breakaway Team looks forward to offering outstanding support during your ride at well-stocked aid stations, mechanical support on course and after your ride at the post-ride parties and celebrations.