Michigan State announces epic Gran Fondo for 2013 to fund skin cancer research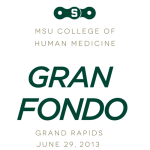 GRAND RAPIDS, MI — Bicyclists will want to start training big time for a monstrous new event starting next year, where a good cause will be worth feeling the burn.
The Grand Rapids-based Michigan State University College of Human Medicine announced its first "Gran Fondo" event for June 29, 2013, a three-course trek up to 80 miles that will double as a fundraiser for melanoma research.
Marsha Rappley, the college's dean, said Gran Fondo — Italian for "big ride" — could very well become an annual or semi-annual event in Grand Rapids.
"It's been in the works for several months, and I think it was the result of lots of ideas generated by very enthusiastic people," Rappley said.
The three courses vary in size, with the smallest being a 12-mile loop. All participants will start at The B.O.B. in downtown Grand Rapids.
The smallest course has riders heading back to the start from Millennium Park, and the longest 80-mile course being a round-trip to Grand Haven.
Another option is 35 miles, with the turnaround point about midway between Grand Rapids and Grand Haven, Rappley said.
In addition to getting in a little, or a lot of, cardio, riders are helping raise money for research into cures for melanoma, the deadliest form of skin cancer.
According to the event's website, the college seeks to aim $200,000 from the event, and already has garnered $15,000.
"The funds raised in Gran Fondo will be used to help support what we call pilot programs," Rappley said.
Such programs, she added, "allow new ideas to be tested in a small way before they're taken out to large numbers of people."
The ride is expected to begin at 8 a.m. for riders on the long route, and no later than 9:30 a.m. for the short-route riders, Rappley said.
Interested participants are able to create fundraising pages for the event at the event's website , where registration is now open.
Entry fees are waived for riders who work to raise $500 ahead of the ride, Rappley said. Otherwise, it is $50 per person for an adult, and children under 12 are free.
"It's not really competitive, pitting one person against another," Rappley said, lest anyone feel as though they might not be able to ride.
"It's really like your personal best and riding the distance," she said. "That's really the key participate. It's not who wins."
Sponsors include Bissell, Huntington Bank and Saint Mary's Health Care.
Zane McMillin may be reached through email and Twitter.
Click to visit Gran Fondo Guide's summary event details here - http://www.granfondoguide.com/msu-granfondo