Enjoy North Carolina's High Country at the Boone Gran Fondo
The course starts and ends in the cool college town of Boone nestled in the Western Carolina Appalachian Mountains. The scenery is unparalleled with grand vistas stretching over 100 miles
Don't miss out on your chance to ride 25, 60, or 100 miles on Sunday, August 1 in the cool mountain air around Boone, NC.
Come for the ride, stay for the prizes and beer! Thanks to Colnago Gran Fondo National Series partners, all riders have a chance to win some great prizes worth over $5,000!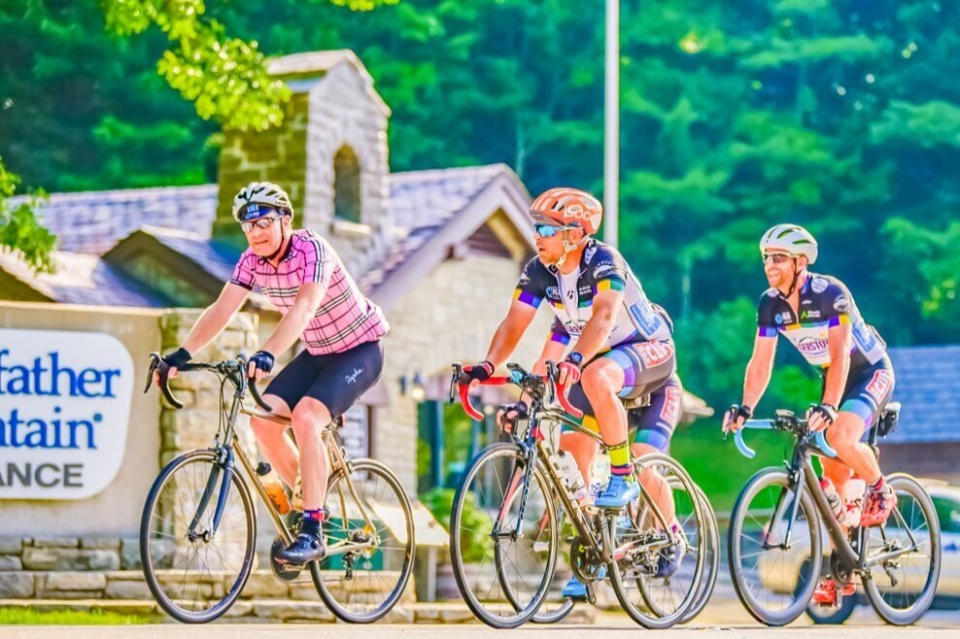 In mid-summer, the High Country of North Carolina enjoys 80-degree temperatures while the surrounding East Coast temperatures hover in the high 90s. Early August is a prime time to be in Boone!
Race the timed sections and then sit up and swap stories with your friends! The standings at the end of the day are based only on your time through the timed sections. You can regroup and ride with friends, stop at aid stations, and enjoy the scenery between sections.
Each rider is provided an electronic timing-chip to keep track of their progress throughout the course and to allow riders to compete for best time through highlighted sections of the course. Best Combined Time Wins. Custom "Race Winner" jerseys for all Gran Route age group winners with Awards and Prizes for Gran Route winners. Awards and Prizes for Medio and Piccolo winners and no racing license is required to take part.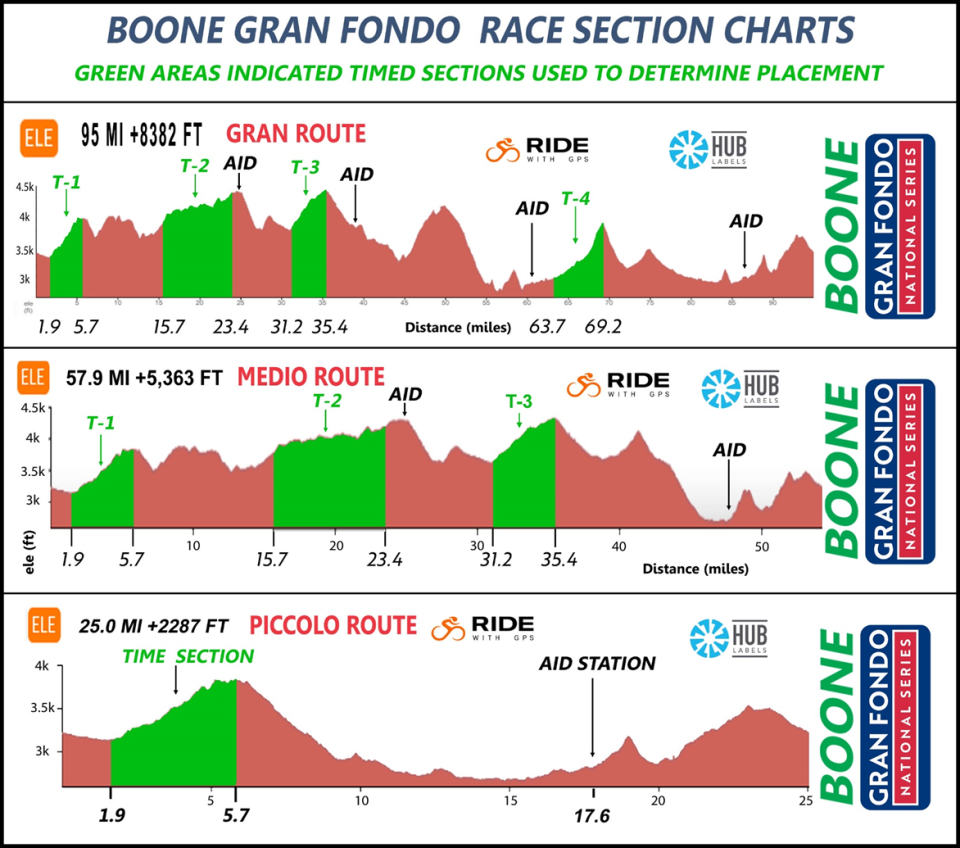 In mid-summer, the High Country of North Carolina enjoys 80-degree temperatures while the surrounding East Coast temperatures hover in the high 90s. Early August is a prime time to be in Boone! The Boone Gran Fondo rolls through Appalachian State University and, after just a few turns, climbs beside picturesque Winklers Creek during the first timed section.
T-1 Winklers Creek (counts for all distances)
The climb starts just 2 miles out of Boone, enough time to warm your legs up. The climb is 3.8 miles long with 750 feet of climbing at an average gradient of 3% with no more than 10% in places.
After a short downhill and a climb up the gorgeous Shull's Mill road, the course passes the Blue Ridge Parkway and turns onto Hwy 221. This section of road was hand built in the 1890's across Grandfather Mountain and served as the Blue Ridge Parkway until the 1980's. This second timed section is like a paved roller coaster.
T-2 Blue Ridge Parkway (counts for 60 and 100 mile distances)
The climb starts after 15 miles after riders have entered Grandfather Mountain State Park. The climb is 7.8 miles long with 841 feet of climbing at an average of 1%.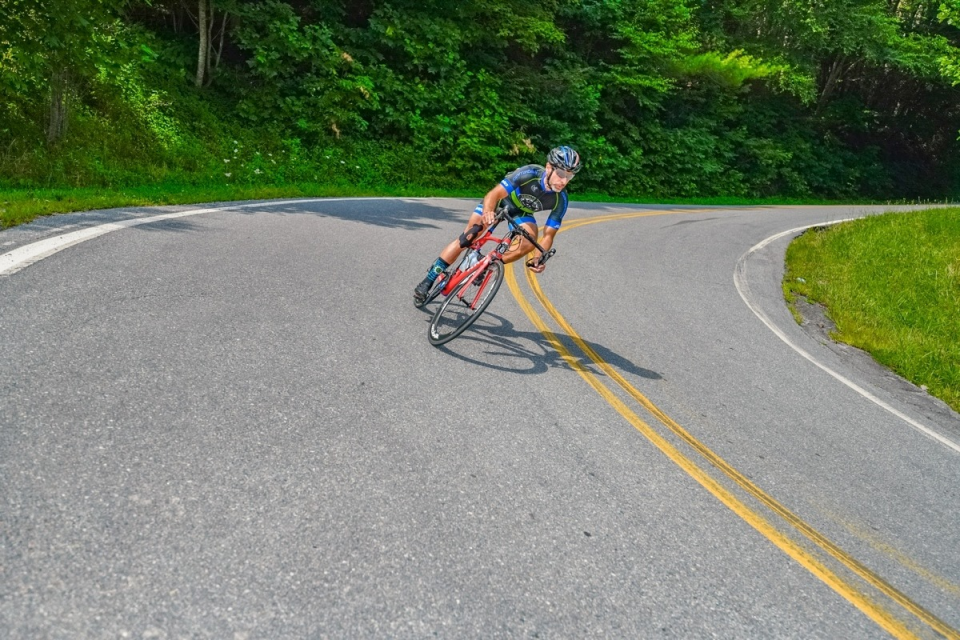 After passing the Grandfather Park entrance, the downhill into Linville is a local favourite stretch of road. The route passes through the Avery County seat, the town of Newland. In Newland the Gran Route changes from years past, this year the 100 mile gran route will follow the 60 mile medio route up one of the local favourite climbs up Hickory Nut Gap. Which is now time section #3 for both Medio and Gran riders.
T-3 Hickory Nut Gap (NEW FOR 2021) (counts for 60 and 100 mile distances)
The climb kicks in after 31 miles. Its 4.3 miles with 700 ft of climbing at an average gradient of 3.4%
Another nice downhill waits on the other side as riders descend to the home of the one of the best college cycling programs in the nation, Lees-McRae College, and the beautiful town of Banner Elk. Here the 60 and 100 mile rides split. The 100 mile route journey up the back of Beech Mountain; which in years past was a timed section.
Bethel Valley brings riders to a climb to the Tennessee State Line to end the fourth timed section.
T-4 Beaver Dam
The final climb for those doing the Gran Fondo is after 64 miles at Sweetwater. Its 5.5 miles with 1,015 ft of climbing at an average gradient of 3%, very similar to Beech Mountain.
From here, the route cruises on a very long gradual downhill grade through the valley and communities of Sugar Grove and Valle Crucis before it takes a climb up Laurel Fork and White Oak roads back to the town of Boone.
The Gran Fondo is 100 miles, the Medio 60 miles and the Piccolo 25 miles - to suit all abilities.
The Gran Fondo includes the 4 timed sections as mentioned, whilst the Medio includes 3 timed section, that of Winklers Creek, Blue Ridge Parkway, and Hickory Nut Gap. The Piccolo includes the timed section of Winklers Creek.
Downloadable Course Maps
100 Mile Route
60 Mile Route
25 Mile Route
The routes will be very well marked, but we encourage you to get the RideWithGPS App and load the route to your smart phone or GPS. Use this RSVP LINK to access premium RideWithGPS features and get turn by turn navigation for free.
Full GPS course maps are available for download here.
Fully Supported
A fun day on the bike with World Class support!
No matter if you're competing for the championship or not, you're sure to have a well-supported fun day on the bike. Ride with the people you want to ride with, at the pace you want to go. Regroup between timed sections, stop at aid stations, and enjoy the incredible views.
Ride worry-free with fully stocked aid stations and on-course sag support.
There's a huge celebration at the finish line, with a party with great food form Boone Town BBQ, along with drinks and cold… and of course the much anticipated award ceremony and raffle!
Prizes for Everyone
The series believed riders on podiums shouldn't be the only people to get cool stuff too! At every Gran Fondo National Series event, any rider could win one of the following, plus additional prizes from our incredible sponsors:
- Hyperice Hypervolt
- Hyperice Hypersphere
- 4-night Stay for 2 at Garda Bike Hotel in Italy
- Wahoo KICKR Core
- Industry Nine hubset
- Lazer Sphere MIPS helmet
- Cane Creek components
- Bike Flights travel voucher
- Shimano products
- Swiftwick socks
- Shott Performance coaching package
- DNA Cycling Mid Pack Attack (awarded to rider in the exact middle of the overall results)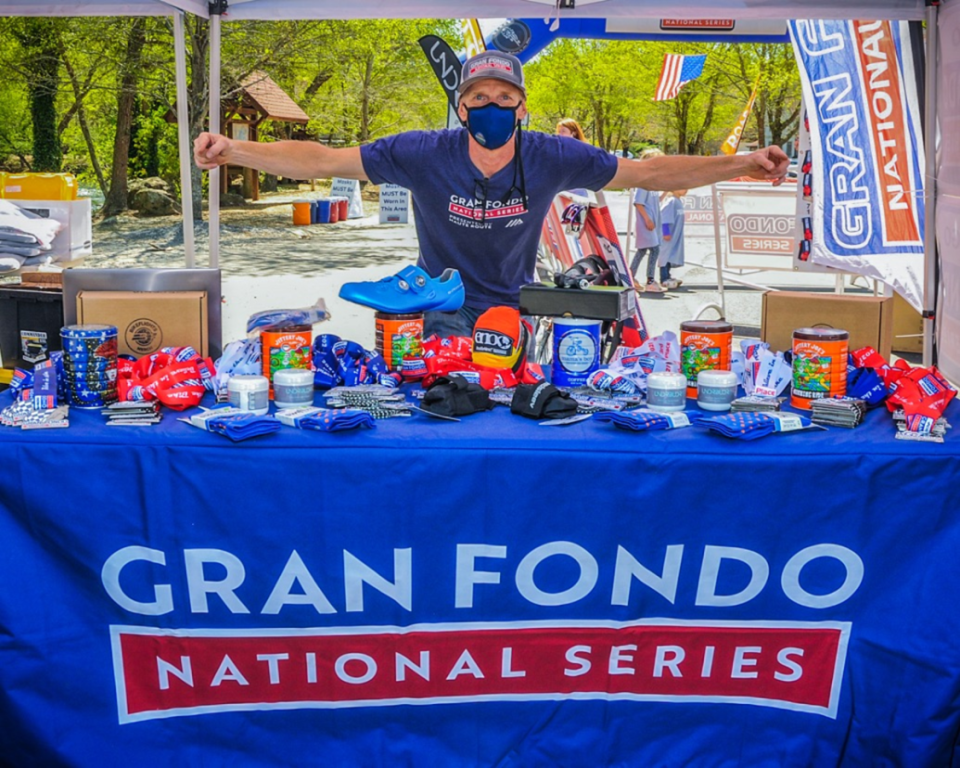 Solo, Team and Age Group Prizes
Professional chip timing keeps track of every rider on course and allows riders to compete for the best combined time through up to 4 timed sections on route. Riders can compete solo or as a team, while also riding at a more relaxed pace with others between timed sections to and enjoy the super scenic views!
More competitive riders can compete for overall victory and age group podiums for men and women. There is also a team competition, won by the combined time of a team's fastest three riders. Bonus seconds are awarded for additional team members who finish, meaning there's a benefit to bringing a larger team.
Lodging
Click here to find the best lodging in Boone: https://booking.stayker.com/gran-fondo-boone-nc-2021-event?checkin=2021-07-31&checkout=2021-08-03&currency=USD
Be sure to check out all the great Boone independent restaurants.
Register Now and Save!
Registration is open, but with just over a month to go you'll need to hurry to secure a place on this epic challenge across western Carolina's Appalachian Mountains.
Prices go up on July 9th, so register now and save!
For more information, please visit: https://www.granfondonationalseries.com/gran-fondo-boone, or click the button below to register now.

Benefiting Watuaga Pioneers Mountain Bike Team
The Watauga Pioneers Mountain Bike Team will be manning our aid stations. To help support them we are accepting donations which will go directly to the team, which currently has 29 student athletes ranging from 6th through 11th grades, and 16 volunteer coaches.
The team is part of NICA - National Interscholastic Cycling Association and is affiliated with the North Carolina State League of NICA.
For more information on the 2021 Colnago Gran Fondo National Series, please visit: https://www.granfondonationalseries.com