Ride through the Rocky Mountains at the Golden Gran Fondo this August 29th
Ride the same roads used in the Coors Classic and American Flyers. Climb over 10,000 feet through Colorado's Rocky Mountain Range at one the hardest Gran Fondo's in America!
There's also the 62 mile Medio Fondo and the 18 mile Piccolo Fondo to suit riders of all abilities.
The next round of the Colnago Gran Fondo National Series takes place in Golden, Colorado taking place on Sunday August 29th, and will take riders on an unforgettable journey through the Rocky Mountains. It's earned a reputation as one of the hardest road bike rides in the USA, and for good reason.
With over 10,000 feet of climbing over the 91 miles Gran Fondo course, traversing high alpine gravel roads, grades approaching 20% in some sections, and all starting at an altitude of 6,000 feet above sea level - no one should expect an easy day out!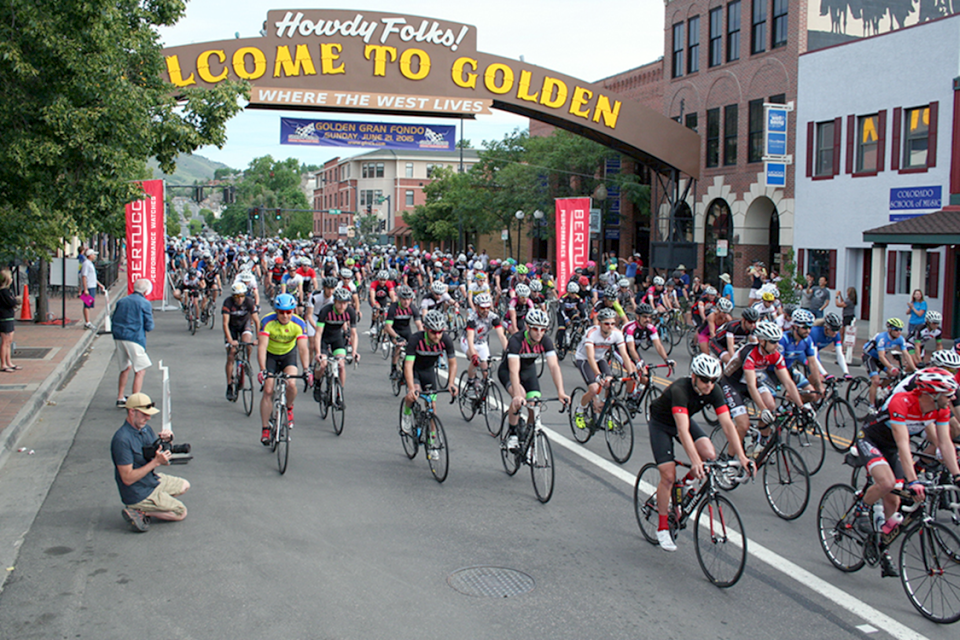 If you want a smaller slice of the Rocky Mountains, there's the 62 mile Medio Fondo and the 18 mile Piccolo Fondo to suit all fitness levels and abilities of riders so everyone can enjoy a super day out and compete for prizes and awards too!
Ride with your friends, Race with your friends
With up to four timed sections, cyclists can compete for prizes across a range of categories for men, women and a team event too.
While riders have the opportunity to pace themselves and enjoy the view, professional or competitive cyclists can "show their strength" at every section. When you're outside those timed sections, you have an opportunity to look around and enjoy the beautiful scenery, relax, stop at aid stations and regroup with friends.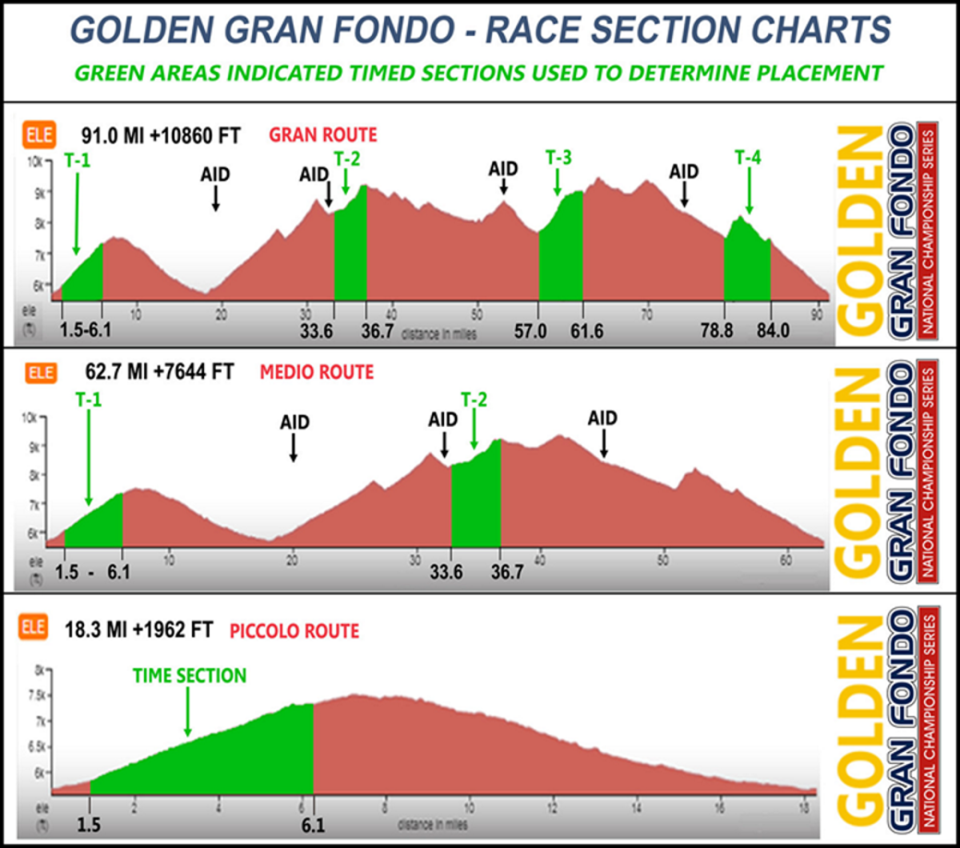 It starts by tracing the route of the inaugural USA Pro Cycling Challenge towards continental divide. It features some of the same roads used in the Coors Classic and featured in the movie American Flyers (Kevin Costner's classic cycling film that was set in the town of Golden).
Upon reaching the scenic Peak to Peak Highway, racers will be treated to high alpine vistas, lung busting ascents, a taste of hard pack dirt road, and a total of 10,860 feet of climbing before returning to downtown Golden where riders can replenish their exhausted bodies but full souls. This course is sure to test your climbing prowess while treating you to some of the most ruggedly beautiful landscapes anywhere.
T1 - Lookout Mountain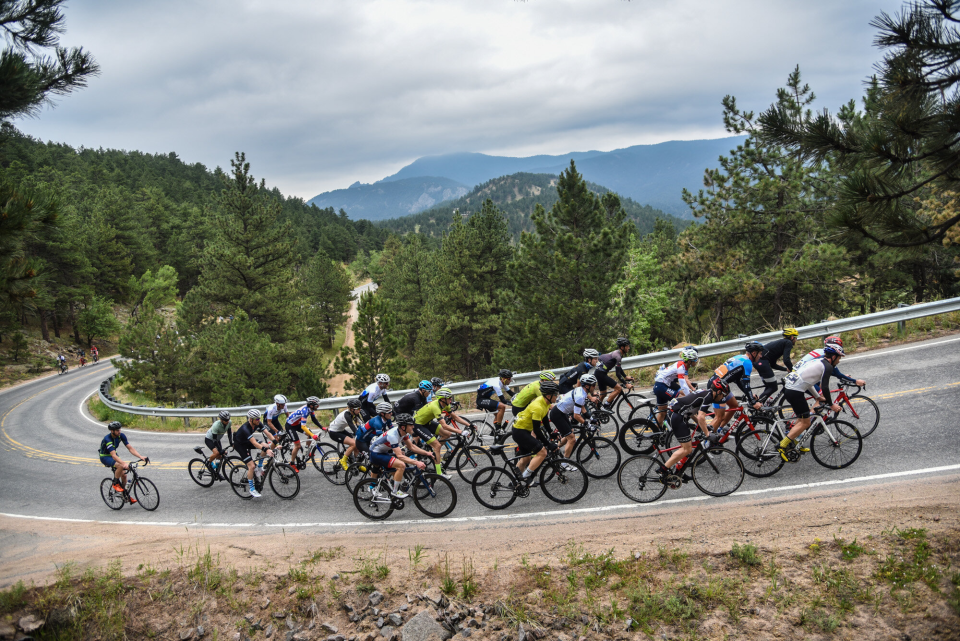 Golden's iconic climb, used in races including the Colorado Classic and Coors Classic is the first timed section. This is a four and a half mile climb with nearly 1,200 feet of climbing that hairpins past Mount Zion and Windy Park Saddle and is a brute of a climb, which starts as you leave Golden.
https://ridewithgps.com/routes/23877876
After the iconic Lookout climb catch your breath, the route loops back through the city of Golden. Remember to take time to eat and drink at the aid stations and stock up as it's a big day out in the saddle.
T2 - Mountain Base Road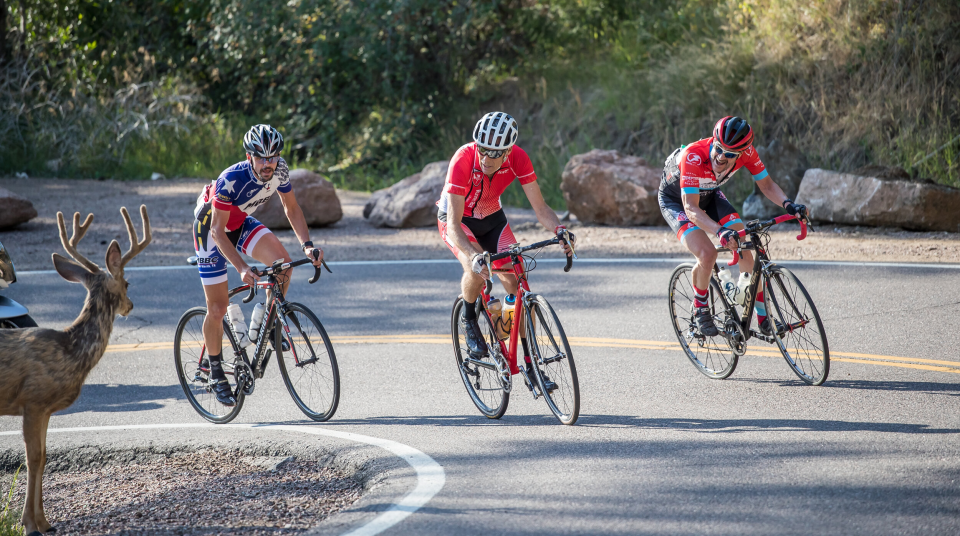 Just after the second feed station, turning onto Mountain Base Road, the 2nd timed section begins. It's a 3.1 mile climb with 875 feet of climbing, which makes for an elusive average gradient of 5.8% since the first mile is relatively flat. The road kicks up to nearly 20% in the middle and is rated as an Haute Category 3 climb (the grading used for climbs in the Tour de France).
http://ridewithgps.com/routes/2691255
There's a great respite after all that climbing, its downhill for around 13 miles so enjoy it. Make sure you use the descents to hydrate and eat to replenish your energy stores, there's still lots of climbing to do!
T3 - Twin Spruce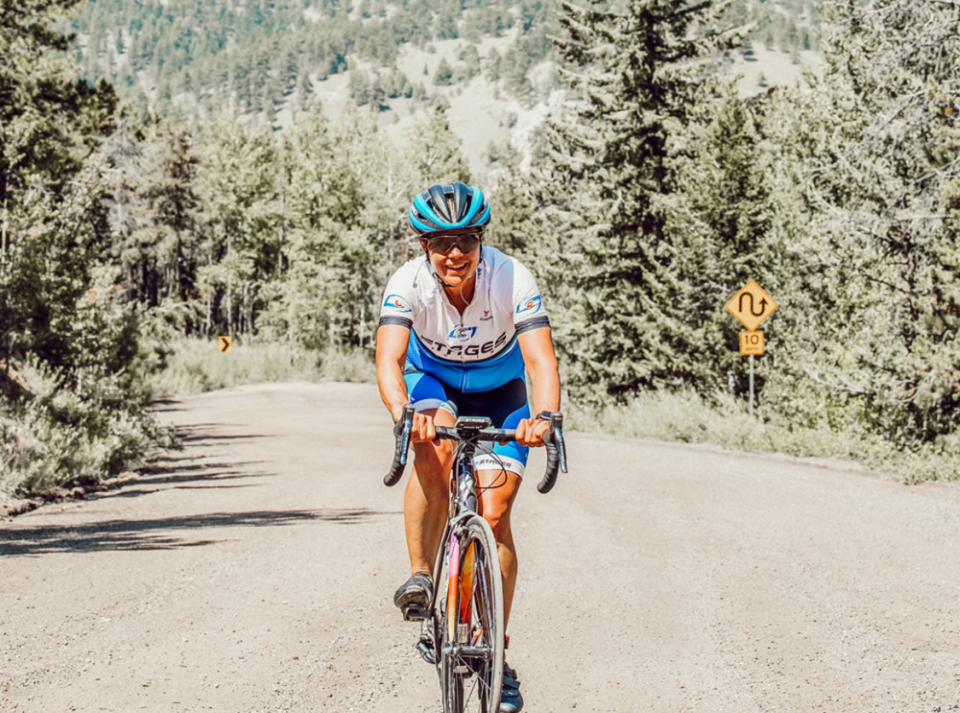 Twin Spruce is 4.6 miles long and climbs 1,368 feet. That's 5.5% average gradient with a section of 12.2%. The pro peloton tackled this same climb in the Colorado Classic.
You'll find yourself on the wooded climb of Gap Road with Tremont Mountain on your left, the last 3 miles of Gap Road is hard packed dirt!
The good news is its 9 miles downhill to the last timed climb, having cycled 79 miles.
Again make sure you use the descents to hydrate and eat - to replenish your energy
http://ridewithgps.com/routes/2691277
T4 - Drew Hill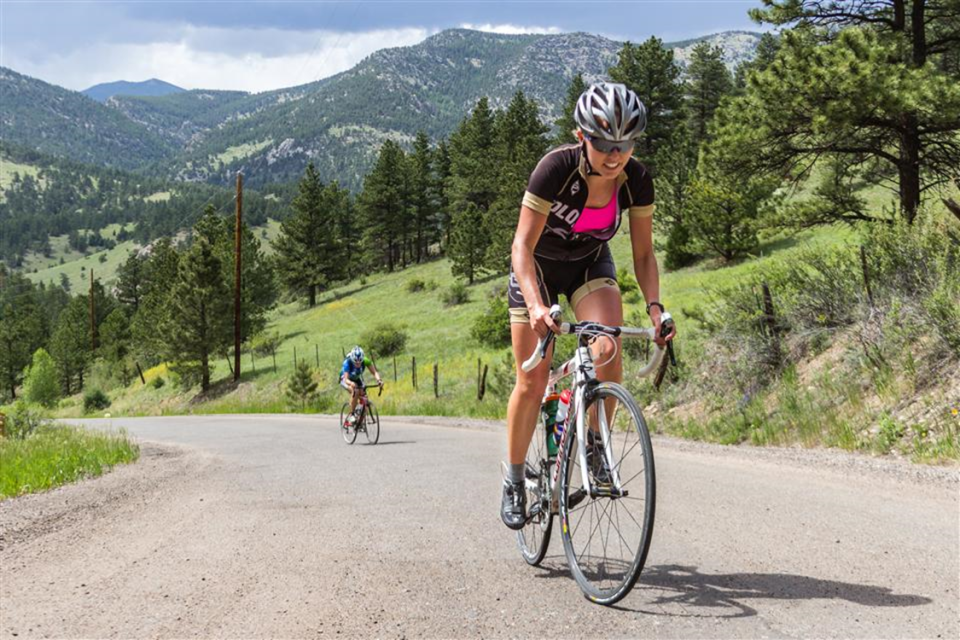 The final climb for Gran Fondo riders, by now your legs will screaming for you to stop. It's time to grit your teeth and show your true metal!
The longest timed climb awaits and its 5.3 miles, with a sustained straight steep pitch just before the initial summit. When you reach this first crest it's not over – you'll enjoy a dreamy smooth pavement descent before the final kick up the last 150 feet.
http://ridewithgps.com/routes/2691342
It's all downhill!
Congratulations, its 7 miles downhill straight to Golden for finish party in Parfet Park!
You've made it! After 91 miles and over 10,000 feet of climbing making the Golden Gran Fondo one of the hardest Gran Fondo's in America. Hot food and cold beer waiting for you at the finish line, plus chances to win valuable prizes!
The Medio Fondo contains the timed section of Lookout Mountain and Mountain Base Road and the Piccolo, Lookout Mountain and they provide 2 and 1 aid stations respectively. The Gran Fondo contains all 4 timed climbs and 4 aid stations.
Downloadable Course Maps
The routes will be very well marked, but we encourage you to get the RideWithGPS App and load the route to your smart phone or GPS. Use this RSVP LINK to access premium RideWithGPS features and get turn by turn navigation for free.
Full GPS course maps are available for download here.
Fully Supported
A fun day on the bike with World Class support!
No matter if you're competing for the championship or not, you're sure to have a well-supported fun day on the bike. Ride with the people you want to ride with, at the pace you want to go. Regroup between timed sections, stop at aid stations, and enjoy the incredible views.
Ride worry-free with fully stocked aid stations and on-course sag support.
There's a huge celebration at the finish line in Parfet Park, downtown Golden, with a party with great food along with drinks and cold… and of course the much anticipated award ceremony and raffle!
Prizes for Everyone!
The series believed riders on podiums shouldn't be the only people to get cool stuff too! At every Gran Fondo National Series event, any rider could win one of the following, plus additional prizes from our incredible sponsors:
- Hyperice Hypervolt
- Hyperice Hypersphere
- 4-night Stay for 2 at Garda Bike Hotel in Italy
- Wahoo KICKR Core
- Industry Nine hubset
- Lazer Sphere MIPS helmet
- Cane Creek components
- Bike Flights travel voucher
- Shimano products
- Swiftwick socks
- Shott Performance coaching package
- DNA Cycling Mid Pack Attack (awarded to rider in the exact middle of the overall results)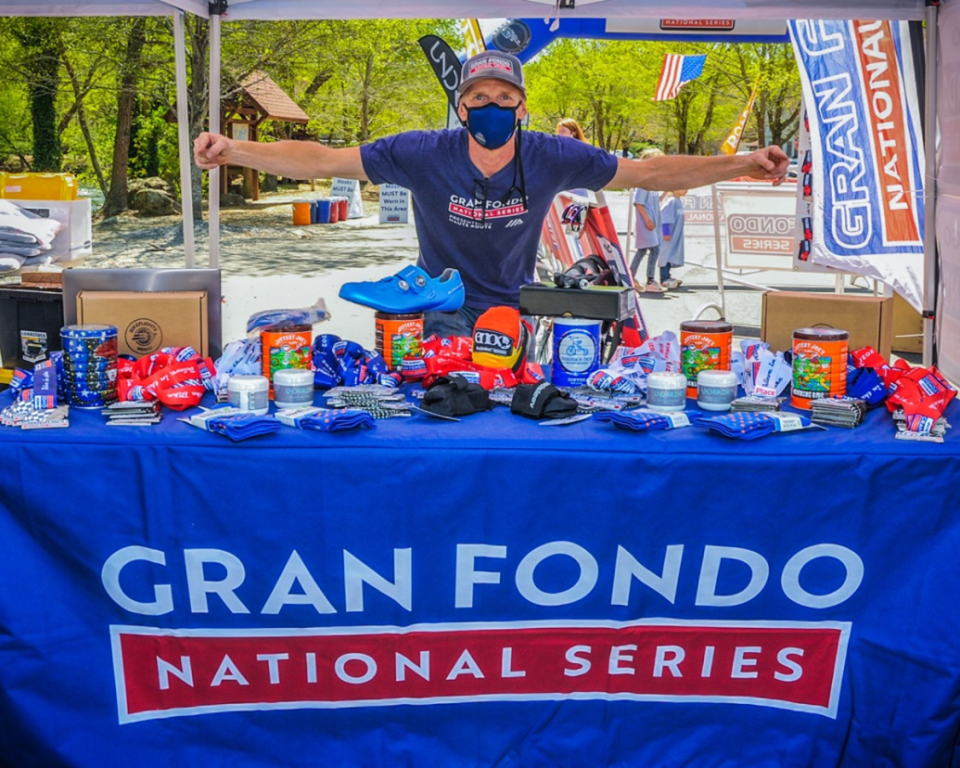 Solo, Team and Age Group Prizes
Professional chip timing keeps track of every rider on course and allows riders to compete for the best combined time through up to 4 timed sections on route. Riders can compete solo or as a team, while also riding at a more relaxed pace with others between timed sections to and enjoy the super scenic views!
More competitive riders can compete for overall victory and age group podiums for men and women. There is also a team competition, won by the combined time of a team's fastest three riders. Bonus seconds are awarded for additional team members who finish, meaning there's a benefit to bringing a larger team.
Register Now and Save!
Registration is open, but with just over a month to go you'll need to hurry to secure a place on this epic challenge across the Rocky Mountains.
Prices go up on August 20th, so register now and save!
For more information, please visit https://www.granfondonationalseries.com/gran-fondo-golden, or click the button below to register now.

For more information on the 2021 Colnago Gran Fondo National Series, please visit: https://www.granfondonationalseries.com