End the Summer on a High Note with Gran Fondo Maryland
Gran Fondo Maryland has something for everyone with three routes to suit all abilities, and you can win some fantastic prizes too!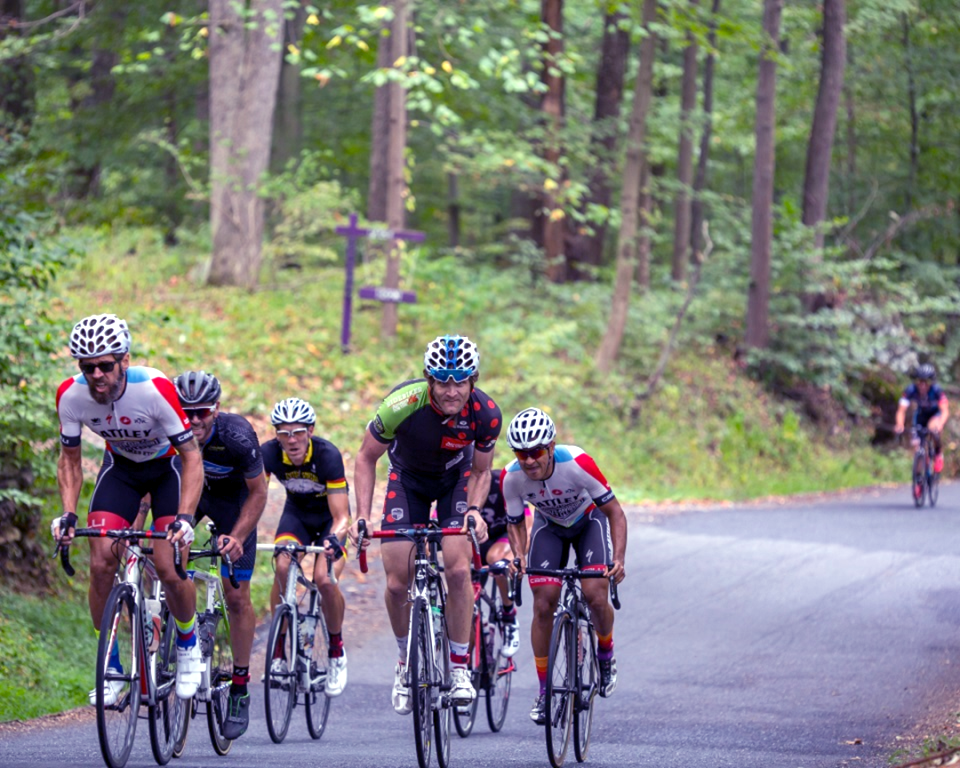 Gran Fondo Maryland in Frederick on September 19th 2021 is the perfect way to cap off your summer cycling season. The event has something for everyone, taking riders through several different state parks, municipal forests, protected watersheds, and the Catoctin Mountain National Park. Frederick, Maryland is within an hour of Washington DC and Baltimore, and within 4 hours driving distance from many of the biggest cities on the East Coast, including Philadelphia, New York City, Pittsburgh, Roanoke, Richmond, and Norfolk.
There are three distances to suit all abilities of riders. The Gran Fondo is 96.6 miles with 9,133 feet of climbing, the Medio 61.4 miles with 5,718 feet of climbing and the Piccolo 27.8 miles with 2,388 feet of climbing. Gran Fondo Maryland is a qualifying event for the 2022 USA Cycling Gran Fondo Series National Championship. Results from the 2021 Gran Fondo Maryland also count toward the three finishes needed to compete in the season-long 2021 National Series Points Competition.
Maryland is the original event that kick-started the Colnago Gran Fondo National Series and established the foundation of the popular timed section format, essential to the competitive element of the series. Since then participation has sky rocketed with well over 10,000 participants taking part across North America from over 50 states and internationally.
Ride with your friends, Race with your friends
Gran Fondo National Series events feature timed segment competitions. With four timed sections on the Gran Route, two on the Medio, and one on the Piccolo, cyclists can compete for prizes across a range of categories, including men and women's age groups and a team competition. Start-to-finish time does not count toward the results, only you combined time through the timed segments determines your standings. When you're outside those timed sections, you have an opportunity to look around and enjoy the beautiful scenery, relax, stop at aid stations and regroup with friends. All riders are also eligible to win prizes in the finish line raffle.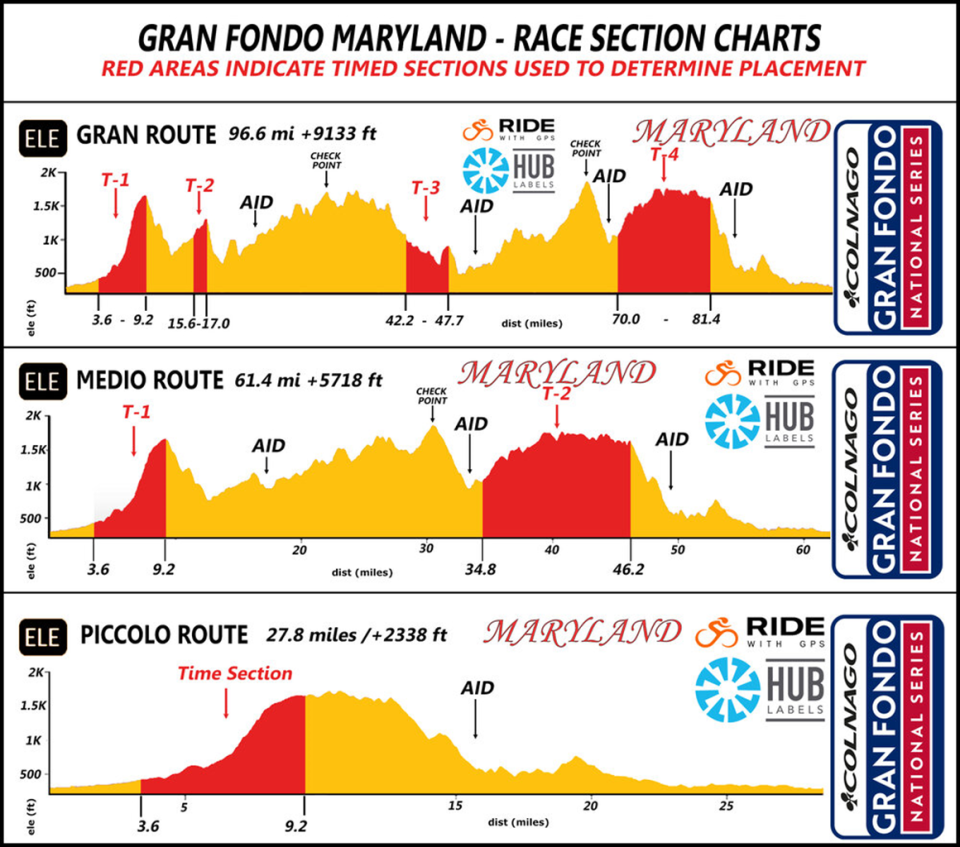 Each rider is provided an electronic timing-chip to keep track of their progress throughout the course and to allow riders to compete for best time through highlighted sections of the course. Best Combined Time Wins.
Custom "Race Winner" kits from DNA Cycling for all Gran Route age group winners with Awards and Prizes for Gran Route winners. Awards and Prizes for Medio and Piccolo winners and no racing license is required to take part. Commemorative event hat for Gran Route finishers!
The Gran Fondo contains 4 timed climbs of Hamburg Hill, Harp Hill, the Gully of Darius and Gambrill Park and 4 aid stations. The Medio contains 2 timed climbs of Hamburg Hill and Gambrill Park and 3 aid stations. The Piccolo Fondo contains the timed climb of Hamburg Hill and an aid station afterwards.
Gran Route will gain over 9,000 feet of elevation through several different state parks, municipal forests, protected watersheds, and the Catoctin Mountain National Park. After exploring this incredible region, riders will return back into historic downtown Fredrick and be welcome to well-deserved festivities at the finish line, complete with great food, beverage, and more fun.
T1 - Hamburg Hill
Riders will travel northwest out of the city of Frederick before entering the Frederick Municipal Forest where the first timed section will gain over 1270 feet in a 5.6 mile race segment. At the top riders will be able to relax and enjoy the cool mountain forest as the course plummets over the west side of the mountain range.
T2 - Harp Hill
The second timed section ascends the southern approach to Harp Hill for a punchy up-down-up-down-up lasting for a brief 1.4 miles and 279 feet of vertical gain. For the next 25 miles and 2500 feet of cumulative gain, the route then follows a mix of small and obscure backroads heading north towards the decommissioned military base of Fort Ritchie.
T3 - Gully of Darius
Time Section #3 is a more dynamic segment and certainly cannot be called a timed climb. Section #3 will require riders to use caution and technical skill with several 90° turns including an old bridge crossing and tarp & chip road surface. The section starts on a wide downhill roadway where for the first 4.9 miles riders lose 500 feet of elevation before hitting the last 1k and 300 vertical feet to the finish of section #3 on top of Hornets Nest Road. Time segment #3 known as The Gully of Darius is a total of 5.5 miles -574 /+386 feet. From here the route heads south and works its way back exploring nooks and crannies in the Catoctin Mountain Range and travels through Catoctin Mountain National Park for 22 miles and +2250 feet of untimed pedaling. Past riders will be able to take special appreciation as they descend Park Central Road, which was used in the opposite direct as race section #2 in past years.
T4 - Gambrill Park
As Super Gran route riders approach mile 71 they need to take in a deep breath, shake out their legs and prepare for the hardest segment of the day, (this segment also counts as a time segment for Medio Route riders).
Section #4 is 11.4 miles +1203 feet and will test every rider's ability! The segment starts by gaining 784 feet over the first 4.6 miles and then continues for a challenging and undulating 6.8 miles on top of the mountain ridge on Gambrill Park Road through Frederick Watershed and into Gambrill State Park. After completing time section #4, riders will have over 1000 feet of elevation on their side as they drop off the mountain range and into the valley towards the finish, but completing the route in not over, there are still some hills that are sure to make riders know they are still alive. Riders will return back into historic downtown Fredrick and be welcome to well-deserved festivities at the finish line, complete with great food, beverage, and more fun.
Downloadable Course Maps
The routes will be very well marked, but we encourage you to get the RideWithGPS App and load the route to your smart phone or GPS. Use this RSVP LINK to access premium RideWithGPS features and get turn by turn navigation for free.
Full GPS course maps are available for download here.
Fully Supported
A fun day on the bike with World Class support!
No matter if you're competing for the championship or not, you're sure to have a well-supported fun day on the bike. Ride with the people you want to ride with, at the pace you want to go. Regroup between timed sections, stop at aid stations, and enjoy the incredible views.
Ride worry-free with fully stocked aid stations and on-course sag support.
There's a huge celebration at the finish line in downtown Frederick, with a party with great fresh local food along with drinks and cold… and of course the much anticipated award ceremony and raffle!
Prizes for Everyone!
The series believed riders on podiums shouldn't be the only people to get cool stuff too! At every Gran Fondo National Series event, any rider could win one of the following, plus additional prizes from our incredible sponsors featuring up to $5000 in prizes:
- Hyperice Hypervolt
- Hyperice Hypersphere
- 4-night Stay for 2 at Garda Bike Hotel in Italy
- Wahoo KICKR Core
- Industry Nine hubset
- Lazer Sphere MIPS helmet
- Cane Creek components
- Bike Flights travel voucher
- Shimano products
- Swiftwick socks
- Shott Performance coaching package
- DNA Cycling Mid Pack Attack (awarded to rider in the exact middle of the overall results)

Solo, Team and Age Group Prizes
Professional chip timing keeps track of every rider on course and allows riders to compete for the best combined time through up to 4 timed sections on route. Riders can compete solo or as a team, while also riding at a more relaxed pace with others between timed sections to and enjoy the super scenic views!
More competitive riders can compete for overall victory and age group podiums for men and women. There is also a team competition, won by the combined time of a team's fastest three riders. Bonus seconds are awarded for additional team members who finish, meaning there's a benefit to bringing a larger team.
Register Now and Save!
Registration is open, but with just over a month to go you'll need to hurry to secure a place on this epic challenge across the Catoctin Mountain National Park.
Prices go up on September 10th, so register now and save!
For more information, please visit https://www.granfondonationalseries.com/gran-fondo-maryland or click the button below to register now.

For more information on the 2021 Colnago Gran Fondo National Series, please visit: https://www.granfondonationalseries.com