Knight and Patterson pull on the Stars and Stripes Gran Fondo National Championship Jersey
It was a celebration of cycling this weekend in Asheville for the ninth annual Gran Fondo which included the second edition of the USA Cycling Gran Fondo National Championships
Participants gathered at Rabbit Rabbit downtown, where they set off on a bike ride through the mountains Sunday morning, July 17.
Reuben Kline, the director of Gran Fondo National Series, said the event was both competitive and recreational, using a timed section format for those putting their skills to the test, "Everybody rolled out of town, and rode either a 30, 60 or 100-mile route," Kline said. "Those 100-mile riders are going through four designated timed segments."
The event also hosted the second edition of the USA Gran Fondo National Championships. The national championships took place on the 100 mile Gran Fondo route over the stunning Blue Ridge Mountains, with riders competing in age/gender categories over four timed segments.
Andrew Knight from Georgia beat, Felipe Aros and Benjamin Wright in the men's race to pull on the coveted Stars and Stripes Gran Fondo National Championship jersey.
Photo Credit: Mario Quivera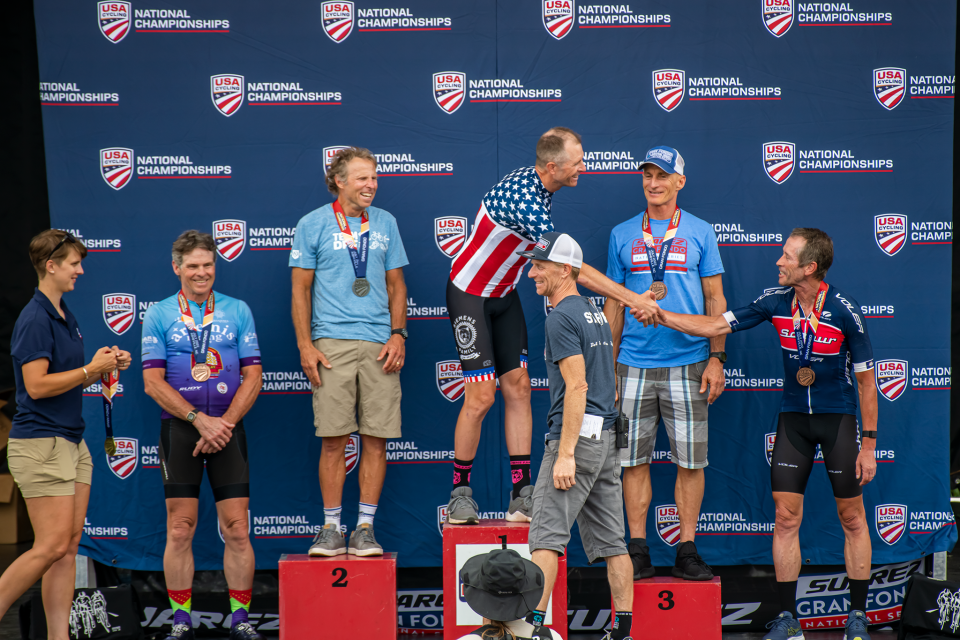 Jill Patterson from Virginia beat Rachel Jordan and Debbie Milne to pull on the women's Stars and Stripes Gran Fondo National Championship jersey too.
Jill said, "I am a Gran Fondo US National Champion! I won overall and age group and am so psyched to wear the stars and stripes jersey. Thank you to everyone who supported me and helped me become a better rider so I could stand on the top step!"
In the Asheville Gran Fondo, Taylor Delhagen was fastest ahead of Nick Inabinet and Michael Roseberry for the men, and for the women Susan Haid was fastest ahead of Maria Echeverri and Elana Festa.
In the Asheville Medio Fondo, Nathaniel Michener was fastest ahead of Seager Wilson and Chris Larsen, and for the women Regan Fink was fastest ahead of Anna Barton and Olivia Pantano.
In the Asheville Piccolo Fondo, James Deane was fastest ahead of Andre Gracindo and Robyn Manhard, and for the women Robyn Manhard was fastest ahead of Gabriela Beita and Lucy Amelia Kruesel.
Photo Credit: Mario Quivera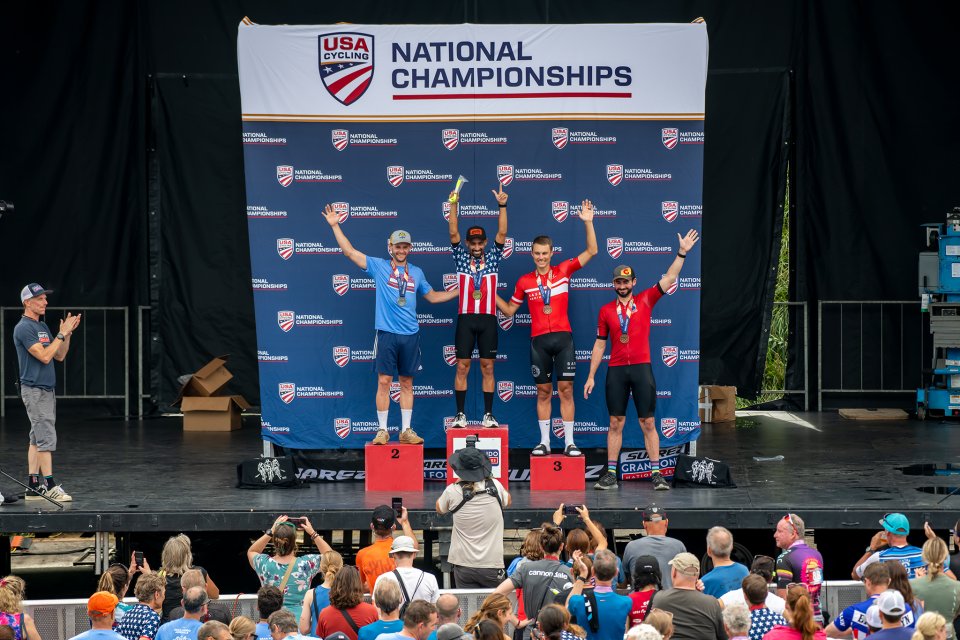 2022 USA Cycling Gran Fondo National Champions
1st place age group winners received a commemorative Stars and Stripes jersey.
Women 17-18
Greetja Nestler

Women 19-24
Rachel Jordan

Women 30-34
Meghan Henry


Women 35-39
Stefanie Sydlik

Women 40-44
Jill Patterson

Women 45-49
Blaire Mccurry

Women 50-54
Debbie Milne

Women 55-59
Lisa Weiss

Women 60-64
Brigitte Sims

Women 65-69
Martha Parks

Men 14-16
Jade Rohde

Men 17-18
Jacob Barrick


Men 19-24
Benjamin Wright

Men 25-29
Tyler Kirkwood

Men 30-34
Felipe Aros

Men 35-39
Jesse Siemen

Men 40-44
Owen Shott

Men 45-49
Andrew Knight

Men 50-54
Raik Huster

Men 55-59
Mike Unruh

Men 60-64
Randy Warren

Men 65-69
Gaylord Otte

Men 70-74
Mark Mccarthy

Men 75+
S Durward Higgins
Overall 200 riders took part, having already qualified at another Gran Fondo National Series® event to compete for the title of "America's 2022 Gran Fondo National Champion".
Riders returned downtown for a bike festival on Sunday afternoon.
The event also benefitted Asheville on Bikes, a local nonprofit advocating for cyclists.
Link to full 2022 Gran Fondo Asheville Results: https://my.raceresult.com/209758/results