SUAREZ Gran Fondo National Series Strengthens Partnership with Garda Bike Hotel
The SUAREZ Gran Fondo National Series has strengthened its long-term partnership with Garda Bike Hotel and their Andiamo Cycling experiences, Italy's premiere cycling hotel and guiding service located on the shores of Lake Garda
All Series riders will have access to year-round purchase incentives for stays at the iconic hotel and participation in select Andiamo Cycling tours. And at all Series events, participants will have opportunities to win stays at Garda Bike Hotel through the SUAREZ Gran Fondo National Series Raffles.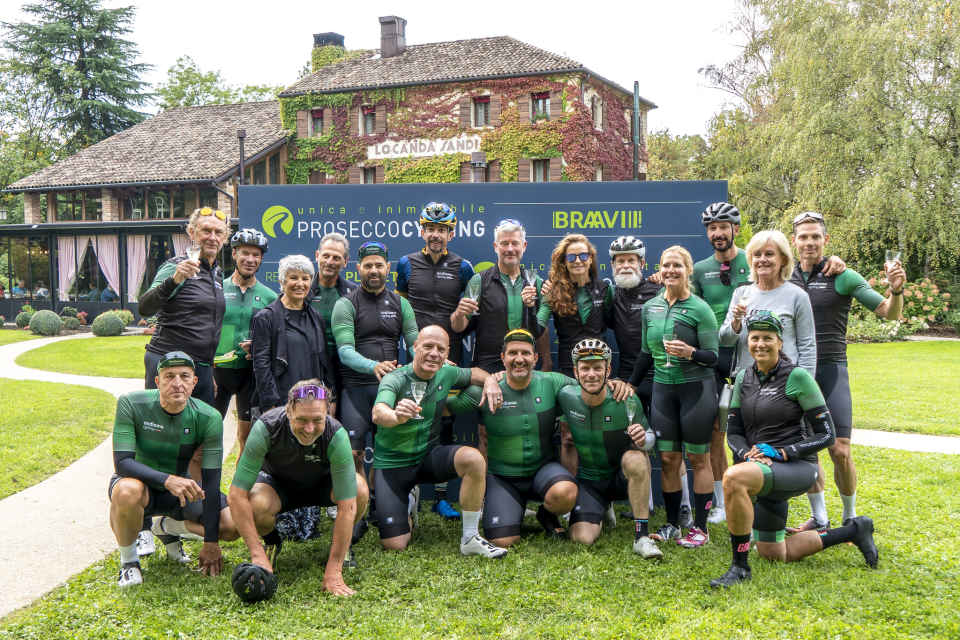 Garda Bike Hotel Year-Round
Garda Bike Hotel is a family-owned cycling-centric hotel on the shores of Lake Garda. No matter when you visit or how long you stay, all your cycling needs are taken care of. Guests enjoy secure bike storage, daily laundry service for cycling apparel, farm-fresh meals to fuel great days on the bike, and local guides who lead 3 daily rides, scaled for pace, distance and level of climbing. Bring your own bike or rent a Pinarello road or gravel bike for the duration of your stay. Best of all, you are not locked into specific tour dates or itineraries; Garda Bike Hotel amenities are available throughout the cycling season.
For 2023, cyclists who register for SUAREZ Gran Fondo National Series events will receive purchase incentives for stays at Garda Bike Hotel. At each Series event, one participant will win a 4-night stay for two at Garda Bike Hotel.
"Garda Bike Hotel is the highest quality and most flexible way to experience the best cycling in Italy," said Reuben Kline, Founder of Gran Fondo National Series. "With multiple daily ride options, expert guides, great food, and services built specifically for cyclists, you can show up any day of the year and have one of the greatest cycling vacations of your life."
Andiamo Cycling Tour Offers for Series Participants
SUAREZ Gran Fondo National Series participants can take advantage of special pricing on three of Andiamo Cycling's most popular trips:
- Maratona dles Dolomites: 5-day guided cycling camp from June 29 – July 3. This all-inclusive camp features a guaranteed entry to the sold-out Maratona dles Dolomites event. Additional days at Garda Bike Hotel can be added to the beginning or end of the package. View complete details.
- Prosecco Gran Fondo: If you're thinking of a fall getaway, Andiamo Cycling will take you to the Prosecco Gran Fondo near Treviso, Italy. Riders enjoy roads closed to traffic and timed segment competitions. Celebrating the end of the Prosecco harvest season, the event features Shrimp Scampi and Prosecco at aid stations along with other local delicacies. Gran Fondo National Series staff and riders had the time of their lives at this event in 2022 with Andiamo Cycling.
- Gravel Fondo Val d'Orcia: Join Andiamo Cycling on the white roads of Tuscany for a novel gravel adventure in late October 2023. In addition to the gravel fondo and best cycling routes in the area, Andiamo's guides will ensure you're immersed in the food, wine and culture of this region of Tuscany. For the best experience, riders will have access to Pinarello Grevil gravel bikes.
"Andiamo Cycling adds value to every aspect of participating in a cycling trip. Leveraging relationships cultivated over decades, they created exclusive and once-in-a-lifetime experiences for us at the 2022 Prosecco Gran Fondo," said Kline. "I wouldn't sign up for a cycling event in Italy without a package from Andiamo Cycling."
About Gran Fondo National Series
Founded in 2012 by event director Reuben Kline, the Gran Fondo National Series is the largest and most competitive series of gran fondo cycling events in the United States. Gran Fondo National Series was the first series to implement timed-segment racing into US gran fondo events and has crowned Gran Fondo National Champions and Gran Fondo National Series Champions since 2012. Since 2020, Gran Fondo National Series has been the organizer of the official USA Cycling Gran Fondo National Championships.
For more information, please visit: granfondonationalseries.com