Kellison, Versluys and Wintz fastest at e-Fondo Florida
300 riders from around the world participated in the the first of round of the 2023 SUAREZ Gran Fondo National Series e-Fondo Series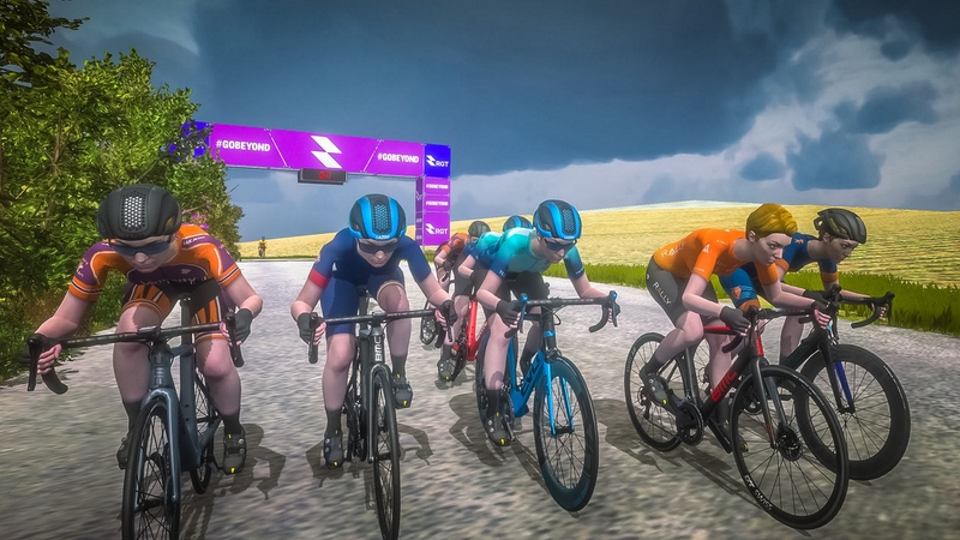 American cyclist Brian Kellison took the top podium place at the e-Fondo Florida last weekend outsprinting Canadian Lucas Versluys and Frenchmen Damien Wintz.
The e-Fondo Florida course included 4 timed sections, just like the real Fondo, the fastest times count towards the points competition and age group awards.
Riders from the USA, Canada, Europe, South America, South Africa and China took part.
At the start of the a large group of around 20 riders went up the road to form the front group. They worked together sharing the pace setting at the front in the incredibly realistic Wahoo RGT "Magic Roads" course.
The front group stayed together until the the 3rd timed section as the pace picked up a few riders were dropped with around 9 riders battling out over the final timed section including Todd Peak, Guillaume Perek, Hakan Kutluca, Jan Vanaudenaerde, Roman Hãœbl and Jesper Gottlieb.
Riders were also automatically entered in a prize raffle for chances to win products from series sponsors. Athletes earn raffle tickets for each event they enter, so the more events riders enter, the more chances they have to win!
Link to 2023 e-Fondo Florida results: https://bit.ly/3ZICRFi
In 2022, over 1600 cyclists from around the world kick-started their cycling season online and won awards and raffle prizes!
Next up: e-Fondo Cheaha on Sunday January 22
e-Fondo Cheaha is modeled on the real world Cheaha Challenge in Jacksonville, Alabama and takes place Sunday January 22nd. Registration is FREE so sign up NOW!
We know these roads very well, so here are some tips for having a successful ride. Some climbs feature very steep grades. In order to have the gearing to handle the grade, click on the "Slope" tab in the RGT app and reduce the Feedback Intensity setting. The effect of reducing this setting is like moving to a compact crankset or a bigger cassette in the real world. You'll still have to climb the hill, but you'll be able to maintain a reasonable cadence.
The course for e-Fondo Cheaha is only 27.9 miles, but there are 3,938 feet of climbing in that pretty short distance. This is a challenging course, and we anticipate it may take the leaders around 1:45:00 to finish. Mid-pack riders could be closer to 2:15:00 to finish. Pace yourself accordingly.

The third timed section is a 3.6-mile climb. It is preceded by a gradually downhill section of the course, so use that time to fuel up, take a drink, and get ready for a big effort. Remember that even though the timed segment ends at the top of the climb, you have to ride all the way to the finish line to record an official result for the event.

There is no time penalty, in terms of competitive standings, to slowing down or even briefly stopping in between timed segments. This may be helpful if you need extra fluids or food because of the duration. You may lose contact with a group you're riding with, however.
There are convienient start times across 6 time zones with 3 races per time zone.
The complete schedule, including start times, are available on the SUAREZ Gran Fondo National Series website.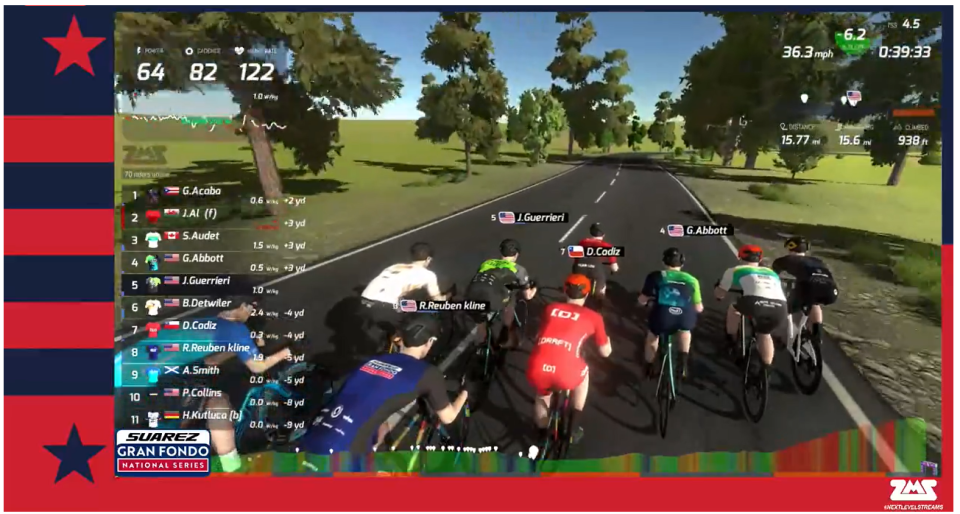 2023 SUAREZ Gran Fondo National Series e-Fondo Calendar
- E-Fondo Florida – Sunday, January 15
- Cheaha E-Fondo – Sunday, January 22
- Highlands E-Fondo – Sunday, January 29
- Cache E-Fondo – Sunday, February 5
- E-Fondo Asheville – Sunday, February 12
- E-Fondo Maryland – Sunday, February 19
The E-Fondo Series is being run in addition to the full calendar of outdoor events.
The 6-event e-Sports cycling competition features timed segments and leverages Wahoo RGT's innovative "Magic Roads" to recreate the Series' real-world courses in a virtual environment. The free e-Fondo Series will run from January 15, 2023, through February 19, 2023 - with multiple opportunities for riders to compete on each course. Riders can also qualify for the 2023 USA Cycling Gran Fondo National Championships event in Frederick, Maryland, on September 17, 2023.
Wahoo X: is a multi-channel app membership for endurance athletes, featuring Wahoo RGT - the next generation of virtual cycling with its innovative "Magic Roads" feature, whose functionality that gives Gran Fondo National Series the opportunity to create real world courses from GPX files, virtually.
The SUAREZ Gran Fondo National Series e-Fondo Events are held on Sundays, with three separate start times so riders can select a time of day that works for them.
Riders can register for E-Fondo Series events for free.
Riders can register today for a free Wahoo X RGT account and get your legs ready to ride before the series begins.