Round #1 of the 2023 SUAREZ Gran Fondo National Series Challenged Gran Fondo Florida Cyclists
The 11th Annual Gran Fondo Florida this past Sunday kick-started the 2023 SUAREZ Gran Fondo National Series in Dade City, FL hosted by Dade City Brewhouse
Over 500 cyclists rolled out into and unusual cold start on to the country roads and rolling hills through picturesque horse farms around Pasco County. A fun and challenging event for cyclists all of abilities, the ride has distances of 30, 60 and 100 miles. Dispute the morning cold, and bad weather forecasts, cyclist had a picture-perfect day and a sunny finish into the events new venue in Dade City.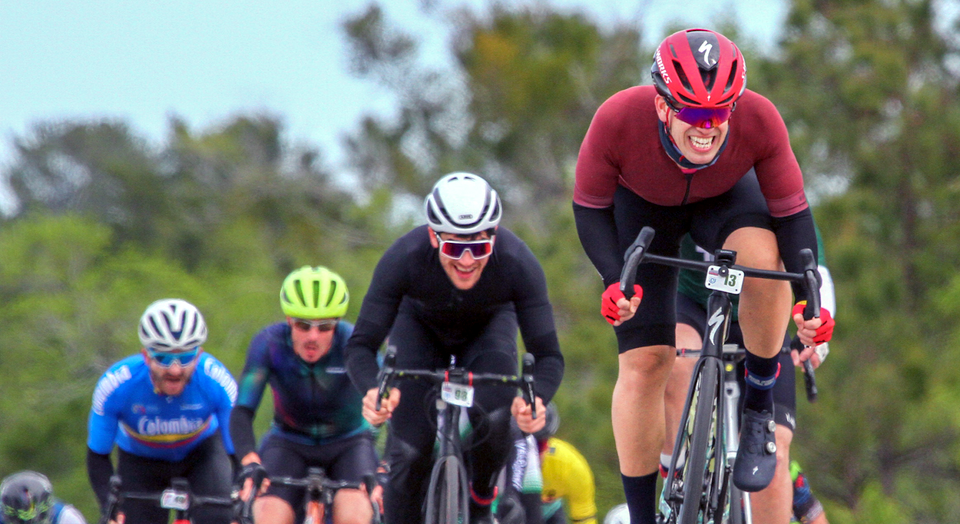 The nonstop rolling hills make it the hardest Fondo in Florida with over 3,000 ft. climbing on the Gran route.
The hugely popular ride didn't allow cyclists to escape the cold this year!
Strong freezing winds, chilly 46F temperatures combined with the rolling hills made for tough day out for everyone!
However riders were rewarded for their efforts with brilliant sunshine back at Dade City Brewhouse, with the best finish line party featuring great local food and cool brews, the award ceremonies and the legendary prize raffle featuring more than $5,000 in prizes from Series sponsors!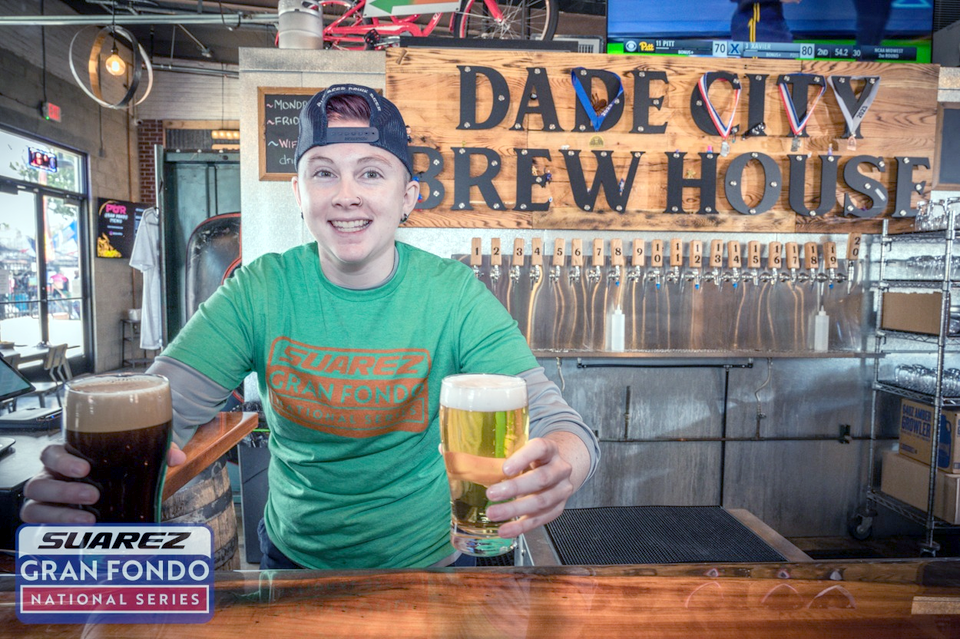 In the 100 mile Gran Fondo, Camilo Vidal was fastest over the four sections in a time of 39m 20s to take the overall victory. Behind GFNY Florida Champion Leon Santamaria was second and GFNY North American Champion Felipe Aros was third.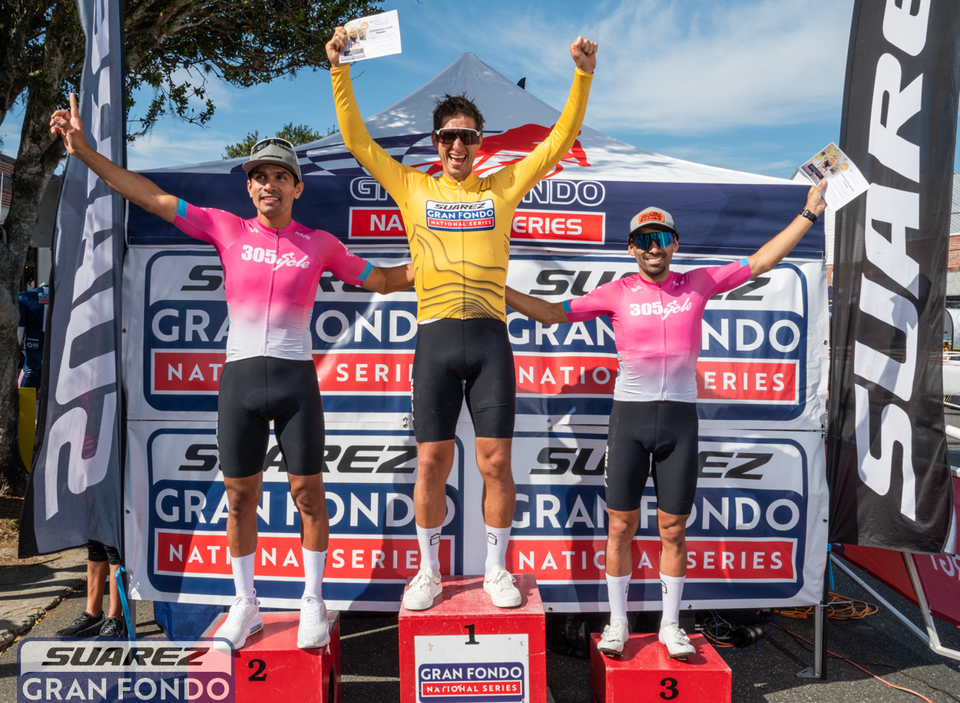 In the women's category, 2022 Gran Fondo National Series Champion Eleonora Marquez was fastest in a time of 44m 17s, ahead of Debora Finger and Lorena Sanchez.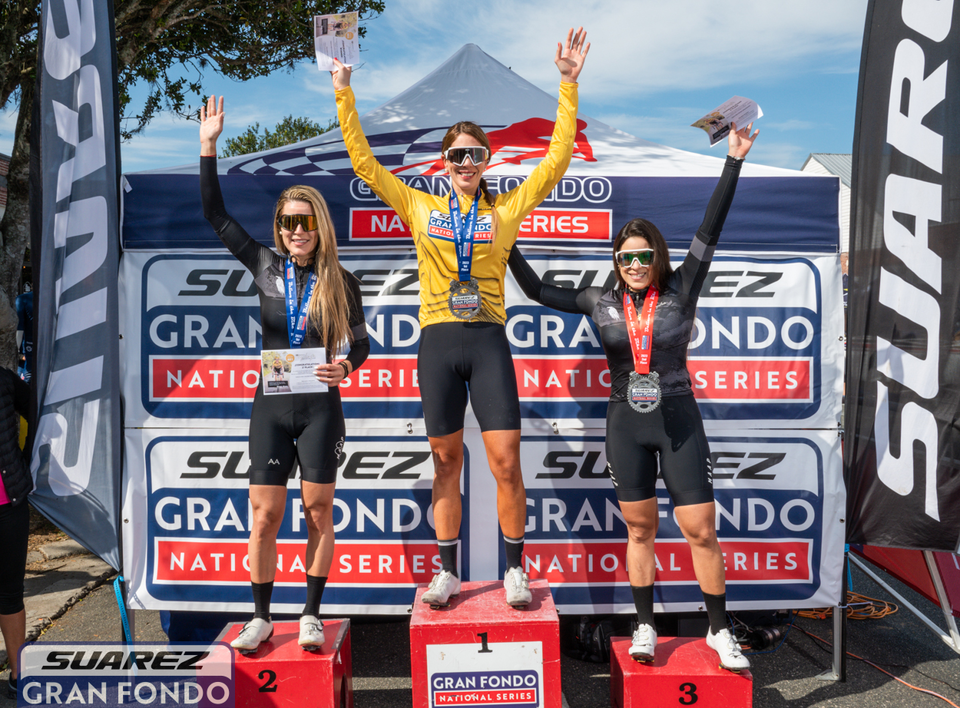 In the 60 mile Medio Fondo, Rafael Garcia was fastest in a combined time of 28m 31s ahead of Alexander Keppler and Travis Ihnen.
In the women's category Bego Lopez was fastest in a time of 31m 52s ahead of Jessica Pessoa and Arnie Bellini.
In the 30 mile Piccolo Fondo, Mike Braylark was fastest in a time of 17m 3s, ahead of John Leach and Claudia Mccoy. Tn the women's category Claudia Mccoy was fastest in a time of 18m 15s ahead of Sandra Duque and Lyn Paget.
A total of 25 Teams Took part
In the team category, 305ycle consisting of overall winner Camilo Vidal, Leon Santamaria and Felipe Aros were first in a combined time of including bonus of 1h 57m 6s.
Delirium Cycling consisting of Daniel Mosquera, Jp Bejarano and Hugo Dominguez were second overall ahead of their second Delirium Cycling fielded team consisting of Fernando Bonilla, Juan Sebastian Arias and Juanse Diaz in third.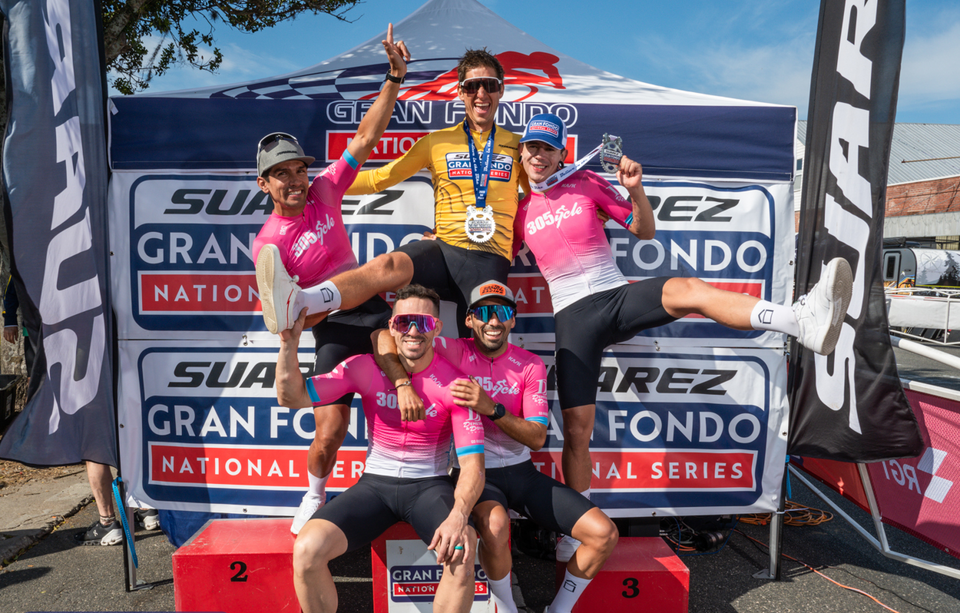 74 riders qualified the 2023 USA Cycling Gran Fondo National Championships by finishing on the podium or in the top 25% of their age category, a full list of can be found here.
The 2023 USA Cycling Gran Fondo Championships take place in Maryland in September and all Gran Fond National Series participants get the chance to qualify at participating events across the USA.
Link 2023 Gran Fondo Florida Results: https://tinyurl.com/2q6t4rrb
For photos, please visit: https://tinyurl.com/2esxqvvx
Next Up: Tour of Georgia Gran Fondo
The next event in the SUAREZ Gran Fondo National Series is the Tour of Georgia Gran Fondo in Helen, GA on April 16th 2023.
Helen, Georgia - the start and finish town for the Tour of Georgia Gran Fondo - brings the charm of a Bavarian village to the Blue Ridge Mountains. Enjoy Alpine Bavarian food and drink as you explore historic timbered building and cobblestone walkways, surrounded by natural beauty, wineries, artisan tours, festivals, and much, much more.
With rolling farmland transitioning to mountainous terrain, the headwaters of the Chattahoochee River, and a section of the Appalachian Trail, White County is an outdoor recreation paradise.
From 2003–2008, the Tour de Georgia attracted the world's top professional cycling teams to Georgia for a premier 7-day stage race. The Tour of Georgia Gran Fondo retraces portions of stages from the race, through Helen, into the Unicoi State Park, and the nearby iconic climbs, made famous by the Tour de Georgia.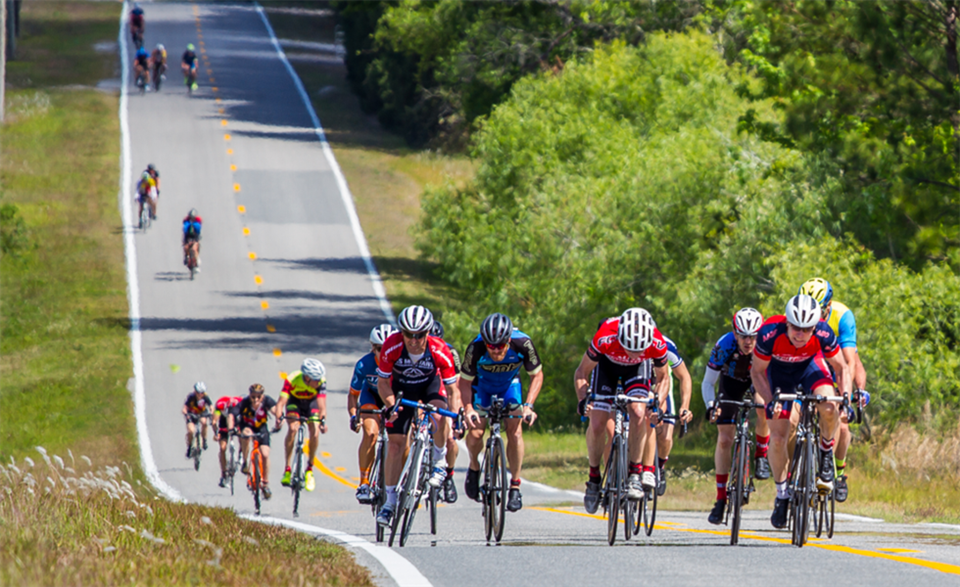 Register NOW to Secure a Place!
Registration is open - but you'll need to hurry to secure a place on this epic challenge across north Georgia's Appalachian Mountains
For more information, please visit: https://www.granfondonationalseries.com/gran-fondo-georgia

2023 Event Calendar
| | | | |
| --- | --- | --- | --- |
| | March 19, 2023 | San Antonio, FL | |
| | April 16, 2023 | Helen, Georgia | |
| | June 4, 2023 | Butler, NJ | |
| | July 16, 2023 | Asheville, NC | |
| | August 6, 2023 | Boone, NC | |
| | August 27, 2023 | Golden, CO | |
| | September 17, 2023 | Frederick, MD | |
| | September 17, 2023 | Frederick, MD | |
2023 Partner Events
In addition to the 7 events organized and run by the Series, there are a growing number partner events where athletes can earn points toward the 2023 Gran Fondo National Series Championship.
| | | |
| --- | --- | --- |
| | May 20-21, 2023 | Jacksonville, AL |
| | June 24, 2023 | Bristol, VT |
| | July 8, 2023 | Logan, UT |
| | July 15, 2023 | Colorado Springs, CO |
| | August 12, 2023 | Pikes Peak, CO |


Save more with a 3-Day Series Pass!
Register for three or more 2023 Gran Fondo National Series events at the same time, and get the lowest-possible price. Can also be used anytime during the season, even after single-entry prices have increased.