Make your Plans for the 2023 Tour of Georgia Gran Fondo
Mark your calendar for Sunday April 16, 2023 and be at Tour of Georgia Gran Fondo in Helen, GA for round #2 of the SUAREZ Gran Fondo National Series
Helen, Georgia - the start and finish town for the Tour of Georgia Gran Fondo - brings the charm of a Bavarian village to the Blue Ridge Mountains. Enjoy Alpine food and drink as you explore historic timbered building and cobblestone walkways, surrounded by natural beauty, wineries, artisan tours, festivals, and much, much more.
With rolling farmland transitioning to mountainous terrain, the headwaters of the Chattahoochee River, and a section of the Appalachian Trail, White County is an outdoor recreation paradise.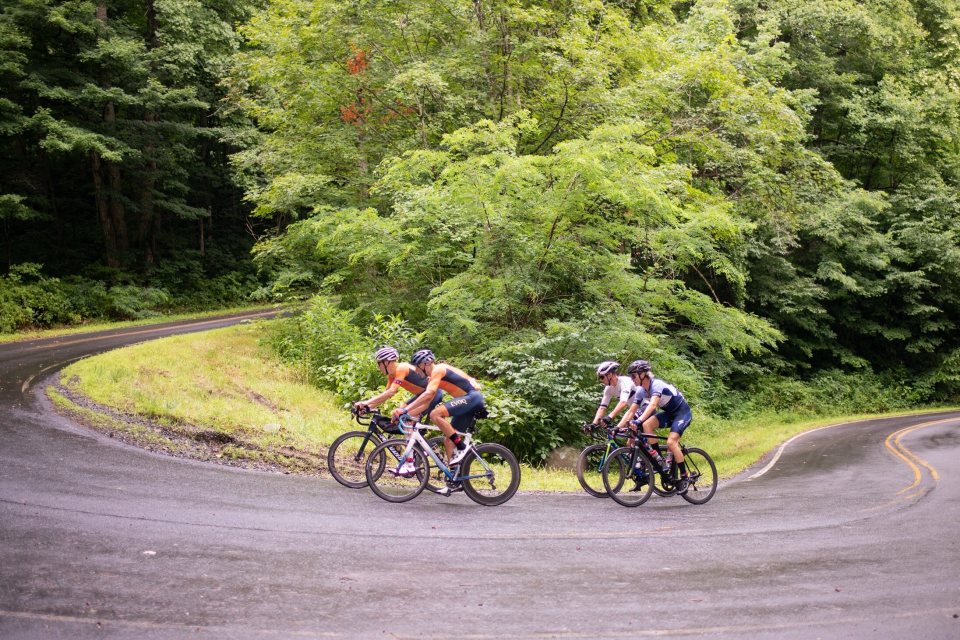 From 2003–2008, the Tour de Georgia attracted the world's top professional cycling teams to Georgia for a premier 7-day stage race. The Tour of Georgia Gran Fondo retraces portions of stages from the race, through Helen, into the Unicoi State Park, and the nearby iconic climbs, made famous by the Tour de Georgia.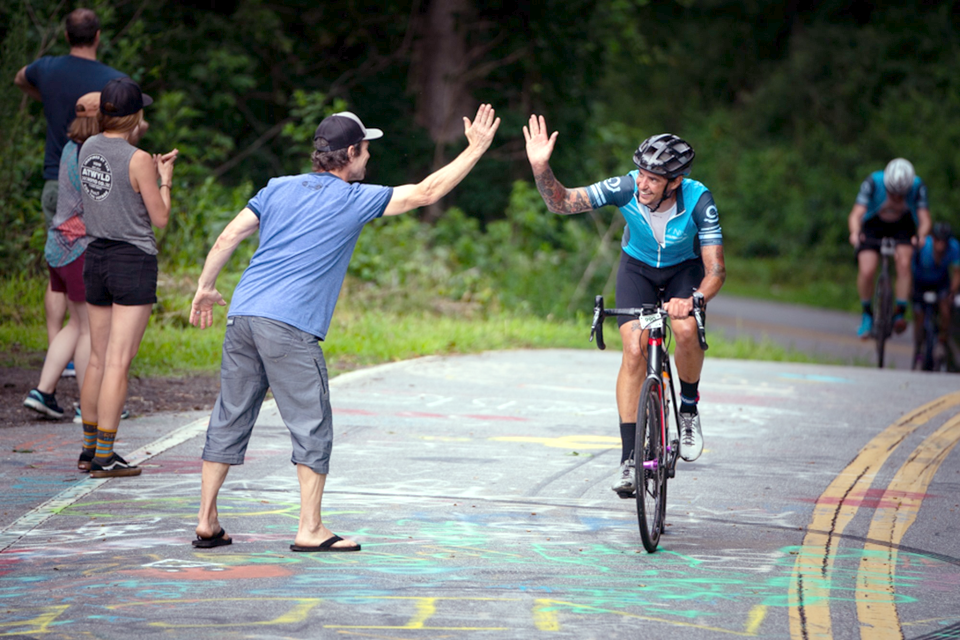 There are three routes offered to match all abilities; the 25 mile Piccolo Fondo, the 66 mile Medio Fondo, the 90 mile Gran Fondo with four timed sections and nearly 9,000 feet of climbing!
There are well placed aid/feed stations on course for riders to rehydrate and take on additional nutrition to keep them fuelled up throughout the challenge.
The Timed Sections
The Piccolo Fondo contains one timed section, the Medio Fondo contains three timed sections and the Gran Fondo route contains four timed sections
You can view individual course maps through the links below:
25 Mile Piccolo Route: https://ridewithgps.com/routes/18154018
66 Mile Medio Route: https://ridewithgps.com/routes/32697531
90 Mile Gran Route: https://ridewithgps.com/routes/35470963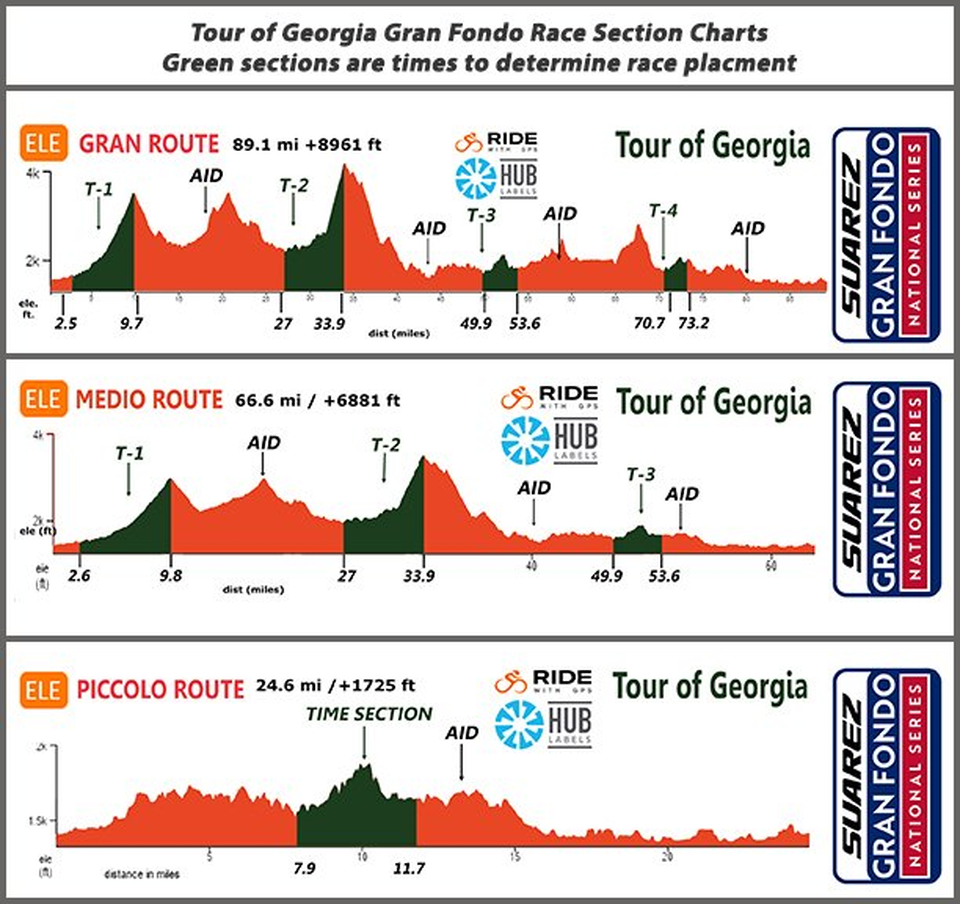 Timed Section #1 - Unicoi Gap
Counts for Gran and Medio riders
In 2008, Unicoi Gap was the second to last climb on the approach to the race-deciding ascent up Brasstown Bald where Kanstantin Suitsou got the jump on Trent Lowe and Levi Leipheimer went on to win the Tour of Georgia.
https://ridewithgps.com/routes/31508224
Timed Section #2 - Hogpen Gap
Counts for Gran and Medio riders
The 2nd timed section is the ascent of Hogpen Gap, a 7.0 mile climb with 1,730 feet of climbing, with ramps up to 15% riders will reach the highest point on the course at 3,470ft The views at the top of the surrounding peaks are breath-taking. Check your speed and be careful on the descent as there are many sharp turns. Enjoy the ride through the forest knowing that the hardest riding is behind you.
https://ridewithgps.com/routes/31508230
Timed Section #3 - Snake Branch
Counts for all riders

After tackling the two biggest climbs of the day and 45 miles into the route, riders will head east from Helen to hit the 3rd timed section, comprised of rolling terrain for a 4 mile section. The section rises 369 feet over 3 miles.
https://ridewithgps.com/routes/31508242
Time Section #4 - Oakey Mountain
Counts for Gran riders
Be sure to save a bit of energy for the final timed section, it only last just over 2.5 miles but at over 70 miles into the day you'll need to find some power.
The section climbs for 1.7 miles with around 250 feet of elevation gain, it descends for half a mile and then climbs 100 feet for around 300 yards.
https://ridewithgps.com/routes/31508260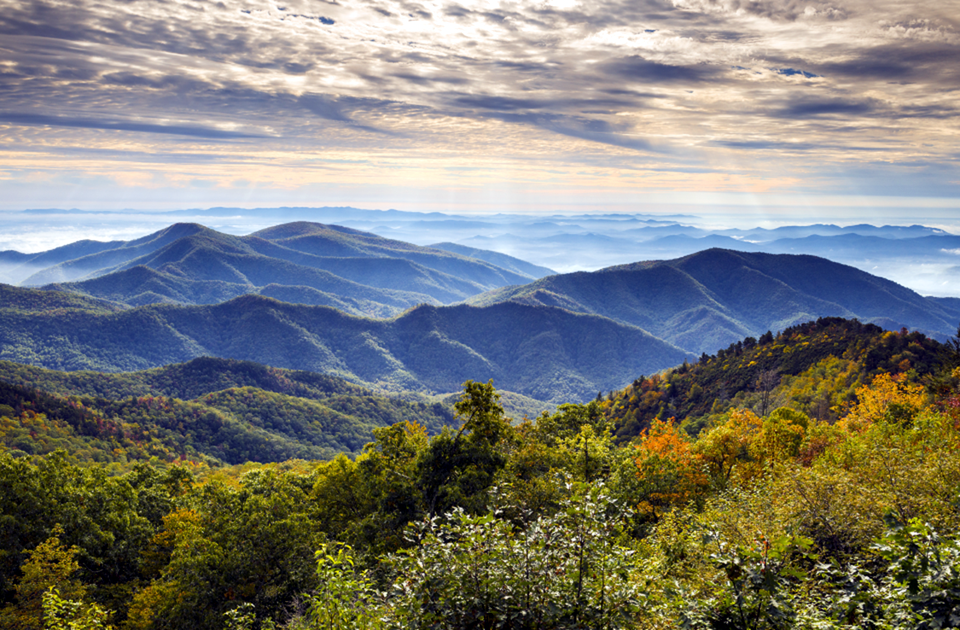 Premium Route Navigation on your Device
Get the RideWithGPS App and load the route to your smart phone or GPS
90 Mile Gran Route: https://ridewithgps.com/routes/35470963
66 Mile Medio Route: https://ridewithgps.com/routes/32697531
25 Mile Piccolo Route: https://ridewithgps.com/routes/18154018
Ride with your friends, Race with your friends!
Timed segment format allows riders to be social and competitive within the same event. During the timed segments, cyclists who choose to compete can "show their strength" and record fast times. When you're outside those timed sections, everyone has the opportunity to regroup, ride together, enjoy the beautiful scenery, relax, and stop at aid stations.
No racing license is required, and support includes fully stocked aid stations and SAG support to keep you going. Enjoy a great meal and beer at the finish line, plus chances to win valuable prizes!
Rueben Kline series director commented, "Any cyclist, of any ability, can challenge themselves while enjoy a safe and exciting bike ride, make new friends, grab some great swag, enjoy being looked after, and maybe even win a prize or two - either through raffle prizes or on our podium! Come and give it a try and I guarantee you won't be disappointed. Stay fit and have fun! Miles mean Smiles! Our Florida event comes at great time in the season for riders to get in shape. There will be great food and cold beers waiting for you at the finish line party! Don't miss the raffle, amazing prizes on offer from the series sponsors. It worth sticking around for!"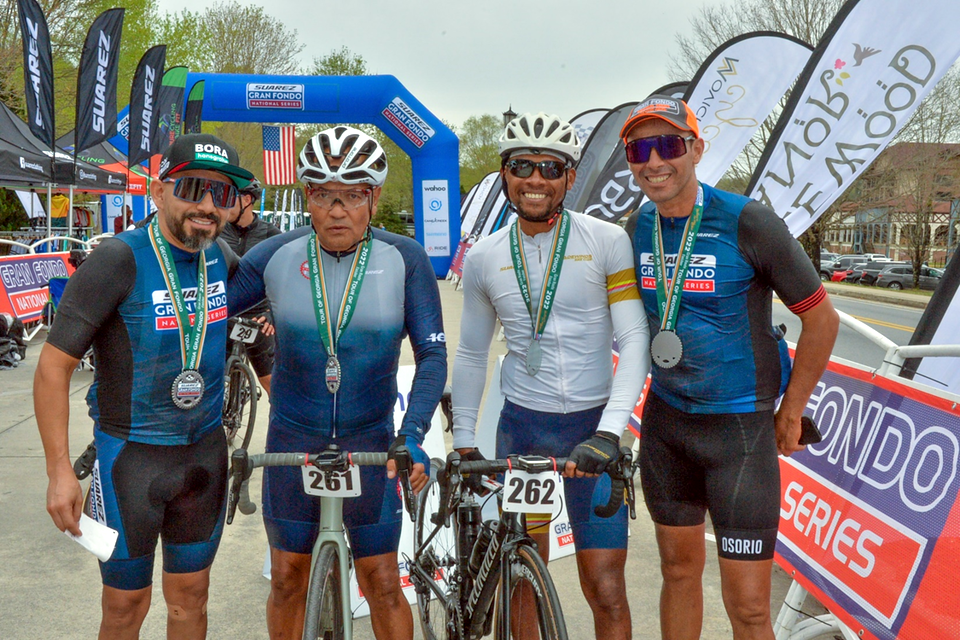 Solo, Team and Age Group Prizes
Professional chip timing keeps track of every rider on course and allows riders to compete for the best combined time through up to 4 timed sections on route. Riders can compete solo or as a team, while also regrouping and riding at a more relaxed pace with others between timed sections to and enjoy the views!
There are competitions for overall male and female victories, as well as age group competitions for males and females. The team competition is won with the combined time of a team's fastest three riders. Bonus seconds are awarded for additional team members who finish, meaning there's a benefit to bringing a larger team.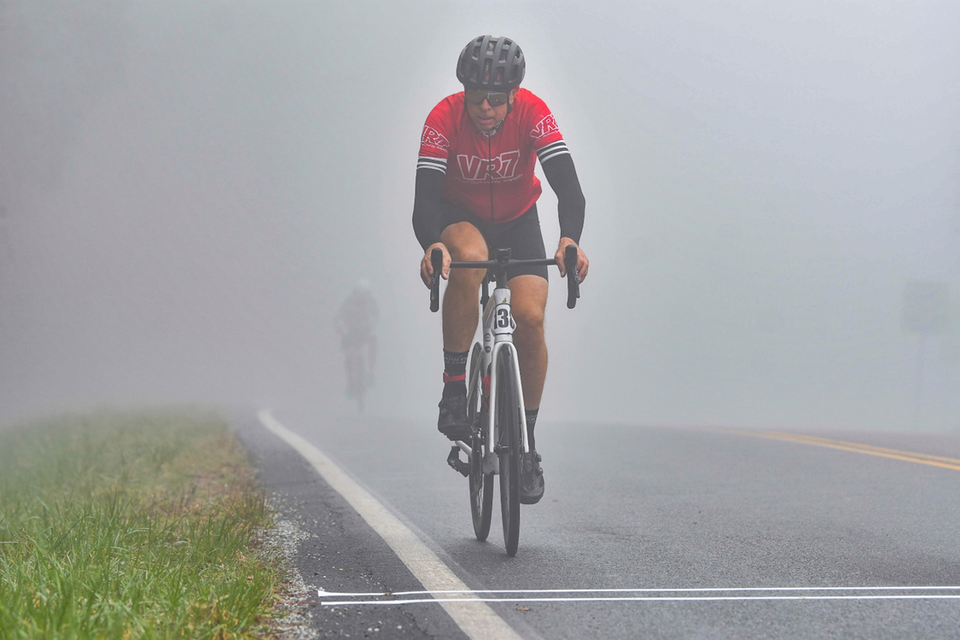 Results, Awards, and Prizes
All 4 segments count for Gran route. Sections 1, 2, & 3 count for Medio route, and only section 3 counts for Piccolo riders.
- Awards presented three deep for each age group category for fastest section times
- Custom SUAREZ winners kits for all Gran Route age group category winners
- Commemorative gift for Gran Route finishers
- Awards and Prizes for Medio and Piccolo winners
- For the Gran Fondo Route there is the team prize. Teams must have three or more riders to qualify. Team riders are still eligible for individual awards.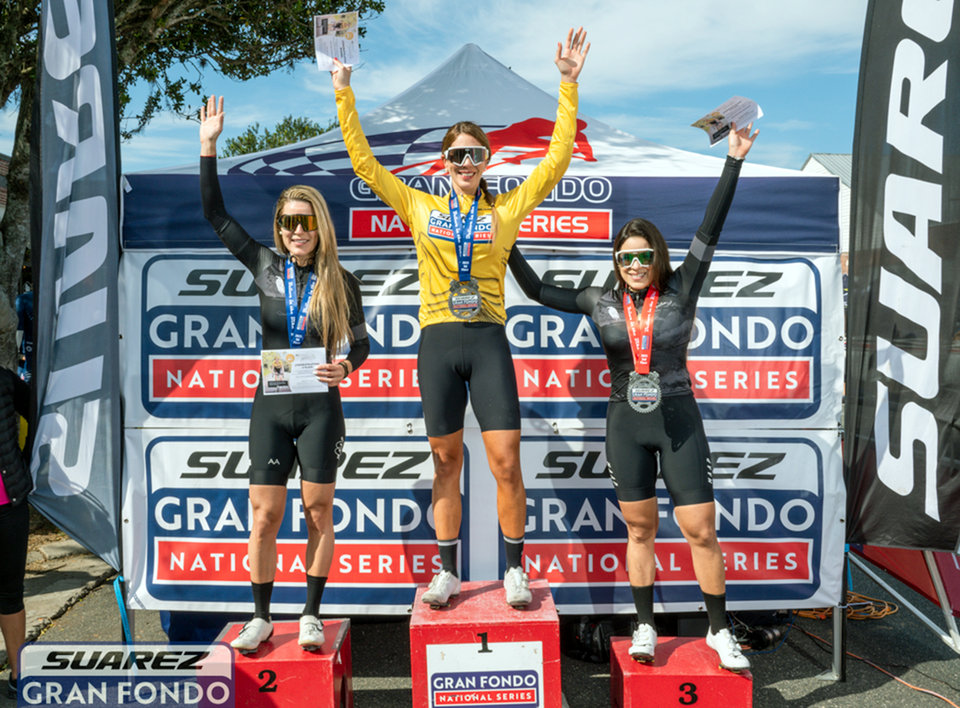 The Raffle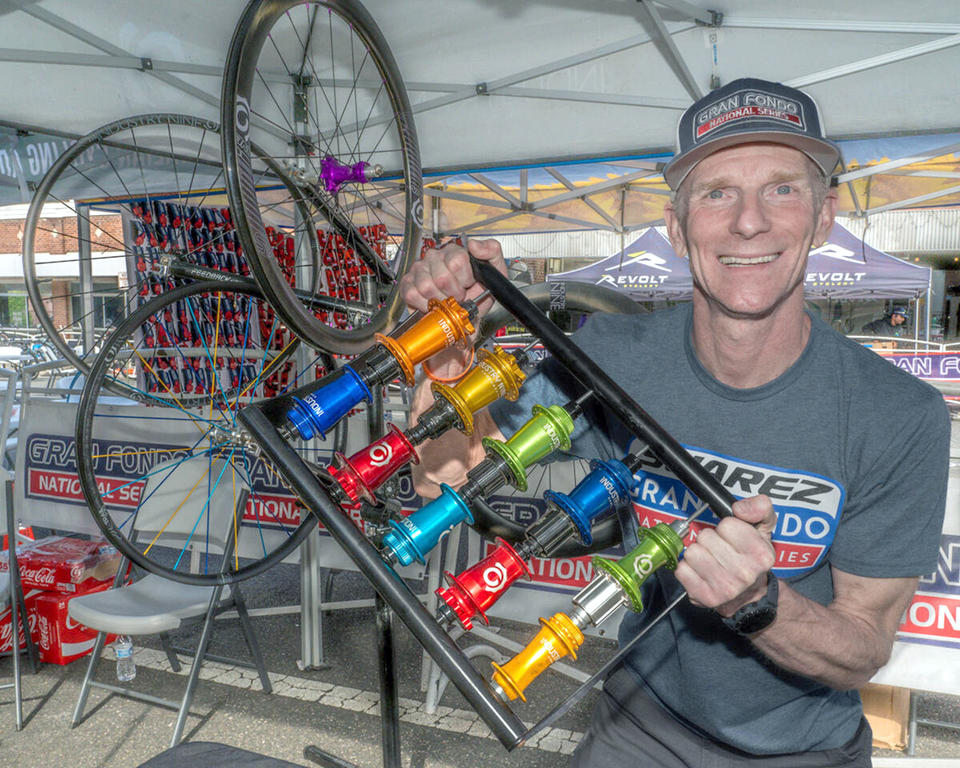 The Georgia Gran Fondo Raffle features more than $5,000 of prizes from Series sponsors, and ALL riders are eligible to win. Any rider who completes any 2023 SUAREZ Gran Fondo National Series event format on the scheduled weekend will be eligible for the raffle. Raffle winners must be present to win. The raffle is held after the awards.
Great prizes from our sponsors such as:
- 4-night Stay at Garda Bike Hotel in Italy
- Wahoo KICKR smart trainer (model TBD)
- Lazer helmet
- Industry Nine hubset
- Cane Creek components
- Swiftwick socks
- Bike Flights travel voucher
- Shimano products
- CTS Trainright Membership
- Jittery Joe's Coffee
- UNDRBUDR anti-chafe cream
- Ride with GPS Premium Membership
(List subject to change)
Fully Supported
There are full stocked feed stations on all routes to keep you fed and hydrated, with individually-packaged food options, complimentary event T-shirt, Goody Bag with various swag items, a finishers awards for completing the Gran Fondo route, awards for age placement, a raffle and of course the chance to win prizes for placement in the overall timed climbs.
A Post-event meal from local vendor and commemorative finisher medals for all participants.
Qualify for 2023 USA Cycling National Championships
Riders can qualify for the 2023 USA Cycling Gran Fondo National Championships, presented by Ourisman Automotive Group, to be held during Gran Fondo Maryland in Frederick, MD on September 17, 2023.
A USA Cycling Gran Fondo National Championship title, complete with a national championship jersey and medal, will be awarded to the winner in each age-group category at the National Championships.
Review complete qualification here: https://www.granfondonationalseries.com/gran-fondo-national-championship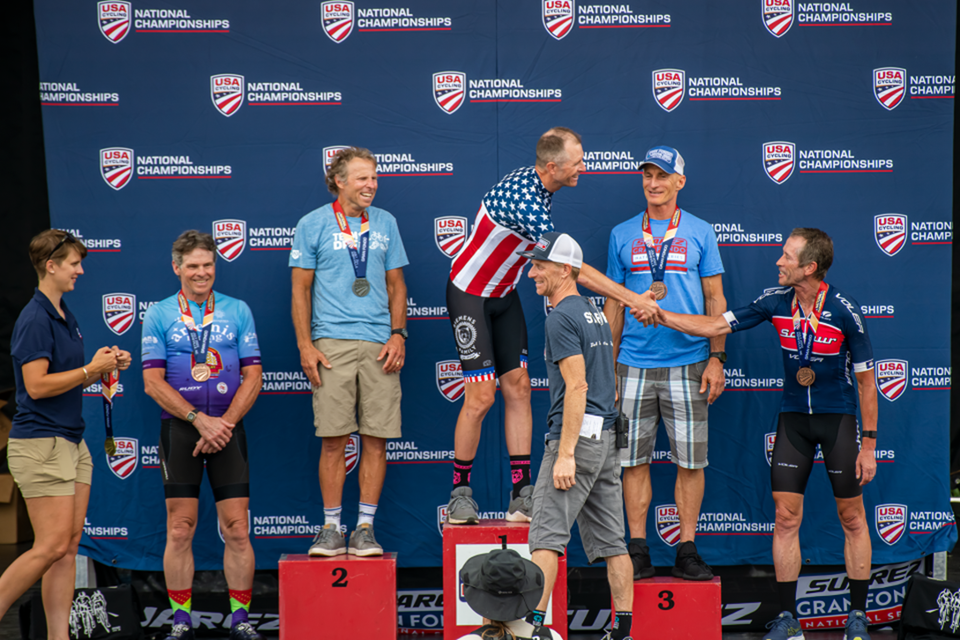 Register NOW to Secure a Place!
Registration is open - but you'll need to hurry to secure a place on this epic challenge across north Georgia's Appalachian Mountains.
Register before April 7th before prices increase!
For more information, please visit: https://www.granfondonationalseries.com/gran-fondo-georgia

2023 Event Calendar
| | | | |
| --- | --- | --- | --- |
| | March 19, 2023 | San Antonio, FL | |
| | April 16, 2023 | Helen, Georgia | |
| | June 4, 2023 | Butler, NJ | |
| | July 16, 2023 | Asheville, NC | |
| | August 6, 2023 | Boone, NC | |
| | August 27, 2023 | Golden, CO | |
| | September 17, 2023 | Frederick, MD | |
| | September 17, 2023 | Frederick, MD | |
2023 Partner Events
In addition to the 7 events organized and run by the Series, there are a growing number partner events where athletes can earn points toward the 2023 Gran Fondo National Series Championship.
| | | |
| --- | --- | --- |
| | May 20-21, 2023 | Jacksonville, AL |
| | June 24, 2023 | Bristol, VT |
| | July 8, 2023 | Logan, UT |
| | July 15, 2023 | Colorado Springs, CO |
| | August 12, 2023 | Pikes Peak, CO |

Save more with a 3-Day Series Pass!
Register for three or more 2023 Gran Fondo National Series events at the same time, and get the lowest-possible price. Can also be used anytime during the season, even after single-entry prices have increased.

About the Gran Fondo National Series
Founded in 2012 by event director Reuben Kline, the Gran Fondo National Series is the largest and most competitive series of gran fondo cycling events in the United States. Gran Fondo National Series was the first series to implement timed-segment racing into US gran fondo events and has crowned Gran Fondo National Champions and Gran Fondo National Series Champions since 2012. Starting in 2020, the organization entered into a partnership with USA Cycling to bring the existing Gran Fondo National Series events into the USA Cycling portfolio including the presentation of an official USA Cycling Gran Fondo National Championship events.
The Series has successfully coordinated more than 90 Gran Fondos across the nation, serving more than 55,000 participants.
For more information, or to register for an event, go to www.granfondonationalseries.com