2023 Tour of Flanders Preview
The big one is nearly here, the best classic race on the calendar, well except maybe for Paris-Roubaix a few weeks later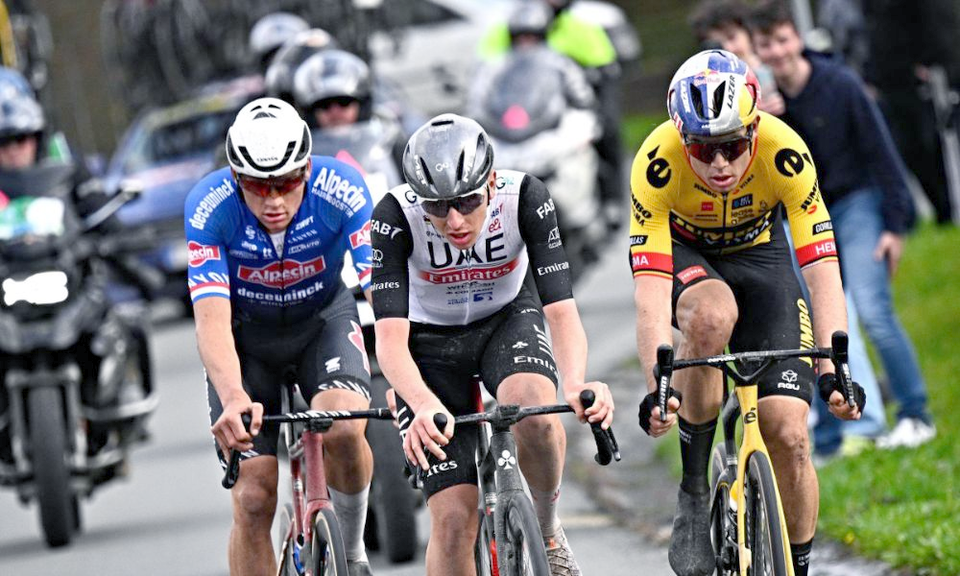 At a brutal 282km, it's rammed full of cobbles and climbs. It's everything you want from a classics bike race, and it's in the home of cycling.
After 216km of racing in the legs, the riders face 9 climbs in the space of 45km. We have Kwaremont, Paterberg, Koppenberg, Steenbeekdries, Oude Kruisberg, Hotond and then back round for another crack at the Kwaremont and Paterberg. Cycling doesn't get any better than this.
The big 3 are on a different level to everyone else, we all know that, but can someone spring a surprise the way Bettiol did back in 2019? The most likely surprise winner is sitting in the Jumbo-Visma team, I expect them to constantly look to get ahead of the race, forcing Alpecin and UAE into chasing. Normally in this race, a group does get away before the final 50km, the opportunity is there if anyone is ready to risk it all with a long-range attack.
The pressure is on Alpecin and UAE to try and nullify the multiple threats of Jumbo-Visma. They managed to do so in E3, but this race is a different proposition. In Van Aert, Benoot, van Baarle and Laporte, Jumbo-Visma have four riders who can win this race, but how will they play these cards?
Simple, attack, attack, attack. The key for them is ensuring one or two men get in a move in the final 60km, but everyone else knows what is coming. A rider like Matteo Jorgenson would mark someone like Laporte, in the hope of getting in a race winning move. Due to the strength of their squad, you wouldn't waste energy going in a move that didn't contain a Jumbo bee.
The other big teams will look to stop this from happening. The "easiest" way of doing so is opening the race up nice and early, and not waiting for the final time up the Kwaremont and Paterberg. There is a lull in the race around the 200km mark, Alpecin and UAE will need riders left for this section, then expect big moves on the Kwaremont, Paterberg and Koppenberg. This part of the race is ridiculously hard, if the big riders press the accelerator, the race will be blown to pieces, and it will be strongest man left standing. I think this is what we all want, a battle between the best on the day, not clever tactics allowing the strongest team to dominate.
The Contenders
Wout Van Aert – won E3 and played a huge part in Laporte's win in Gent-Wevelgem. In E3, Pogacar almost dropped him on a couple of occasions, but he hung in, played it smart and took the win. Van Aert will hope that his form has continued to grow since that race, he needs to be better than he was to survive a harder race. Jumbo-Visma will try and give him as easy a ride as possible, for me, Van Aert needs to save as much energy as possible for the final 50km. 2nd is his best result in this race, but COVID stopped him from racing last year. His 2nd place was when the race was held in October, Van Aert is still to impress here in the spring. Will this year be the year?
Mathieu van der Poel – the monument man. He's won here twice, it's a race that suits him perfectly. After losing out to Van Aert in E3, he'll be keen on making this day as hard as possible, he seems to have the legs to do so. When I look at the Alpecin team, I only see Søren Kragh as someone who'll last into the finale, it will suit van der Poel if the race kicks off early. He outdone Pogacar in a sprint last year, will it be the same again this time round?
Tadej Pogacar – he was so impressive last year, and recently in E3, enough to seriously worry his main rivals. What impressed me most in E3 was his seated drive up the Paterberg, while Van Aert and van der Poel were having to get out the saddle. The extra distance, and difficulty, in this race is perfect for him. Last year, he flew up the Koppenberg, putting everyone else over their limit, and he's also pretty good on the Kwaremont. After losing out in the sprint last year, and in E3, he would prefer not to arrive with Van Aert and van der Poel, we all know what that means.
Christophe Laporte – after two consecutive wins, he should be plan B for Jumbo-Visma. The key for Laporte is to get in a move before the action kicks off from the big three. He's going well just now, but he won't be able to follow these moves. His presence at the front of the race will be a key part of Jumbo-Visma's plan to win.