Make your plans for Gran Fondo Asheville p/b Apple Wood Manor
Mark your calendar for Gran Fondo Asheville on July 16th in Asheville, NC
The 10th annual event will be held on July 16, 2023, in conjunction with the Asheville Bike Fest, presented by Cane Creek.
The Applewood Manor is a premier destination for cyclists visiting Asheville, North Carolina. In addition to six luxury suites for guests and a world-class kitchen, the Manor caters to cyclists with services that include ride planning, on-ride guides, follow vehicles, coaching, mechanic services and bike assembly/break-down, sports nutrition, and world-class rental bikes provided by partner 3T.
This year the event will also offer 3 Days of VIP Experiences With Applewood Manor & Gran Fondo Asheville July 14-16, 2023.
3-day VIP Cycling Experience Package
In conjunction with July 16th's Gran Fondo Asheville, riders can expand their weekend plans in Asheville, North Carolina with three days of VIP experiences from Applewood Manor. Accommodations at Applewood Manor are not included or required to take part in VIP Experiences.
- FRIDAY, JULY 14: VIP DINNER
Join fellow riders and special guests for an athlete-focused menu from local farm-to-table ingredients, prepared by the Manor's culinary team and paired with expertly chosen wine and non-alcoholic selections. – Á LA CARTE Price $145
- SATURDAY, JULY 15: VIP PACKET PICKUP & GOURMET COOKOUT
Skip the line and come get your Gran Fondo Asheville packet at Applewood Manor, and enjoy a gourmet cookout with fellow riders, special guests, and Series Director Reuben Kline. – Á LA CARTE Price $75
- Full 3 Day VIP Experience – Includes VIP Dinner & Cookout at Applewood on as well as Guided / Supported Rides Friday & Sat, VIP Dinner & Cookout at Applewood -Price $300
3 Day VIP Experience includes Guided / Supported Rides on Friday & Saturday, VIP Dinner on Friday at Applewood Manor, Cookout & VIP Packet Pick up at Applewood Manor. Does NOT include Gran Fondo Entry or Accommodations.
- FRIDAY & SATURDAY: VIP RIDES (require VIP attendance on either day)
Led by experienced local riders, including Applewood Manor Founder Stephen Collins, these rides will start and finish at Applewood Manor and preview key parts of the Gran Fondo Asheville courses.
- SUNDAY, JULY 16: GRAN FONDO ASHEVILLE
- Á LA CARTE VIP EXPERIENCES - Just want to join us for the VIP Dinner or the VIP Packet Pickup, but not the full package? Individual VIP Experiences are available for your convenience. Friday and Saturday VIP Rides are only available with the purchase of the VIP Dinner or VIP Packet Pickup/Cookout.

Asheville Bike Fest, presented by Cane Creek
Downtown venue Rabbit Rabbit will once again host the 2-day event including Asheville Bike Fest, a cycling festival that showcases local outdoor companies and national cycling brands and features family-friendly activities for all ages. Asheville Bike Fest, presented by Cane Creek, will feature an extensive outdoor expo, food, beer, and cycling clinics, bike park, cargo bike expo, urban rides, and film. Gran Fondo Asheville riders will be able to pick up their packets at Rabbit Rabbit on Saturday afternoon and Sunday morning. Both Asheville Bike Fest and Gran Fondo Asheville benefit local non-profit Asheville on Bikes.
The Timed Segments
Asheville features small, twisting and turning tree-lined quiet roads, which is part of the reason that its drawn professional cyclists to North Carolina for decades. The terrain is stunning, demanding, and a ton of fun to experience on a bicycle!
Award-winning timed segment format: Competitions based on best combined time through timed sections.

4 timed sections in Gran Route, 3 in Medio Route, 2 in Piccolo Route
Overall, Age Group, and Team Competitions
Custom Winner kits from SUAREZ Cycling awarded to the fastest riders in each age category of the Gran Route.
Team category winner - 3 complimentary entries good for an event in the next 12 months
Pick your distance, register, and start training for your best day on the bike all year!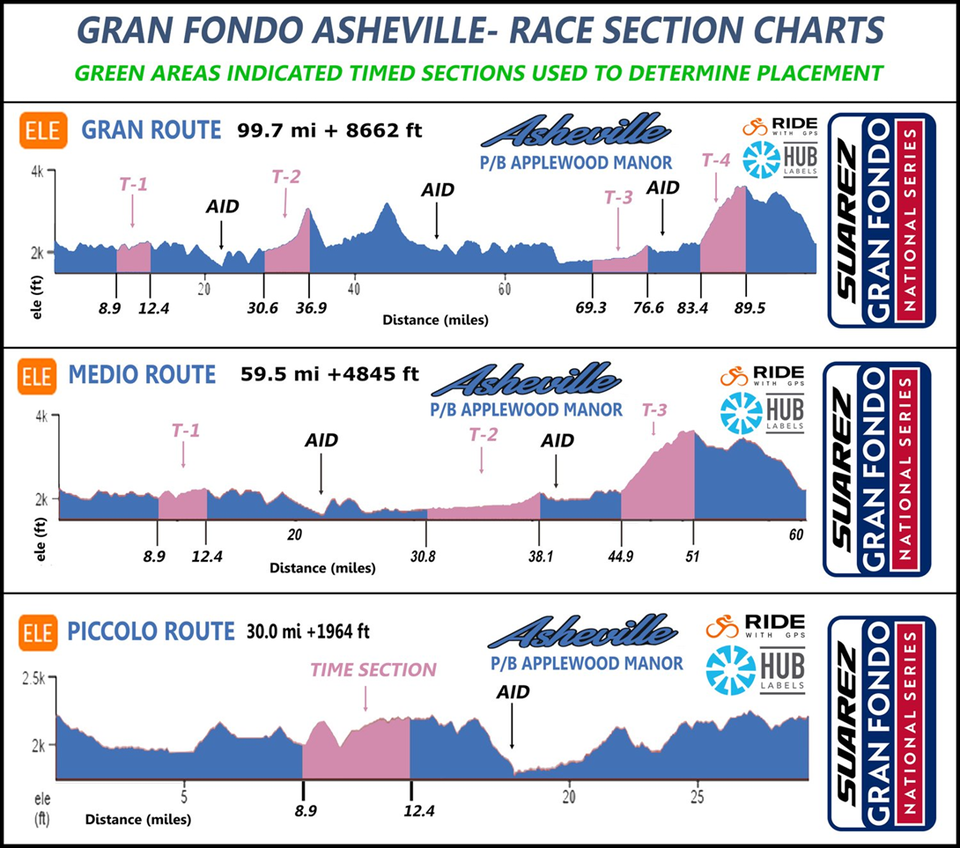 T1 - Bear Creek
This timed section is part of the Piccolo, Medio and Gran. Its 3.5 miles with 225 feet of climbing, two distinct climbs feature.
Time Section #1 counts for 30mi, 60mi & 100mi riders: https://bit.ly/3guwiBz
T2 - Walnut Creek
This timed section is part of the Gran only. Its 6.1 miles with 1,015 feet of climbing and is considered a category 2 rated climb, a real test for the Gran Fondo riders.
Time Section #2 counts for 100mi riders only: https://bit.ly/35qma6z
T3 - French Broad River
This timed section is part of the Medio and Gran only. Its 7.2 miles with 374 feet of climbing which is a shallow grade upwards of around 1%.
Time Section #3 counts for 60 & 100mi riders: https://bit.ly/3q0FIYQ
T4 - Elk Mountain
This timed section is part of the Gran and Medio. Its 6.1 miles with 1,471 feet of climbing at an average of 5% and is considered a category 2 rated climb, another real test for riders.
Time Section #4 counts 60 & 100mi riders: https://bit.ly/3wzEEgS
Downloadable Course Maps
100 Mile Gran Route
60 Mile Route
30 Mile Route
The routes will be very well marked, but we encourage you to get the RideWithGPS App and load the route to your smart phone or GPS. Use this RSVP LINK to access premium RideWithGPS features and get turn by turn navigation for free.
Ride with your friends, Race with your friends!
Timed segment format allows riders to be social and competitive within the same event. During the timed segments, cyclists who choose to compete can "show their strength" and record fast times. When you're outside those timed sections, everyone has the opportunity to regroup, ride together, enjoy the beautiful scenery, relax, and stop at aid stations.
No racing license is required, and support includes fully stocked aid stations and SAG support to keep you going. Enjoy a great meal and beer at the finish line, plus chances to win valuable prizes!
Solo, Team and Age Group Prizes
Professional chip timing keeps track of every rider on course and allows riders to compete for the best combined time through up to 4 timed sections on route. Riders can compete solo or as a team, while also riding at a more relaxed pace with others between timed sections to and enjoy the super scenic views!
More competitive riders can compete for overall victory and age group podiums for men and women.
There is also a team competition, won by the combined time of a team's fastest three riders. Bonus seconds are awarded for additional team members who finish, meaning there's a benefit to bringing a larger team.
A fun day on the bike with World Class support
No matter if you're competing for the championship or not, you're sure to have a well-supported fun day on the bike. Ride with the people you want to ride with, at the pace you want to go. Regroup between timed sections, stop at aid stations, and enjoy the incredible views.
Ride worry-free with fully stocked aid stations and on-course sag support.
There's a huge celebration at the finish line, with a party with great food, drinks and cold beer and of course the much anticipated award ceremony and raffle!
Results, Awards, and Prizes
All 4 segments count for Gran route. Sections 1, 2, & 4 count for Medio route, and only sections 1 & 2 counts for Piccolo riders.
- Awards presented three deep for each age group category for fastest section times
- Custom SUAREZ winners kits for all Gran Route age group category winners
- Commemorative gift for Gran Route finishers
- Awards and Prizes for Medio and Piccolo winners
- For the Gran Fondo Route there is the team prize. Teams must have three or more riders to qualify. Team riders are still eligible for individual awards.
The Raffle
The Asheville Gran Fondo Raffle features more than $5,000 of prizes from Series sponsors, and ALL riders are eligible to win. Any rider who completes any 2023 SUAREZ Gran Fondo National Series event format on the scheduled weekend will be eligible for the raffle. Raffle winners must be present to win. The raffle is held after the awards.
Great prizes from our sponsors such as:
4-night Stay at Garda Bike Hotel in Italy
Wahoo ELEMNT Rival GPS Watch
Wahoo KICKR smart trainer (model TBD)
Lazer helmet
Industry Nine hubset
Cane Creek components
Swiftwick socks
Bike Flights travel voucher
Shimano products
CTS Trainright Membership
Jittery Joe's Coffee
UNDRBUDR anti-chafe cream
Ride with GPS Premium Membership
(List subject to change)
Register NOW and SAVE!
Register now to secure a place, prices go up June 16th!
Current price is just $135 for the Gran & Medio and $80 for the Piccolo.
For more information on the Asheville Gran Fondo, please visit: https://www.granfondonationalseries.com/gran-fondo-asheville
To register now, please visit: https://www.bikereg.com/asheville-gfns or click the button below:

Benefiting Asheville on Bikes
Asheville on Bikes cultivates the culture of urban and commuter cycling through advocacy and celebration. We believe that cycling has direct benefit to the health of our community.