BMC Partners with Gran Fondo National Series Through 2024
Gran Fondo National Series is proud to announce a new partnership with BMC. The renowned bicycle brand will have a significant presence at 2023 and 2024 SUAREZ Gran Fondo National Series events, including showcasing an exciting new line up of products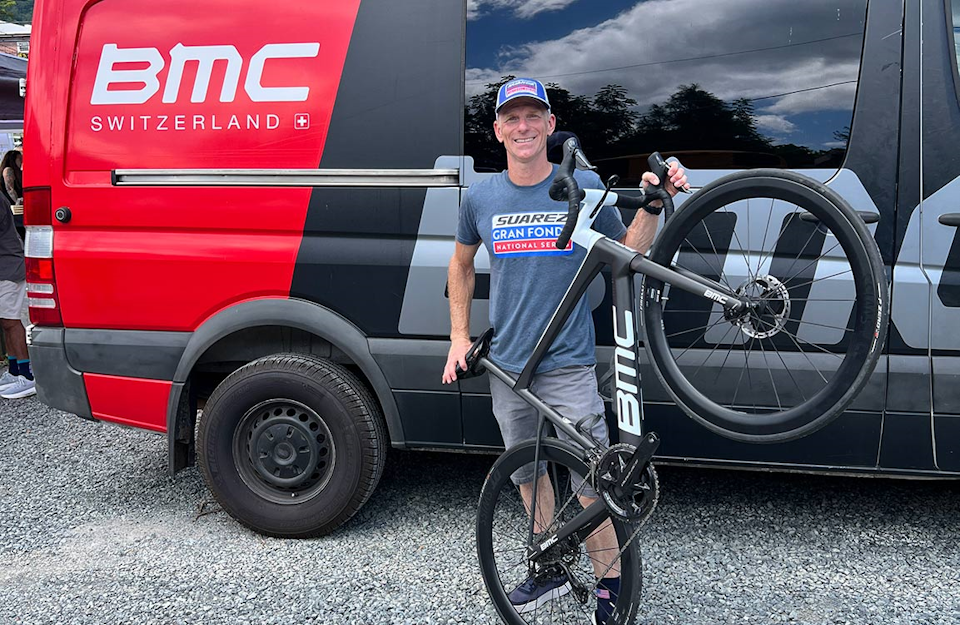 "I am proud we have been able to create a meaningful partnership between BMC and the Series," said Gran Fondo National Series founder and director, Reuben Kline. "BMC's commitment to being present at Series events in 2023 and 2024 will provide riders with multiple, great opportunities to experience BMC's bikes and the BMC brand. They are a perfect fit for the Series and our riders. BMC make exceptional products and was born from the same kind of inspiration that motivated me to create the Series, that being to share cycling and inspire riders to enjoy our sport even more."
Although much consumer research is done on-line, in-person cycling events are one of the most effective avenues for brands to reach and engage highly interested consumers.
"SUAREZ Gran Fondo National Series riders align with BMC's target audience in the United States," said Joan Hanscom, North American Marketing Manager for BMC. "We look forward to showcasing the quality and design of BMC bikes – in person – at Series events and hopefully providing some type-2 fun on course with some BMC rider inspired challenges."
About BMC Bicycles
BMC Switzerland is a premium, Swiss, bike brand. Established in 1994, the company employs approximately 160 people, worldwide. It is headquartered in Grenchen, Switzerland where it also has its own research and development facility; the Impec Lab. BMC's bikes meet the highest standards in quality, design and manufacturing and the company invests heavily in research and development to continue to improve its designs and technologies. BMC has written its way into history by supplying bikes for the world's top athletes, winning races such as the Tour de France, the Team Time Trial and Road World Championships, the MTB XCO World Championships and numerous Ironman Championships.
About Gran Fondo National Series
Founded in 2012 by event director Reuben Kline, the Gran Fondo National Series is the largest and most competitive series of gran fondo cycling events in the United States. Gran Fondo National Series was the first series to implement timed-segment racing into US gran fondo events and has crowned Gran Fondo National Champions and Gran Fondo National Series Champions since 2012. Since 2020, Gran Fondo National Series has been the organizer of the official USA Cycling Gran Fondo National Championships.