Knight and Patterson successfully defend USA Cycling Gran Fondo National Championship Titles
Andrew Knight and Jill Patterson both defended their USA Cycling Gran Fondo National Championship Stars and Stripes Jerseys in Frederick, Maryland last weekend
The 2023 USA Cycling National Championships took place last weekend in Frederick, Maryland at the Gran Fondo Maryland p/b Ourisman Automotive Group, which was also the second to last round of the growing SUAREZ Gran Fondo National Series.
Conditions were tough for the participants who took part, temperatures in the 50's and heavy rain for most of the day.
The 100 mile course contained 4 timed sections and riders with the quickest overall time crowned the winners in the National Championships, the 100 mile Gran Fondo, the 60 Medio Fondo and 30 Piccolo Fondo.
Men's National Championship Podium
1st – Andrew Knight, Marietta GA 1h 5m
2nd – Mathew Doyle +17s
3rd – Jesse Siemen + 24s
Women's 100 mile Gran Fondo Podium
1st – Jill Patterson, Arlington VA 1h 13m 45s
2nd – Ina Pfuhler +6s
3rd – Denise Esposito +7s
Jill Patterson said afterwards," What a day! I got another Stars and Stripes jersey and National Champion title, which was my goal, so I'm super happy about that! But winning wasn't what made the day a great one for me. It was the immense support I got from everyone around me. Thank you to so many people who said hello, those who wished me luck, who told me they believed in me, who asked how I was feeling, who congratulated me. Thank you to the people who came to cheer me on at the finish line (you know who you are!). Thank you to the guy who rubbed my back to warm me at the rest stop when I was violently shivering (yes, the conditions were wet and cold and rather brutal at times). Thank you to my super domestiques (you know who you are!). Thank you to all of the volunteers and staff who worked so hard all day so that us cyclists could do what we love. Thank you, thank you, thank you! And now time for some much-needed rest and recovery…and being warm and dry…just being warm and dry is enough to make me blissfully happy for a while…I'm almost more tired from all the shivering than I am from all the riding."
Photo: Jill Patterson successfully defended her 2023 USA Cycling Gran Fondo National Championship in Maryland
Andrew Knight said, "Gran Fondo National Champion! Mission Accomplished! I successfully defended my title from last year with the fastest time across all age groups. Conditions were absolutely brutal: 52 degrees and pouring rain all day! That is a wrap on a dream season of winning 4 national titles. I'd like to thank my partner Crystal Knight, the true hero here for continuing to support me. There is no way I could train and race at this level without her!
Photo: Andrew Knight Successfully Defended his 2023 USA Cycling Gran Fondo National Championship in Maryland, Mathew Doyle taking 2nd overall for the day, along with the always on point Serie Founder & Director Reuben Kline stepping in to make a full and fun podium shot for the missing 3rd place Jesse Siemen.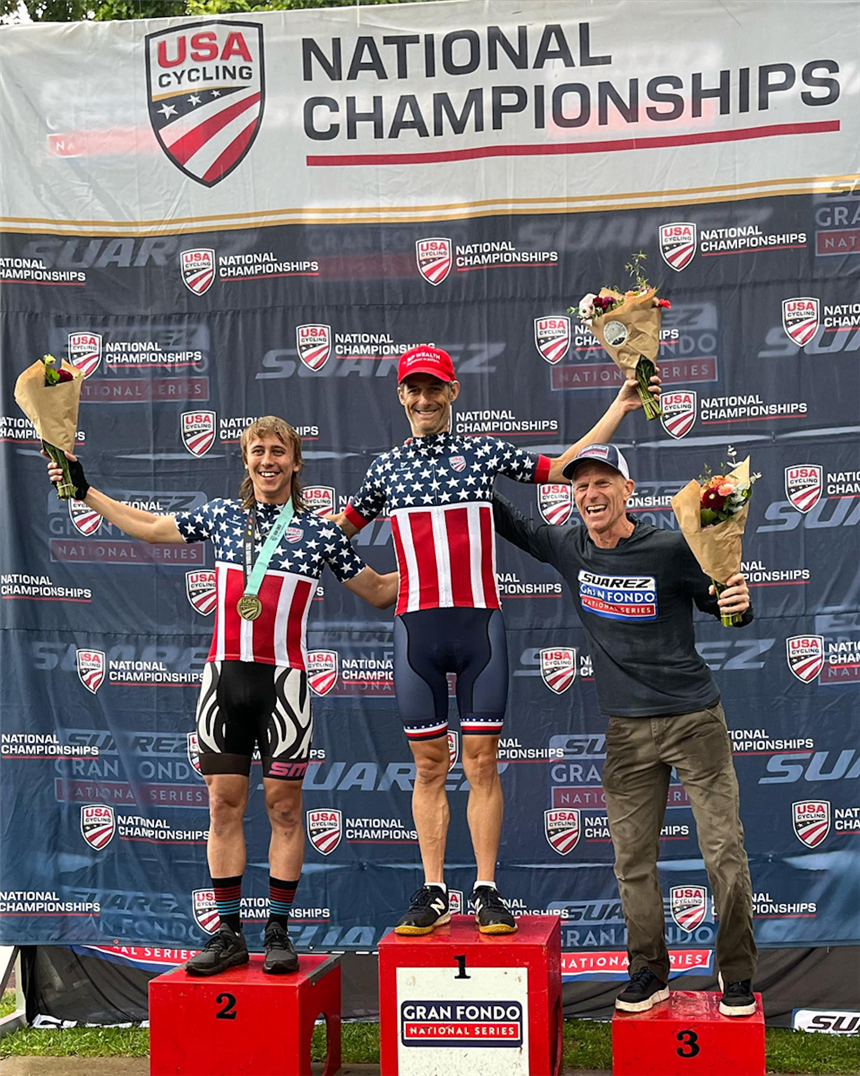 2024 USA Cycling Gran Fondo National Championship Age Category Winners
W14-16 Sophia Papadakis, Ellicott City MD
W30-34 Regan Fink Asheville NC
W35-39 Kai Luigend Washington DC
W40-44 Jill Patterson Arlington VA
W45-49 Kristin Swinburne Haines City FL
W50-54 Jennifer Bushover Kenmore NY
W55-59 Ina Pfuhler Cinicinnati OH
W60-64 Leslie Knibb, Gibson Island MD
W65-69 Pat Caldeira, Crofton MD
W70-74 Vicky Neilsen, Ogden UT
M14-16 Cian Connolly, Baltimore MD
M17-18 Henry Neff Arlington VA
M19-24 Matthew Reynolds, Arnold MD
M25-29 Matthew Doyle, Jackson WY
M30-34 Felipe Aros, Miami FL
M35-39 Jesse Siemen, Norton Shores MI
M40-44 Owen Shott, Ponte Verda Beach FL
M45-49 Andrew Knight Marietta GA
M50-54 Stephen Robinson Arlington VA
M55-59 Jay Gump Conway MA
M60-64 Jay Trojan Cumberland RI
M65-69 Rick Sorenson, Rutland VT
M70-74 Bob Smith, Grand Junction CO
M75-79 Ralph Schmook, Evensville TN
M80+ Durward Higgins, Chattanooga TN
Men's Maryland Gran Fondo Podium
1st – Chaz Turmon, New Freedom PA - 1h 8m 23s
2nd – Luis Gonzalo Josue Olivos +3m 39s
3rd – Christopher Pruitt+5m 10s
Women's Maryland Gran Fondo Podium
1st – Annie Gilbert Washington DC 1h 26m 9s
2nd – Indre Sabaliunaite +24s
3rd – Diana Burk +32s
Men's Maryland Medio Fondo Podium
1st – Mizel Djukic, Arlington VA- 1h 1m 20s
2nd – William Faucette +2s
3rd – Connor Mckechnie +13s
Women's Maryland Gran Fondo Podium
1st – Alecia Mcclintock Boonton NJ 1h 5m 56s
2nd – Kat Brady +9m 58s
3rd – Judith Beckenbach +10m 1s
Men's Maryland Piccolo Fondo Podium
1st – Henry Tushek Gettysburg PA- 23m 18s
2nd – Christopher Clark +2m 4s
3rd – Will Moseley + 3m 13s
Women's Maryland Piccolo Fondo Podium
1st – Molly Mccammon 29m 20s
2nd – Sarah Kipp +16s
3rd – Elizabeth King +1m 46s
For the full results, please visit: https://www.granfondonationalseries.com/maryland-2023-results