Quito, Ecuador's capital city, is located on the hillside of the Andean mountain at 9350ft above sea level. It was built over the foundation of an older Inca city and it is famous for its well preserved colonial downtown, with several churches from XVI and XVII century, and other buildings that mixes European and indigenous styles.
GFNY Quito starts at Parque Bicentenario (9100ft asl) with 19 miles of flat road all the way to the Middle of the World monument, which mark a turning point heading south in rolling hills (Panamericana Road) to face the first climb of the day COLLAS, this short but fun climb is 3 miles long, 394 m of accumulated climb at 6% average slope.
Once you hit the end of the climb you will get some false flat road sections and even some downhill segments where you can rest a bit as you approach Cumbaya town, and from there you will start the major challenge, 25 miles to finish, the main climb of the race GUAPULO: 6,7 miles with 672 m of climbing and 5,6% average slope in a cobble road (dates from XVI century) that once you summit it will leave you again in the highlands of Quito, just 15 miles from the finish line, on your way there you will pass through Quito colonial downtown and modern city aswell, and finishing at Parque Bicentenario.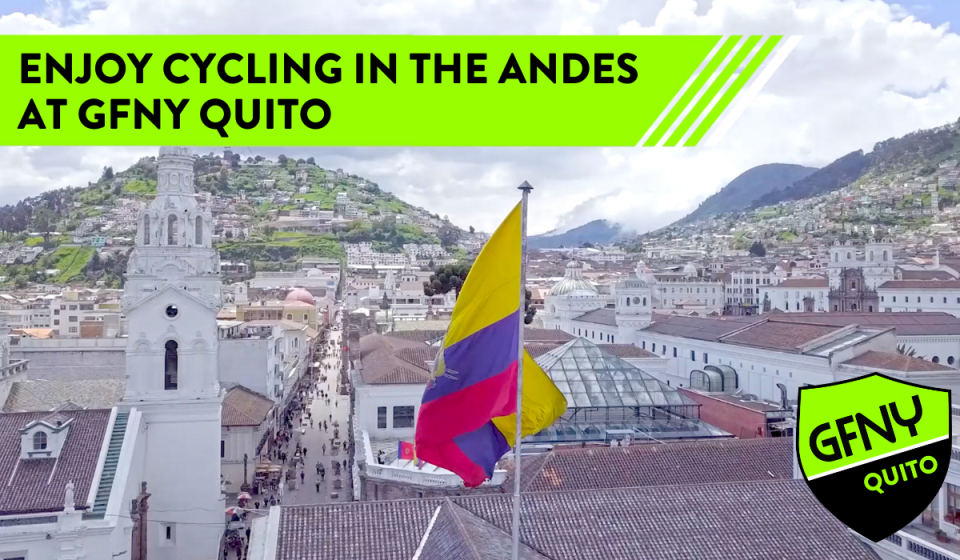 -Fully Closed roads along the entire course.
-Loaded Goodie bags with tons of cool toys.
-Start to finish timing results for all participants.
-Post-race meals and entertainment; Mexican style.
-2 day expo with big international brands.
-Finisher medals.
-Winners jerseys to overall winners.
-Unique winners medals to all category winners.
-Unique prizes for Gran and Medio Fondo winners.
-European cut men's cycling jersey, provided by GFNY Cozumel to every rider and is Mandatory attire for the event.
-Eight fully stocked aid stations.
-On Course mechanical support rolling and at aid station.
-Medical support including stationary and rolling ambulances.
-Motorcycle marshal support and Sag.
-Hundreds of volunteers helping thru the day.