Southern California meets Italy in this celebration of cycling, food, and San Diego's picturesque water front. Held in beautiful Downtown San Diego, the two-day festival features a mass-start, timed Gran Fondo with 4 route options, timed King and Queen of the Mountain, The Bike & Fitness Expo, challenging and picturesque routes, outstanding Campagnolo ride support, and delicious food on course.
The Party — You will be cheered into the finish line, awarded your medal, and ushered into enjoy the Fantastic Finish celebration with live music, bike valet, Italian Pasta Fest, Beer Garden, and a well-deserved massage. Open to all levels of cyclists with 4 Route Options: 105, 56, 34, 20 Miles. No matter which your distance you choose, you will be Rewarded with the Full GranFondo Experience!
The Campagnolo Gran Fondo San Diego is proud to support Challenged Athletes Foundation's® (CAF) Operation Rebound® .
Challenged Athletes Foundation's® (CAF) Operation Rebound® program is the premier sports and fitness program for American military personnel, veterans and first responders with permanent physical disabilities.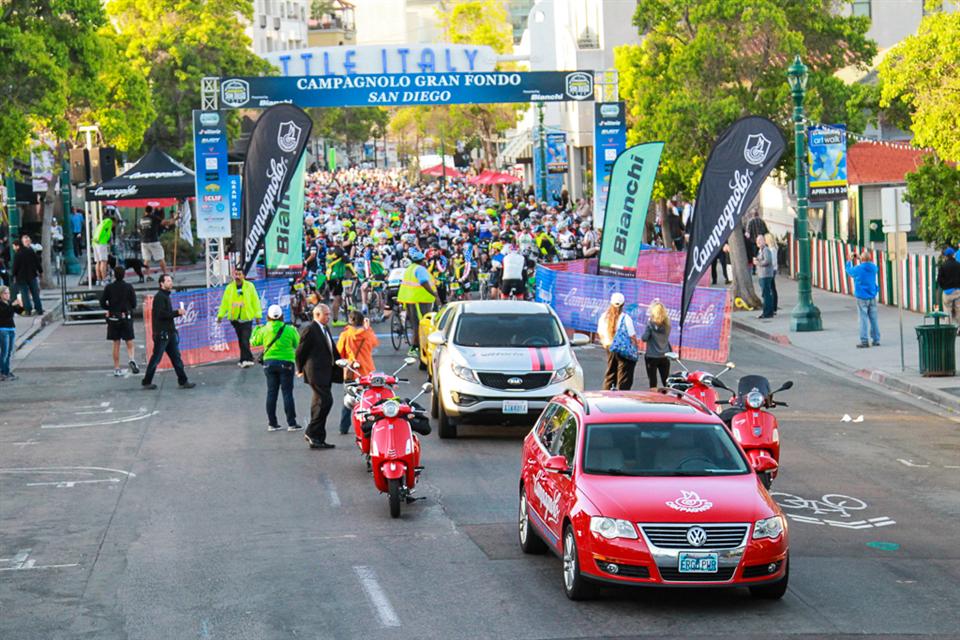 Timed course with chip timing
Fully closed city streets - first six miles
5 Well-stocked aid stations
Post-ride pasta party
Post-ride massage
Rider's goodie bag
4 SAG support along the route
4 Campagnolo Mechanical support along the route
2 Vittoria Tires Support Cars
Free massage after ride
Finisher's Medal
KOM / QOM Timed climb
Timed Climbs: The Honey Springs climb will serve as the KOM/QOM for the Gran Fondo riders.
Granfondos celebrate the challenge and sport of cycling, and ours is no different. While the event isn't a race, it features a timed King and Queen of the Mountain Contest. Cyclists on the 105-mile route will fight to the top of the Category 1 Honey Springs Climb to win bragging rights and prizes in each age group, for both genders. The timed climb begins at Mile 24 and ends at Mile 37 of the long route only.