Distances: 20, 34, 63, 105 miles, 66 gravel
The 100 (105), 63, 34, and 20 mile route options take riders over the rolling hills of the Alabama piedmont with either the historic town of Roanoke (105) or the historic site of Horseshoe Bend (101) as the 100-mile destination. Riders enjoy a continental breakfast, full lunch, and well-stocked rest stops.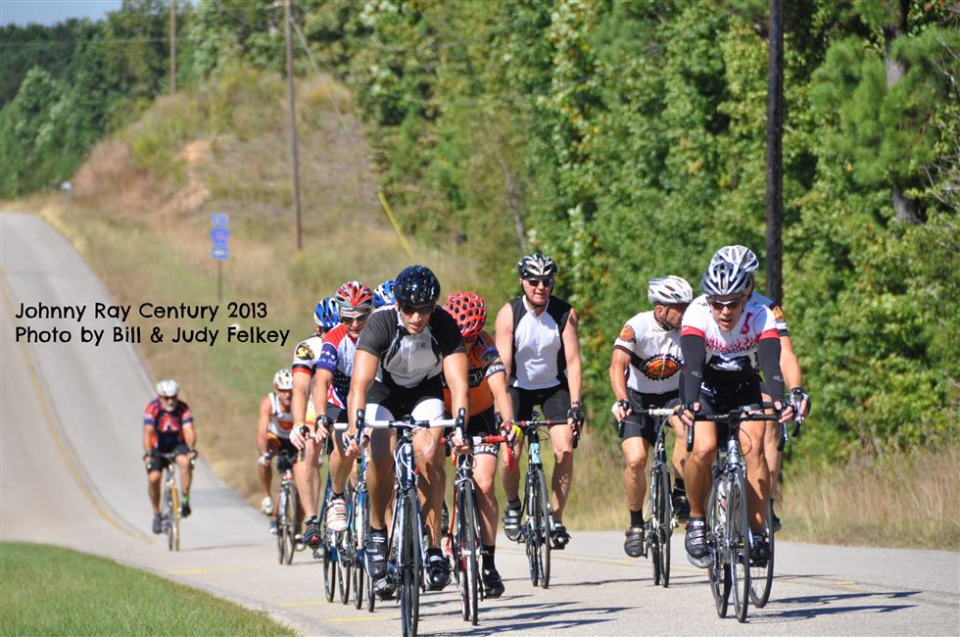 Routes:
Click route for cue sheet & map
Helmets are required on all four ride options. No refunds: Ride goes rain or shine.
Event:

All riders will tour the lightly trafficked rural roads of Lee, Chambers, and Randolph Counties of East Alabama. Riders on the Johnny Ray Metric and Roanoke Express will ride over a World War II-era steel Bailey Bridge and a rare wood truss bridge. Riders on the Roanoke Express have the option to race the historic Johnny Ray train; check out the time tables. Here's a brief history of the Johnny Ray Train by Winston Smith T.
Road surfaces vary from asphalt to chipseal. The chipseal on Chambers County Road 389 - that five-mile stretch of road from Opelika to Cussetta - is smoother than it was in 2007!
Expect catered continental breakfast and Mama Mocha's locally roasted coffee. Starting around 11-12, lunch will be catered by our friends at Red Clay Brewing Company accompanied by your choice of Opelika's finest frosty beverages. Lunch will be available to all riders whether you ride short or long. All costs included in your registration!
The Packet Pickup Party is Friday night, from 4:30 to 7 at JamesBros Bikes in downtown Opelika- 113 S 9th St, Opelika, AL 36801 Pick up your tee-shirt, bib, cue sheet, and map, and stay awhile for a local craft libation from the wall o'beer. Pick up last minute gear, energy supplements or clothing as you shift into a mellow "Life in a Railroad Town" cadence.