At Gran Fondo Hincapie-Chattanooga, you'll experience a cycling event unlike any other. George Hincapie, along with other cycling celebrities (past participants have included Cadel Evans, Bobby Julich, Lance Armstrong, and Christian Vande Velde), will join you for the ride, and in case you're too excited to remember, we'll have a personalized video made for each cyclist. There will also be on-site viewing screens, course and segment timing, live tracking and streaming, and live bands at the rest stops. And afterward, celebrate your finish with family and friends at our family festival, where food, drinks, and entertainment are free for everyone.
Sound too good to be true? It's not. In fact, it's a concept we've tested for six years with the original Gran Fondo Hincapie located in Greenville, South Carolina. Chattanooga, Tennessee is the perfect place for the second location of the ultimate cycling experience!
Family Festival

Family, friends, fans, and cyclists are invited to Gran Fondo Hincapie's Family Festival. Enjoy free food, drinks, live music, and festivities in one of the nation's most breathtaking cities. Stroll through the vendor garden, and check out products from our favorite cycling companies. Need something for the kids to do? We have children's bike races and a fully equipped bouncy park.
The Rides

With 15-, 50-, and 80-mile routes, the Gran Fondo Hincapie-Chattanooga offers rides for every skill level. The 15-mile route, called the Piccolo, is a fairly easy route. The Medio is a shortened version of the Gran, with 50 miles of picturesque views of the Tennessee River and the city of Chattanooga. The 80-mile Gran includes epic climbs and challenging descents.
Gran Fondo
The ultimate route for the adventurous cyclist, the Gran route includes riding through a historic dam, the epic Sequatchie climb (KOM), and winding, European-style narrow roads. Distance: 80 Mi, Climbs: 3 / 2 Timed, Rest Stops: 3, Climbing Elevation: 5884ft
Medio Fondo
The Medio offers a scenic riverside ride with ascents up both sides of Aetna in a slightly shortened version of the Gran. Distance: 50 Mi, Climbs: 2, Rest Stops: 2, Climbing Elevation: 3032ft
Piccolo Fondo
The Piccolo follows an easy, family-friendly route from Dwell Hotel through the city of Chattanooga. Distance: 15 Mi, Rest Stops: 1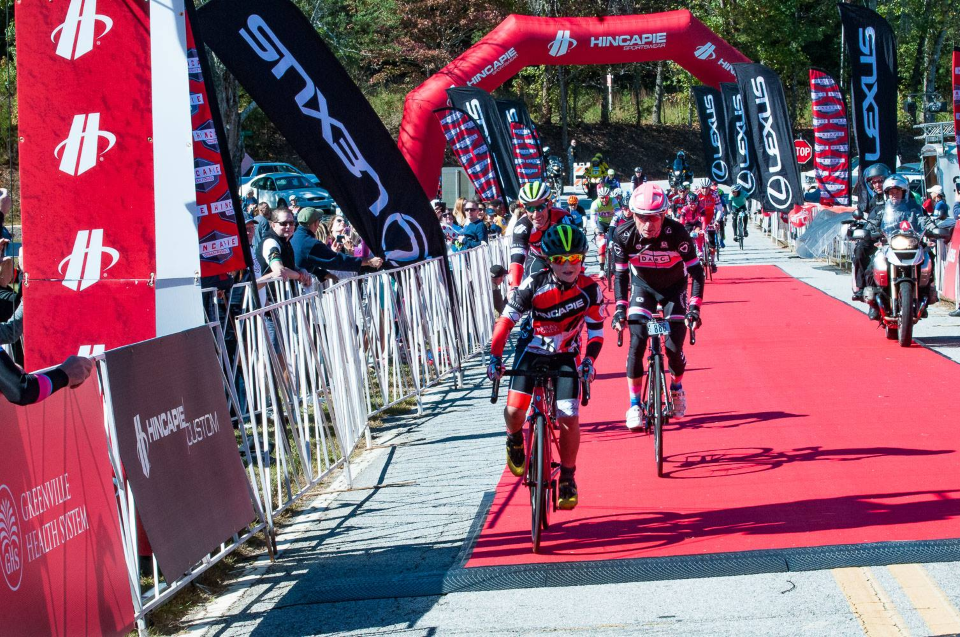 INCLUDES: event jersey, timing chip, SAG support, fully-stocked rest stops, free food & beverage at the Expo
Live Tracking - You've been training for months. Now it's time to show it off. Using the Gran Fondo Hincapie App, your fans can track your progress from the minute the ride starts to the moment you cross that finish line.
Live Streaming - Oh yea! We all saw that celebratory fist pump. With live streaming across all courses, your family and friends can watch your ride from anywhere in the world.
On-site Viewing Screens - If your fans are on-site but aren't the cycling type, they can relax by a large screen and watch the live stream while sipping a beer.
Celebrity Cyclists - George's friends from all over the world join the ride. Announcements coming soon!
Rocking Rest Stops - Not only are our rest stops stocked with water, energy gels and a variety of fruit and food. They also include live music from some of the most talented local bands. So while you stretch and recharge, the music will keep your adrenaline pumping.
Free Family Festival - You just put in some miles. It's time to celebrate. Which means activities and bouncy houses for the kids, and craft beer and a big pot of paella for you. All FREE. Yep, you deserve it.
Comprehensive Timing - Some gran fondos record your total ride time. Others time your climbs. We time both. Go ahead—brag away.
Three Rides - No matter your skill level, there's a route for you. The 80-mile Gran packs in plenty of epic climbs and challenging descents, while the 15-mile Piccolo is great for beginners. Can't decide? Try the Medio.
Friday, May 5
11:00 AM - 6:00 PM Packet Pickup/On-Site Registration
6:30 PM - 8:30 PM Night with the Stars
Saturday, May 6
6:00 AM - 7:30 AM Final Packet Pickup/On-Site Registration
8:00 AM Ride Starts
10:00 AM - 4:00 PM Family Festival & Expo
3:00 PM Awards Ceremony
Prize / Race Categories
Gran
1st Place Male/1st Place Female
2nd Place Male/2nd Place Female
3rd Place Male/3rd Place Female
KOM Male/QOM Female
Age Groups:
Women's 1st, 2nd, and 3rd in the following age categories:
o 10-18, 19-29, 30-39, 40-49, 50-59, 60+
Men's 1st, 2nd, and 3rd in the following age categories:
o 10-18, 19-29, 30-39, 40-49, 50-59, 60+
Medio
1st Place Male/1st Place Female
2nd Place Male/2nd Place Female
3rd Place Male/3rd Place Female
KOM Male/QOM Female
Women's 1st, 2nd, and 3rd in the following age categories:
o 10-18, 19-29, 30-39, 40-49, 50-59, 60+
Men's 1st, 2nd, and 3rd in the following age categories:
o 10-18, 19-29, 30-39, 40-49, 50-59, 60+
Piccolo
Family Fun Fest Raffle Giveaways