Chris Froome's Lab Results Released: How do you Compare?
It's only natural to wonder just how good Professional Cyclists are and compare yourself against them. So how good is Chris Froome compared to you?
After a solo win on Stage 10 of the 2015 Tour de France, Chris Froome found himself being accused of displaying "abnormal physical abilities". Team Sky were left defending his credibility. After much debate and controversy, Froome agreed to undergo independent physiological testing, performed at the renowned GSK Human Performance Laboratory in December 2015. A summary of those results was published in Esquire in 2015.
Just just last week on August 8th 2016, the American College of Sports Medicine, researchers published the peer-reviewed results from the the results from GSK Lab tests in the journal Medicine & Science in Sports and Exercise.
Froome underwent a range tests at the GSK Lab. His body composition, fat and muscle mass percentage using DEXA, a known gold standard for accuracy. He then undertook two sub-maximal tests, one in ambient conditions, another in hot conditions, to measure his cycling efficiency, lactate threshold, sweat rate and electrolyte loss.
Froome also undertook a maximal graded cycling test to exhaustion to determine his Peak Power Output and corresponding VO2max.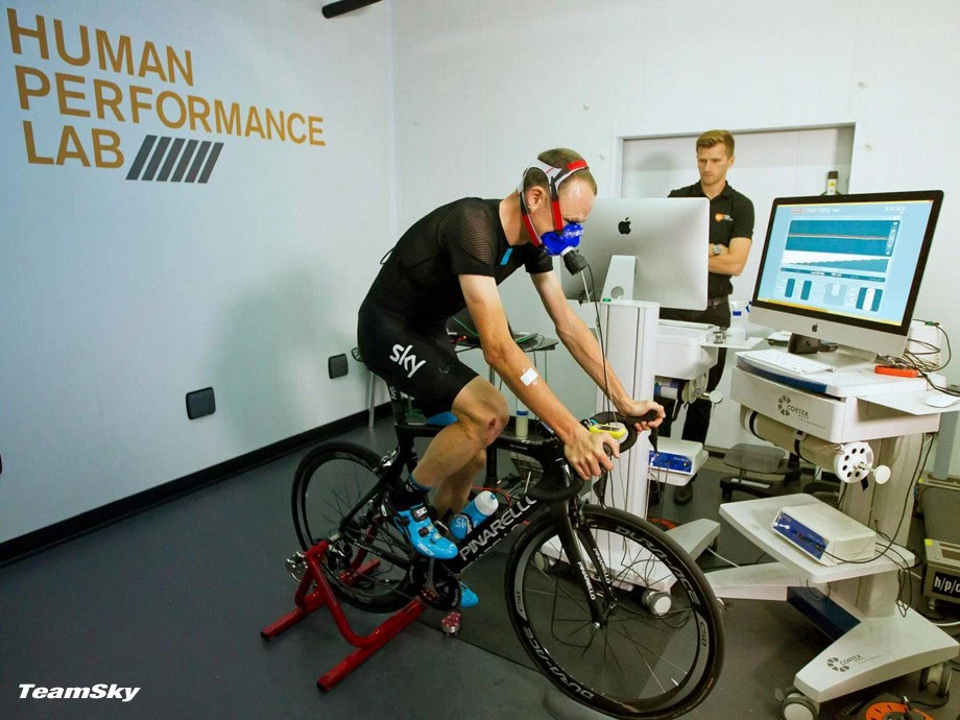 Above Photo: Chris Froome's GSK Lab Results compared to his stage races earlier that year
Body Composition
The Lab tests revealed Froome weighed 70kg, 3kg heavier than his reported weight in the 2015 Tour de France. His reported weight was even lower at 66kg in the 2015 Criterium du Dauphine just weeks before the Tour.
For Froome 70kg equated to a body fat percentage of 9.5%. An elite endurance cyclist would fall anywhere from 4% and 15%. A typical healthy male upper body fat percentage would be up to 20%.
At Froome's reported 2015 Tour de France wight of 67kg, his body percentage would be a very low 4.1%.This level is unsustainable for long periods of time and ideally something like 9.5% would be a level where he wouldn't be putting his body under undue stress.
The DEXA scan was done around three weeks after the Tour de France as he turned his focus to recovery, hence the increase in his body fat percentage.
Sub Maximal Testing
The sub-maximal testing undertaken by Chris Froome required him to ride on his own bike connected to an ergometer that controlled the power independent of cadence. The test started at 250 watts and increased at a rate of 25W every four minutes. This test was done twice — once under ambient conditions, and once under hot and humid environmental conditions.
During the sub-maximal testing, blood lactate samples were taken at the end of each stage and each test continued until blood lactate concentrations were greater than 4 mmol/L — typically representative of an athlete's threshold (the point beyond which the body can't clear lactate as quickly as it's being produced).
The data from the sub-maximal testing revealed that Froome reached threshold at approximately 419W under ambient conditions and, even higher, at 429.6W under hot and humid conditions. This represents a predicted threshold value of 6.1 W/kg (at 70kg during hot and humid conditions) and as high as 6.5 W/kg at his reported optimal race weight. To the everyday cyclist, these values appear somewhat 'superhuman'.
For comparison, an elite road cyclist may have a VO2max power of approximately 5.8 to 6.2 W/kg which they can maintain for up to 20 minutes during maximal effort. Froome is theoretically capable of sustaining this same relative intensity for up to an hour.
Turning up the Heat
Froome's data reveals that his performance increases under hotter conditions. This give's Froome a distinct advantage on hotter stages of say the Tour de France.
Bradley Wiggins is reputed to have sustained a of power output of over 400W on the Tour de France climb of the Col de la Colombière, a climb which Wiggins and the what remained of the Peloton ascended in around 40 minutes. The climb is notoriously steep and hot and featured in this year's 2016 Tour de France on stage 20, where Thomas De Gendt broke away and won the stage.

How Do You Measure Up?
Andy Coggan's chart of power-to-weight ratios at different levels of the sport (see below photo). At 6.5 W/kg, Froome's (FT) functional threshold power is just off the chart. Functional threshold is the level at which you can ride sustainably without going Anaerobic and into oxygen debt.
For a range of Gran Fondo riders W/kg or VO2max power could be anywhere from 2 W/kg to around 5.5 W/kg such is the range is abilities, from beginners to weekend warriors, regularly riding full distance Gran Fondo's, Centuries, Charity Rides and Road Races.
VO2MAX And Peak Power Output
Chris Froome's VO2max and Peak Power Output (PPO) were measured using an incremental ramp test which started at 150W and increased at a rate equivalent to 30W each minute. This test hurts as the athlete cycles until they can't carry on.
Froome reached his limit at 525W (7.5 W/kg), yielding a VO2max of 5.91 L/min (84.4 ml/kg/min). This certainly rates Froome as a world class athlete and when his absolute VO2max values are compared to his optimal race weight, he attains an even more impressive value of 89.5 ml/kg/min.
A few athletes have been measured in the 90's (the highest recorded by a cyclist is believed to be by the three-time Tour winner Greg LeMond, with 92.5 ml/kg/min) but Froome's values are close to what is believed are the upper limits for VO2 peak in humans.
As high as these values appear it is not unheard of to see values as high as 90 ml/kg/min reported for elite endurance cyclists. The below table outlines the values that are typically seen across a range of fitness levels in cyclists.
Highly trained cyclists who train and race more often, can possess far superior physiological values. Less obvious, and more interesting, is the fact there is often a large overlap in physiological capacity between groups.
For example, a well trained endurance cyclist may possess a very high VO2max but might not be competitive due to the fact that overall performance is a product of more than just one single physiological measure.
Above Photo: Criteria for the classification of trained, well-trained, elite and world class road cyclists. From Jeukendrup, A. E., Craig, N. P., Hawley, J. A. 2000. The bioenergetics of World Class Cycling. J Sci Med Sport.
World Class Cyclist
The publication gives a rare insight into Foome's variety of physiological attributes that allow him to excel under specific conditions based on actual results.
As the author's extract comments "Relative values using the reported competition body mass, peak power output and submaximal power at 4 mmol/L blood lactate concentration are the highest values published to date."
Given the sport's history with doping, Froome's performances and that of all Professional cyclists will always be scrutinised. It may be a long time before we are ever certain that such performances are achieved cleanly, however as we move forwards, the sport continues to become more transparent and tackle the uneasy topic of doping.
Froome's Rise
The following gives a possible insight into Froome's background and his journey into becoming "one of the worlds top cyclists". We have to stress none of the information below is NOT based on proven facts (like the above actual results). It's based on articles and information published around Froome, some details cannot be substantiated.
In 2007, at the age of 22, Froome turned professional with Team Konica Minolta. He moved to Europe to further his career, joining team Barloworld. In 2010 he moved to Team Sky. It's rumoured that Chris Froome quit carbs for protein, staved himself, and lost 20 pounds, before he broke through into the top professional rankings by winning more races.This success could be down to Dave Brailsford and Team Sky. Froome was largely unknown until he started winning. The 20-pound weight loss has allowed him to thrive, especially in the mountains. His VO2max power would have been about 6.25 w/kg, the envy of just about every cyclist.
After losing the weight, Froome's VO2max power increased by around 10%.
Froome made his breakthrough as a Grand Tour contender during the 2011 Vuelta a España where he finished second overall with Team Sky, after losing this weight. At the 2012 Tour de France, riding as a super-domestique for Bradley Wiggins, Froome won stage seven and finished second overall, behind only Wiggins in the same race as the best British performance in the race's history. In the same year, he also won the bronze medal in the time trial event at the Olympic Games and finished fourth in the Vuelta a España.
His first multi-stage race win came in 2013, in the Tour of Oman, followed by wins in the Critérium International, the Tour de Romandie, the Critérium du Dauphiné, and the 2013 Tour de France.
As a defending champion, he began 2014 by again winning the Tour of Oman, followed by a repeat victory in the Tour de Romandie. After retiring from the 2014 Tour de France, he came back to place second in the Vuelta a España. In 2015, he won his second Critérium du Dauphiné and his second Tour de France. In 2016, he won a third Tour title, and became the first man since Miguel Indurain in 1995 to defend his title.
Nowdays, he stated as weighing 147 pounds, in his 2014 autobiography he said he was 66 kilos, or 145 pounds which is inline with the actual GSK Lab Results.
A normal everday person has a VO2 max of 35 to 40, with highly trained cyclists in the 50s and 60s, Froome's actuals of up to 89.5 ml/kg/min are at the top end of human performance.His success can be put down to the loss in weight, helping to explain his improvement from also-ran to Tour de France winner. His engine was always there, he lost his body fat.
Froome won his first Tour de France with race weight of around 147 pounds, which he has kept to these past few years. He's now won in the world's biggest bicycle race three times and earns at least $5 million dollars a year, a far cry from his neo-pro year when he made around $25,000 dollars.
What About Me?
With hard work, dedication, determination and the right lifestyle you too can advance through the cycling ranks and achieve that 'Bucket List Ride'.
As a beginner, the best way to do this is to join a club and start cycling regularly, eat a healthy diet and start riding some 30 mile Piccolo Fondo's and progress onto a Medio Fondo's at around 60 miles. With the increase in the number of events, you'll easily find a ride near you, check out our events calendar.
The next big step as a newcomer is to bag that magic 100 mile "Century Ride" and start riding Gran Fondo's and other events regularly.
At this stage, depending on your goals and objectives, you can seek the advice from a Qualified Professional Cycling Coach, who can test you just like Froome, and set up a plan to meet your goals.
The Sky's the limit ...
Link to extract from the official Journal of the American College of Sports Medicine