GreenEDGE Cycling team to become as Mitchelton-SCOTT
GreenEDGE Cycling team will be known as Mitchelton-SCOTT in 2018 as a new name and look for the coming season were launched today
The new identity, complete with a new black and yellow jersey courtesy of apparel sponsor Giordana Cycling, will be adopted by the WorldTour men's and women's outfits with the Continental team to be launched at a later date.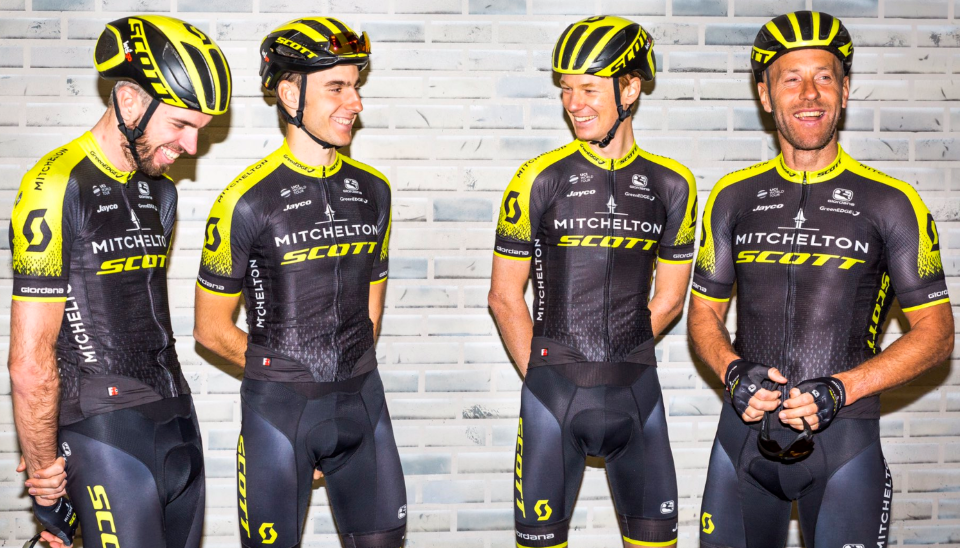 The move comes as Mitchelton increase their international focus following the opening of the boutique Mitchelton Hotel and Day Spa in late 2017 to complement the existing Winery and Chocolate Factory in regional Victoria, Australia.
Mitchelton Managing Director Andrew Ryan said the opportunity of naming rights sponsorship of the cycling team opened new doors for the business.
"The past number of years Mitchelton has focused on domestic business, but we are now ready to target export markets and cycling is a great vehicle to promote our brand to the various global markets," Mr Ryan said.
"With the new Mitchelton Hotel and Day Spa, we have seen an increase in international tourism to the estate and this association with the team will enable us to broadly promote our estate to the world."
SCOTT Sports, who have supported the team since its inception, will continue as dual naming rights sponsors after a successful debut in 2017 saw the men's and women's teams achieve a combined 44 UCI victories.
"We are very proud to continue this successful partnership into its seventh season," Pascal Ducrot Vice-President SCOTT Sports said.
"It is quite remarkable what the team has achieved until this point. To be competitive in all major classics and Grand Tours is unique these days and additionally to achieve most of this success via young, talented and home grown riders is fantastic. We believe it is only a matter of time until they will win their first Grand Tour."
"SCOTT has a strong performance and racing heritage. We are very happy to have the team now in our RC (Racing Concept) colours for 2018. This will link the team even more to our other world class athletes in MTB and Triathlon."
Team owner Gerry Ryan welcomed the changes for the upcoming season.
"We are excited to get the 2018 season underway in Australia next month with a new invigorated identity," Mr Ryan said.
"We believe we have the perfect platform to showcase the Mitchelton and SCOTT Sports brands to the world as we strive for further success on the road."
Following their planned departure, Ryan also spoke fondly of the support ORICA had provided over the past five and a half years.
"ORICA signed up to support our team very early in the piece, putting their trust in this organisation and its people, and providing us with the platform and security to grow," Mr Ryan said.
"We are tremendously proud of how far we have come thanks to their support. We have won monuments, stage races, Grand Tour stages and after two Grand Tour podiums, a victory in a three-week Tour is next on our list."
"ORICA will forever have a place in this team's DNA and we are extremely thankful for their support over the years."