Zwift announces National Championships – February 23rd and 24th
The addictive online training platform, Zwift, announced they will be holding national championship events on February 23rd and 24th
Riders from the top 15 nations on Zwift will battle each other on the Watopia Volcano Climb Course for the right to wear their nation's jersey for a year in the virtual world.
Launched in beta version in October 2014, Zwift has continued to grow into a global phenomenon with thousands of riders putting in virtual miles from all over the world at any given time of day. Jarvis Island in the Pacific Ocean was the original course before being replaced by Watopia, or the island of Te Anu of the Solomon Islands. Later on, the Richmond UCI Road World Championships and the Prudential Ride London courses were added. Additionally, the ability to do structured workouts, along with races and group rides of all levels have added to the popularity of this highly social fitness platform.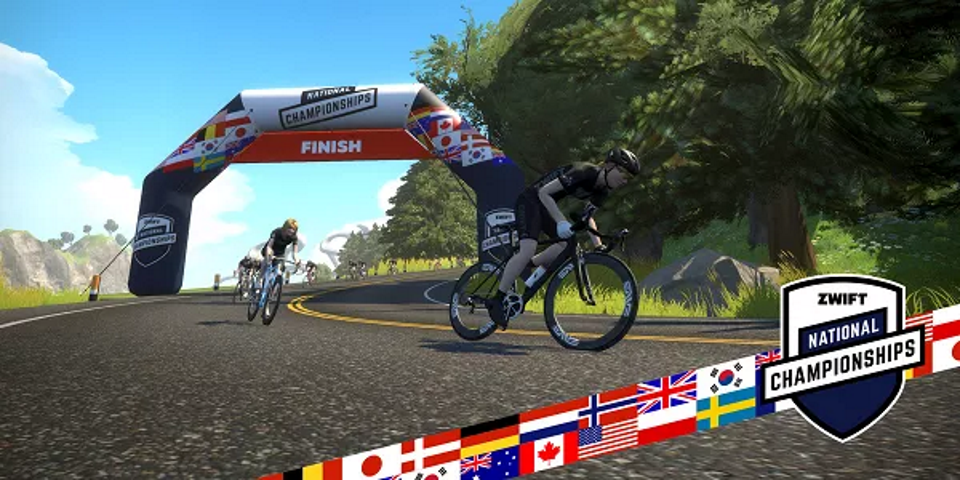 Currently, a monthly subscription to Zwift is $14.99/£12.99. There is a 7-day free unlimited trial when you create the account to see if it something that you'll enjoy. Chances are, you will. It has definitely been a game changer when it comes to training indoors. Though not required, having a smart trainer like a Tacx Bushido or a Wahoo KICKR provides a real-life feel to the game, allowing the resistance to be altered based on the terrain in the game.
Adding to the allure of the game, you get points for each kilometer or mile you put in, which help you level up to have access to additional bikes, wheels, kits, helmets, sunglasses, socks, and shoes. You can also create your own rider avatar to add a personal touch. Also, through joining various events, you can unlock special items from the event sponsors.
Riders from the USA, UK, Canada, Germany, Japan, the Netherlands, Norway, Belgium, Sweden, South Korea, Denmark, Switzerland, France, and Poland will ride three laps of the 14.2-mile circuit and climbing a total of 2,007ft on their way to a virtual jersey. The women's races will be on the same course but will be two laps total with 1,338ft of climbing. Australia will also be holding a national championships event but will be later in the year to better match their winter season.
More countries will be added for 2019.
The event is open to riders of all levels who are registered on Zwift as riding for one of the countries above. Even if you are not an "A" rider, you have the chance to compete against other riders from your country and see how you stack up.
The schedule is as follows:
Friday, February 23rd
Japan – 9:00PM EST
Korea – 9:15PM EST
Saturday, February 24th
Norway – 3:30AM EST
Denmark – 3:45AM EST
Sweeden – 4:00AM EST
Poland – 4:15AM EST
Germany – 4:30AM EST
Belgium – 4:45AM EST
Netherlands – 5:00AM EST
France – 5:15AM EST
UK – 5:30AM EST
Switzerland – 5:45AM EST
USA – 11:00AM EST
Canada – 11:30AM EST
Prize
There is only one prize: the winner will receive the National Champion virtual kit to wear for one year.
Categories
There are two categories: Men (A Group) and Women (B Group). The pace will be fast from the start. Stay with leaders or ride your own pace to the finish and see where you stack up against fellow Zwifters in your country.. We'll crown the winner, the 2018 National Champion.
For more information, please visit: https://zwift.com/events/series/2018-zwift-national-championships
Zwift National Championships Rules
Riders are required to wear a heart rate monitor to be eligible for the win.
Riders will have to use a power meter or smart trainer to be considered for the win; ZPower on traditional trainers or rollers will not be eligible
Riders producing over 5w/kg average will be automatically disqualified. These riders can be reinstated after providing similar real-life matching performances verified by ZADA.
Strava data for the Zwift National Championship races must be open (not private or hidden).
Riders must register at http://www.zwiftpower.com before the race.
By entering this event, riders agree to the terms and conditions at http://www.zwiftpower.com.
Eligibility is based on a rider's Zwift account country/flag, not the rider's place of residence.