Warren Barguil and nearly 18,000 riders tackle Haute Route Watopia
The world's most challenging virtual 3-day stage event is a massive hit on the Zwift platform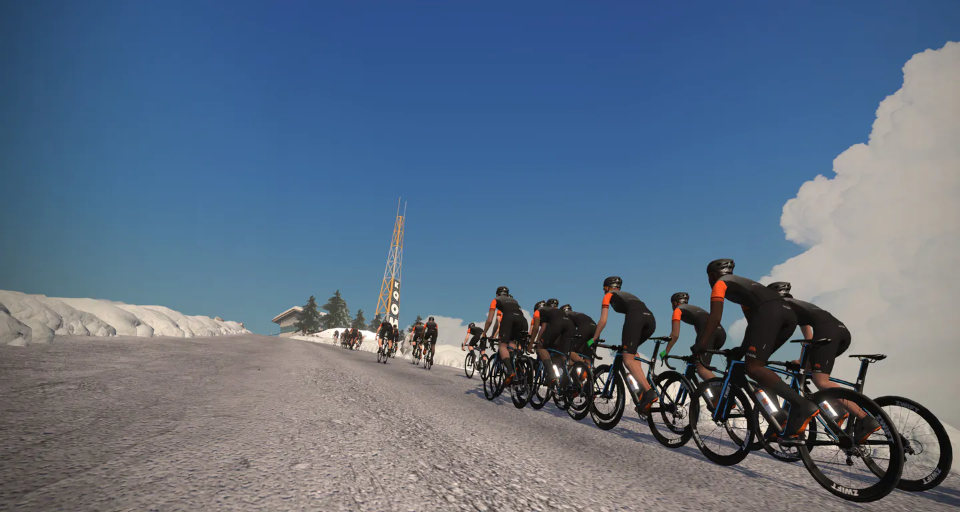 Open to all Zwifters worldwide, the free event was the most accessible Haute Route to date and certainly be the largest Haute Route ever! Haute Route Director Julie Royer said after the, "The virtual world opens up entirely new possibilities never seen before. Haute Route Watopia allowed more people from around the world to experience the thrill of an Haute Route event."
Gran Fondo champion Stefan Kirchmair, two times Otztaler Radmarathon winner, won the general classification with an overall time of 3m 42s 50s ahead of Japanese rider T IKD who was coached by a former Team Sky rider, with Chinese rider Marshall Wu in thrid place.
Zwift CEO Eric Min who took part said, "I've looked at the route, and it's certainly going to be a huge challenge. I always like to test myself, and I certainly look forward to taking part!". Min finished with an overall time of 4h 48m 26s.
Professional Warren Barguil rode stage 3 and churned out an average 337 watts, 5.82 watts per kilogram!
Over the course of three stages, participants rode a total of 145km (90.2 miles) with 3,373m (11,070′) of climbing.
Here are the routes for each stage (click for details):
Stage 1: Three Sisters (47.8km/29.7 miles, 879m/2883')
Stage 2: Tour of Fire and Ice (25km/15.6 miles, 1161m/3812') + lead-in
Stage 3: The Pretzel (72.2km/44.9 miles, 1333m/4375')
Zwifters who completed all three stages unlocked the exclusive virtual Haute Route finishers kit by Le Col to wear with pride in the game. In addition, finishers of all three stages were entered into a prize drawing to win either entry to a 3-day Haute Route event or a Le Col Haute Route cycling kit.
Full results: https://www.zwiftpower.com/league.php?id=289
VIDEO: Haute Route Watopia 2020
Ride with the Pros!
Zwift + Haute Route are also hosting a handful of Ride with Pro events, where the group will be joined by a pro rider. Complete any Ride With Pro event to unlock the official Haute Route socks and cap to complete your look.
For more information, please visit the: >> upcoming Ride with Pros events >> (none posted yet)