Whitney Allison (Bike Sports) solo's to 2021 BWR Cedar City Victory
One of America's top Women Gravel Influencers won the brutal Belgian Waffle Ride Cedar City in Utah this Saturday September 25th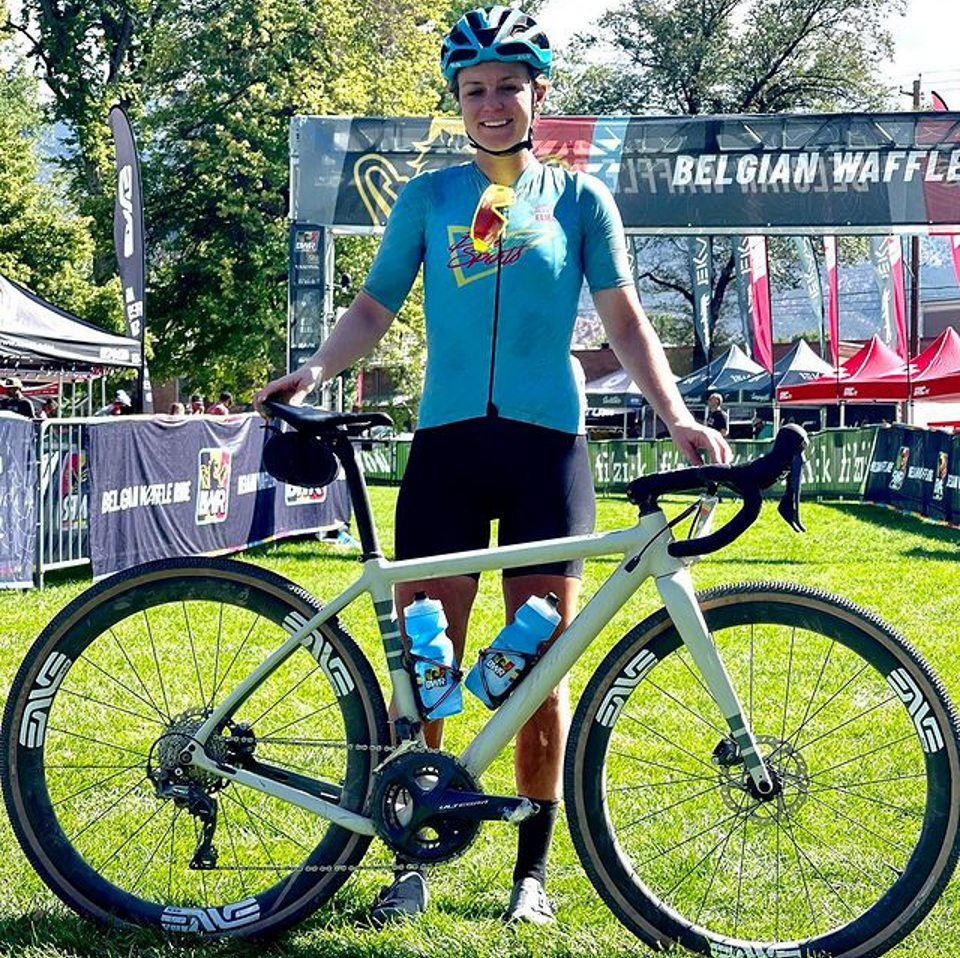 The ride known as "The Hell of the South", is a brutal 135 mile course that includes over 9,000 feet of climbing with timed dirt sections included.
Whitney Allison (Bike Sports) found herself in a group of prominent women gravel riders who had their own start including; Nikki Jo Peterson, Melissa Rollins, Lindsey Stevenson, Holly Breck and Lindsay Goldman, Sarah Jarvis, Sarah Kaufmann, Jenna Bullbrook to name a few.
Nikki Jo Peterson was back in the mix a year after a truck hit her, surely deserving a "hardest rider" award.
Unfortunately Melissa Rollins suffered a small puncture after 85 miles which took her out of contention for the podium, but she managed to hold on to the Queen of the Dirt jersey, on the dirt segments before she flatted.
With 91 miles to go three women were out front, Whitney Allison, Heidi Franz and Lindsay Goldman with a group of five women behind.
Heidi Franz then punctured, got back up and running and started to chase down the two leaders.
With 55 miles to go it was down to just Whitney Allison and Lindsay Goldman who shared the pace.
Heidi Franz was caught by the group behind.
Whitney opened up a 90 second gap on Goldman through the feed after 70 miles. She pressed on and increased her lead by over 4 minutes.
Whitney put in several huge attacks in temperatures of 78F at altitude passing many of the men. Coming out of the single track and climbs Whitney had increased her lead by over 9 minutes.
Heidi Franz distanced the rest of her group with Helena from English Endurance in fourth
Entering the bike path for the final push Whitney realised she was going to win and crossed the line to take the 2021 BWR Cedar City Women's Title. Partner Zack came 22nd in the men's race.
Whitney and partner Zack are well known for their Foco Fondo and Gravel Gracelands gravel rides in Northern Colorado and coaching riders at the Belgian Waffle Ride survival camps.
Whitney has been racing professionally since 2013 racing in the United States and Europe and with podiums at iconic events like AMGEN Tour of California and Colorado Classic Pro. She now flies under her own gravel flag at Bike Sports Co with partner Zack.
Earlier this season Whitney finished 4th at Unbound Gravel on the 200 mile course after incredible battle to come back into contention from flats and mechanicals. She also won the incredibly tough 185 mile and nearly 11,000 feet of climbing at Desert Gravel. She also came 5th at SBTGRVL.
Off the bike, Whitney has worked to create space for women coming into the sport and equity for those in it. Through Gravel Gracelands and FocoFondo, Whitney has made a space for women to have a chance to meet more riders in real life (instead of just the internet) and have more confidence showing up at events, knowing there will be lots of friendly faces there!
When they're not coaching and putting on incredible gravel rides, the couple travel with their dog riding some of the toughest gravel rides across the USA.
2021 Belgian Waffle Ride Cedar City Podium
Women
1st Whitney Allison (Bike Sports)
2nd Lindsay Goldman (Factor Eliel Honey Stinger)
3rd Heidi Franz (Rally Cycling)
Men
1st Peter Stetina (Let's Privateer, together)
2nd Griffin Easter (OpiCure Foundation)
3rd Paul Voss (AUT'SAID)
Full results are available at: https://www.omnigoevents.com/events/bwr-ut-2021
Ride with Whitney at the third Gravel Gracelands this October 22nd-24th
Gravel Graceland is a vast expanse of diverse gravel riding in Northern Colorado made up of diverse gravel riding terrain from flint hills to 12,000 foot dirt passes for the final time this October
To journey by bike in this region is to experience cycling. This area of Northern Colorado contains some of the purest, rock and roll, mixed terrain experiences you can get in the world, that's why it's called Gravel Graceland.
Longtime pros Zack and Whitney Allison figured out they lived and trained somewhere special. They were left in awe of Gravel Graceland too many times to not name the region and share their experiences with others. They own Bike Sports, and they want to take you on a ride.
Fort Collins is ground zero of this geographically amazing area of cycling, offering diverse mixed terrain routes. Gravel Graceland as an experience will bring riders 39-48 mile rides each day, for three unique experiences. Final 2021 dates include October 22nd-24th.
It will be just the right amount of adventure, push your comfort zone while also still being fun. Beyond riding, it includes everything you need to be comfortable on the ride from SAG with mechanical support, to Ibis Demo bikes, and Eliel Cycling masks provided for protection while in small groups.
Whitney and Zack share over two decades of pro-level road and gravel racing between them and Bike Sports is an avenue for them to bring you along for the ride and see the world as they see it. Live like a king or queen slurping the oysters of the world's most picturesque riding locations. They will bring you an experience by bicycle. If you're wondering if cycling is your thing, it will be after you hang out with them.
The first two editions sold out in advance, so enter now to secure a place!
Learn more at Gravel Gracelands.