A record number of cyclists will ride in this year's RBC GranFondo Whistler, and most of them are new to the sport
Jennifer Hawkrigg has won several medals as a member of Canada's national snowboard team. Yet it's a new sport – road cycling – that has captured her heart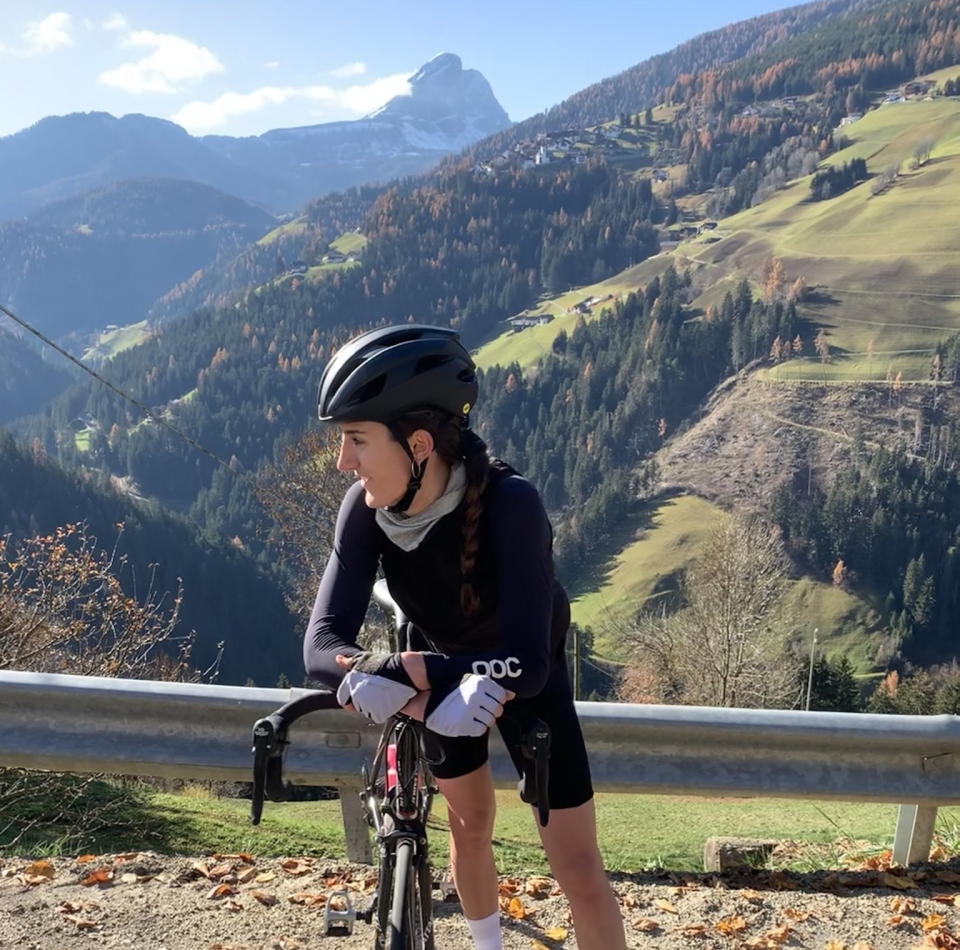 Beijing 2022 Olympian Jennifer Hawkrigg (Snowboard) is one of thousands of 'pandemic cyclists' participating in the September 10 RBC GranFondo Whistler. The sport's recent surge in popularity has resulted in a record number of riders registered
"I had actually never been on a road bike prior to the pandemic," said Hawkrigg, who competes in Parallel Giant Slalom snowboard racing and was a member of Team Canada at the Beijing 2022 Olympics. "In 2020 our World Cup season was cancelled, and I was so bored with indoor workouts, so one day I grabbed my Mom's old road bike, went for a long ride, and totally fell in love."
Hawkrigg is not alone. On September 10, Hawkrigg will be one of thousands of new cyclists participating in their first-ever RBC GranFondo Whistler, a group cycling event and festival that is the largest of its kind in North America.
"There was a definite surge in cycling interest during the pandemic, and we're definitely seeing that play out in our registration numbers," said RBC GranFondo founder Neil McKinnon. "It's amazing – in 2019, the last time we held the event, we had 4,500 riders. This year we already have 6,500 registered (and counting), which is more than we've ever had. And 40% of them took up the sport during the pandemic."
Despite the large number of cyclists who will be participating in their first large group ride, McKinnon isn't concerned about the logistics of moving so many riders from Stanley Park to Whistler Village within a mater of hours (the fastest event time recorded is three hours, 14 minutes).
"There are no cars for riders to navigate, and we have three distance categories (the 55km "Medio", the 122km "Gran Fondo", and 152km "Forte")," said McKinnon. "We also have comprehensive nutrition, medical and mechanical support, and the spirit of a GranFondo is very supportive and collegial."
The festival atmosphere starts with VeloSpoke – an international destination expo on September 9, and a post-ride party in Whistler's Olympic Plaza.
"This will be my very first organized cycling event, and I'm really excited to experience so many participants with a shared love of cycling and the energy of riding with such a large group," said Hawkrigg, "I've spent a lot of time on the snow at Whistler, but riding into that atmosphere at the village is a bucket list item for sure."
Hawkrigg will be riding in the event with fellow Olympians John Smythe (Field Hockey, Tokyo 2020), and Darren Gardner (Snowboard, PyeongChang 2018) at the event, both of whom also started cycling more seriously during the pandemic. All three are part of the RBC Olympians program.
"We're so excited to welcome so many new cyclists into our family, from Olympians in other sports to people who simply found our sport during lockdowns and got a taste of the freedom," said McKinnon. "Now they can also experience its great social power."
More than 30% of the 2022 RBC GranFondo participants are from outside BC, and a total of 25 countries will be represented.
For more information, and to register before close on September 7, visit rbcgranfondo.com/whistler