Let It be XFONDO Saturday Forever!
Perfect weather conditions for 200 cyclists made for a great experience for dirt lovers in Whistler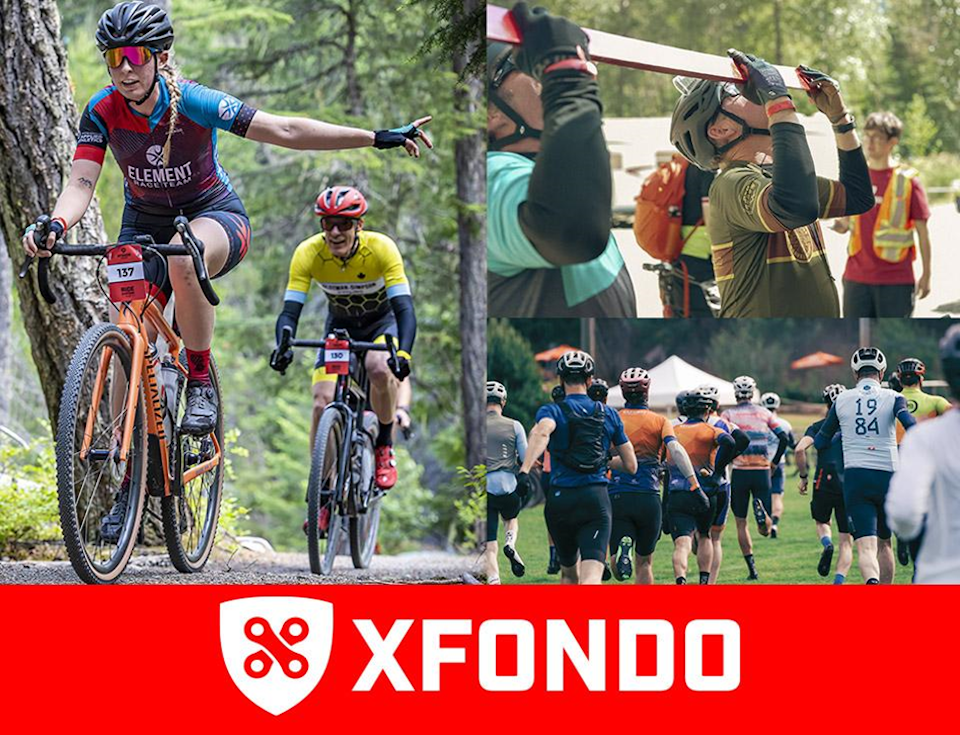 Friends and dirtlovers, XFondo Whistler 2023 (BC, Canada) was some of the most fun ever had at a biking event. By June, winter in the famous resort town is no more – it was time for the gravel bikes to take center stage.

From the perfect weather conditions, the sight of 200 cyclists sprinting across a baseball diamond, everyone continually checking in on each other, never-dropping stoke levels, BBQ smells, beer spraying, mugs for medals, super competitive lawn games, plank competitions, definitely no drone flying, shot-skis, ridiculous terrain and a not-half-bad soundtrack to tie it all together, there's only one question left to ask: can it be June 2024 already?

Next year's registration will be launched sometime in the near future, so for now feast your eyes on the results, winner interviews, first-drop photos and more!
Want updates on next year's event? Subscribe here!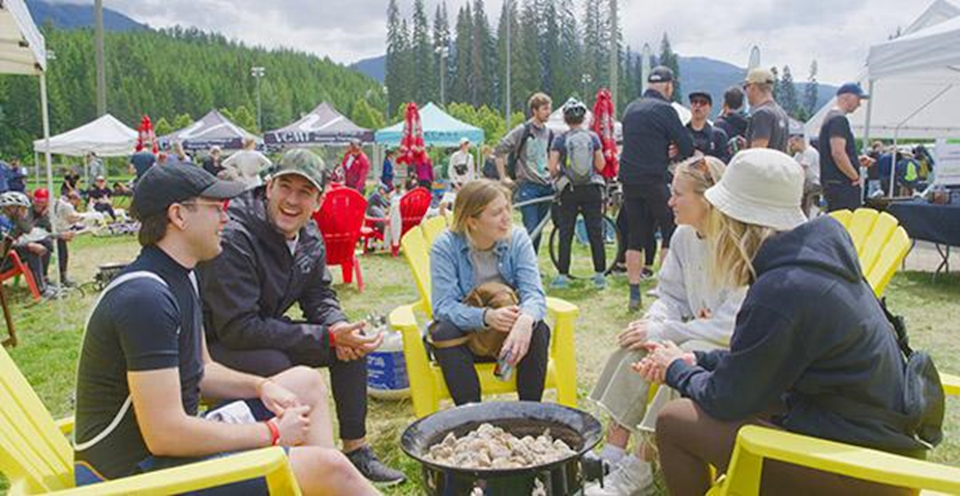 2023 XFONDO Podium Results
Shorter 43k Women
1st - SHORTIS, Michelle (Whistler, BC) - 3:04:56
2nd - METRAS, Madeline (Vancouver, BC) - 3:07:21
3rd - NORMAN, Billie (Vancouver, BC) - 3:27:42
Shorter 43k Men
1st - CUDMORE, Peter (Whistler, BC) - 2:06:37
2nd - LAVIGNE, Mark (Vancouver, BC) - 2:32:46
3rd - WILLIAMS, Lyndon (Langford, BC) - 2:38:03
Longer 60k Women
1st - MENNING, Grace (North Vancouver, BC) - 2:55:06
2nd - BUONASSISI, Angie (Vancouver, BC) - 3:11:41
3rd - NEAL, Mikayla (Saanichton, BC) - 3:13:17
Longer 60k Men
1st - MOFFAT, Paul (Vancouver, BC) - 2:34:13
2nd - BULA, Jon (North Vancouver, BC) - 2:35:49
3rd - PERRETEN, Mike (Vancouver, BC) - 2:36:52
Grace Menning, Longer Winner Interview
Josh Visser, announcer: Now, Grace Menning, first female woman across the finish line coming home, taking the win in 2 hours 55 point 06. How was it out there for you?

Grace Menning: It was amazing. Yeah, the weather was perfect, not raining. I was here last year and it was a different race!

JV: Beautiful, coming in with an impressive time; sub three hours: any performance notes out there? Highlights?

GM: Oh, I dropped my water bottle three times. I just stopped. So, I don't know. Butterfingers! I don't know... what the heck! I think I need a Camelback hahaha!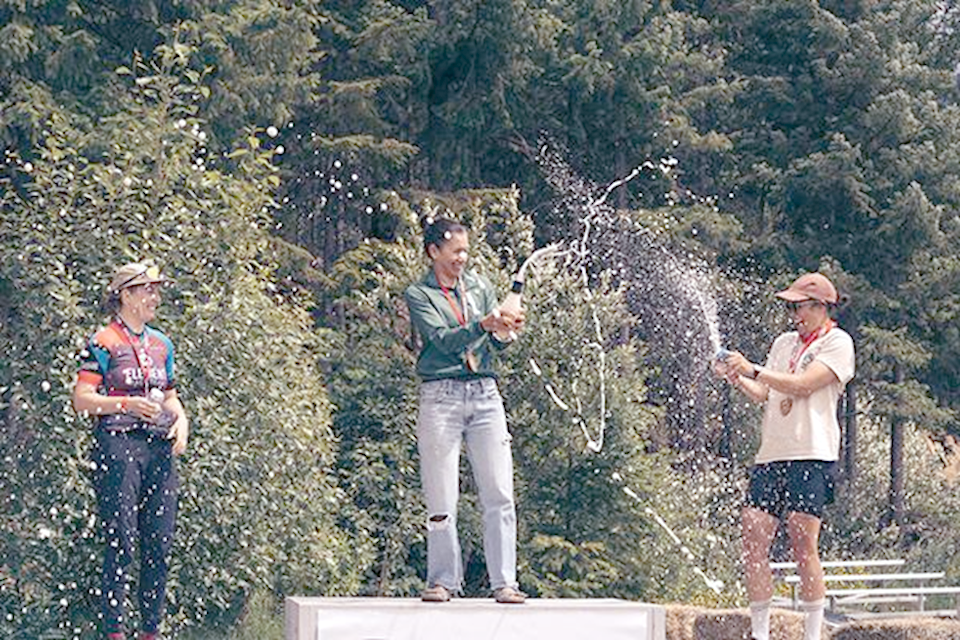 Paul Moffat, Longer Winner
JV: Paul, buddy, welcome to the finish line, taking it home in a big way. How was it?

Paul Moffat: It was super fun. It's a course that I like. I came last year and I got second, so I had business to attend to. It's a shame Karsten wasn't here to defend his title, but it's always a good course. A nice mix of everything, singletrack, baby-haired rock descents and a little bit of hurt so a good test of the skillset I say.

JV: I can't help but see a little bit of blood on the hands. You made the most of the course out there. What went down?

PM: Just in the last little section after Green Lake where it's kind of like steep descent, I lost my focus a little bit, and there's a hairpin turn, and slid right down, right in front of the first place woman, yeah, so I unfortunately held her up, she super cool about it, and jumped back on, and hauled ass as quick as I could!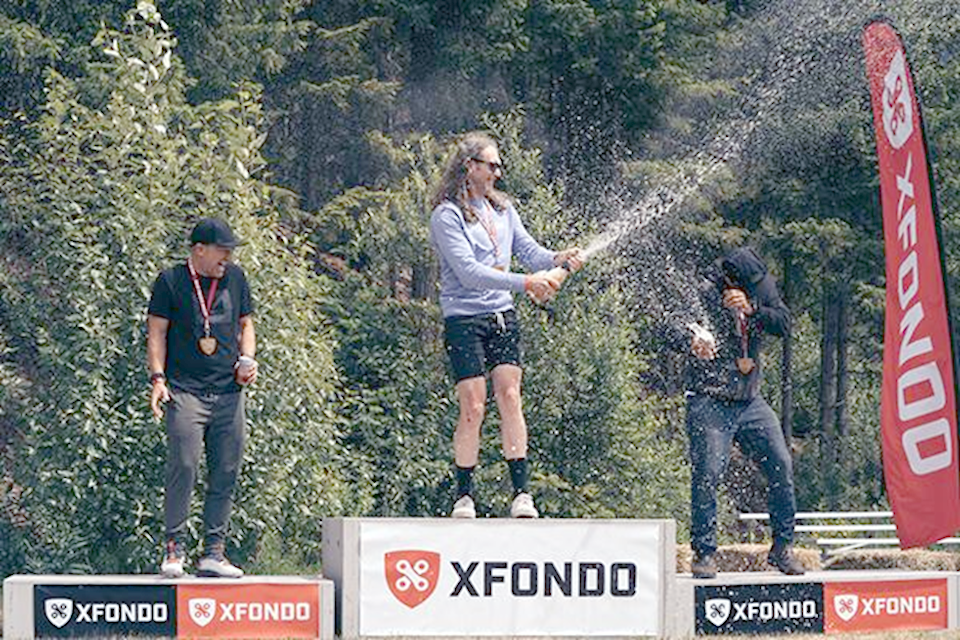 Save the Date
Pull out those filofaxes and iCal apps, XFondo Whistler will be returning bigger and better in 2024.
Registration details will be coming soon - until then, mark Saturday June 15th 2024 in your diaries!
For more information, please visit: http://xfondo.com/whistler.html
Photo Gallery
Check out the first drop of photos and video stills from the talented team on the ground (and sky). More dropping over the coming while - including the official video featuring local riders from Squamish and the awesome Squamish Gravel Cycling Club
GALLERIES

Chris Dutton Photography - Filippone Visuals - Fistbump Filmworks