Is this the West Coast's coolest event?
The organizers might not say so, but that just further adds to the allure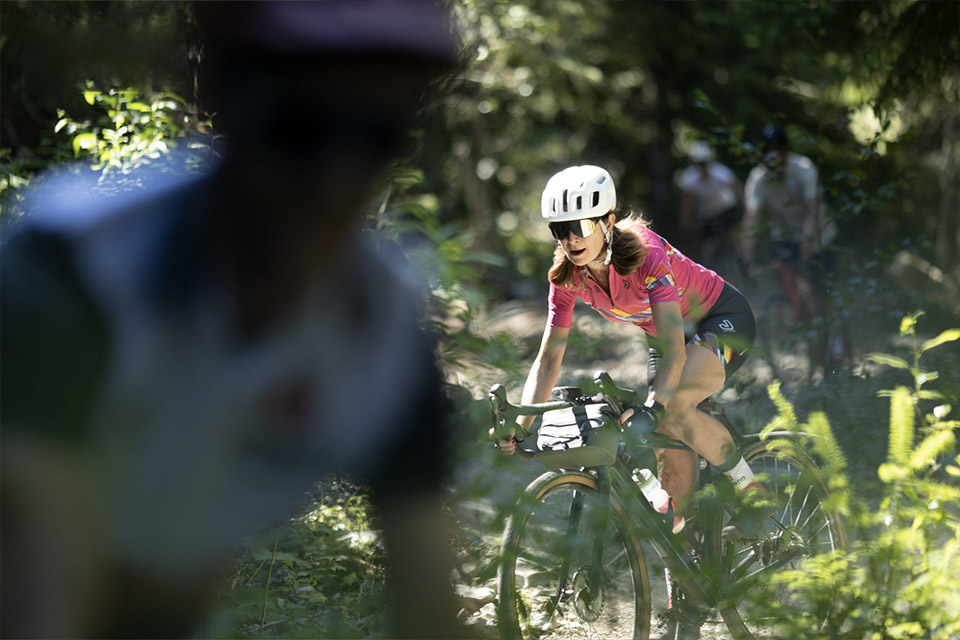 When the pandemic hit, most event companies were simply trying to stay afloat. And for riders, the loss of events meant a focus on other elements in life; after all, it felt like there were more important things to mentally deal with first.
Up in the warm climes of British Columbia, Canada, time was passing a little differently. The crew behind North America's largest Gran Fondo had to initially follow the same course, with postponements and community-building communications replacing regular scheduled programming, but then they got a little bored. Not content with simply "waiting for things to blow over" like Simon Pegg might suggest, 2021 was a year for the team to reinvent the wheel and give birth to something truly groundbreaking. The result? XFONDO.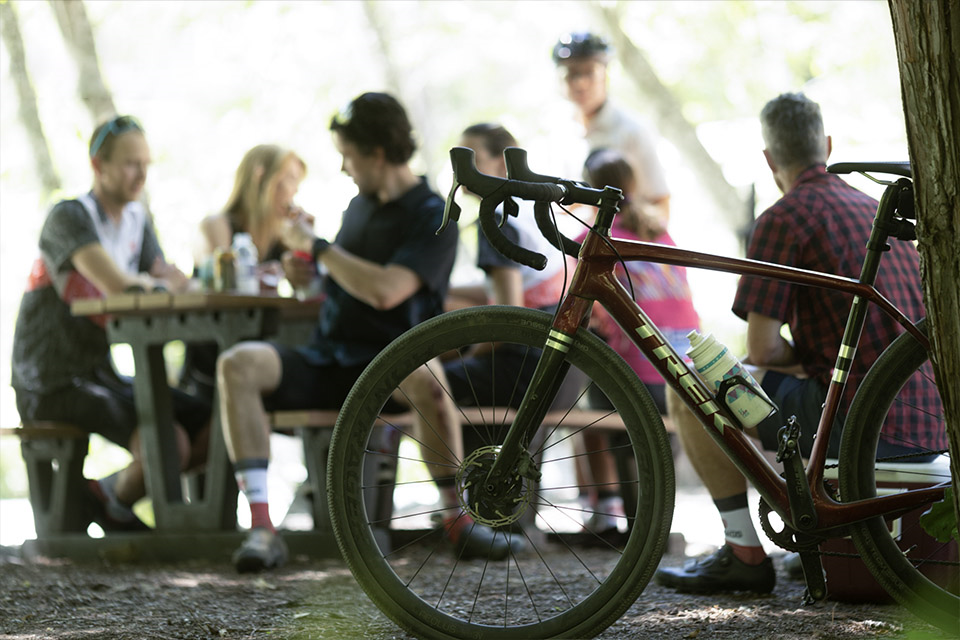 XFONDO: no ordinary cycling event
What is XFONDO? It's probably easier to start off with what it's not. Consisting of a 1 day all-terrain challenge, it's definitely not just another gravel event (but don't worry, there's plenty world class sections of that too). It's also not an event where you're a faceless member of the crowd. Riders are encouraged to get stuck in, whether its by naming sections of the course or being part of roving interviews conducted by local passionate MCs.
XFondo builds a home base at Whistler's scenic Spruce Grove Park where you can find an event village housing firepits, BBQs, music stage, lawn games and more. The atmosphere is convivial and intimate; the staff - all riders themselves - come up to you and chat, introduce others, and make you feel like you're a part of a collective; not a singular soul in a sea of hundreds but part of a movement where the only condition of entry is a say-yes campfire attitude and a willingness to cheer on others.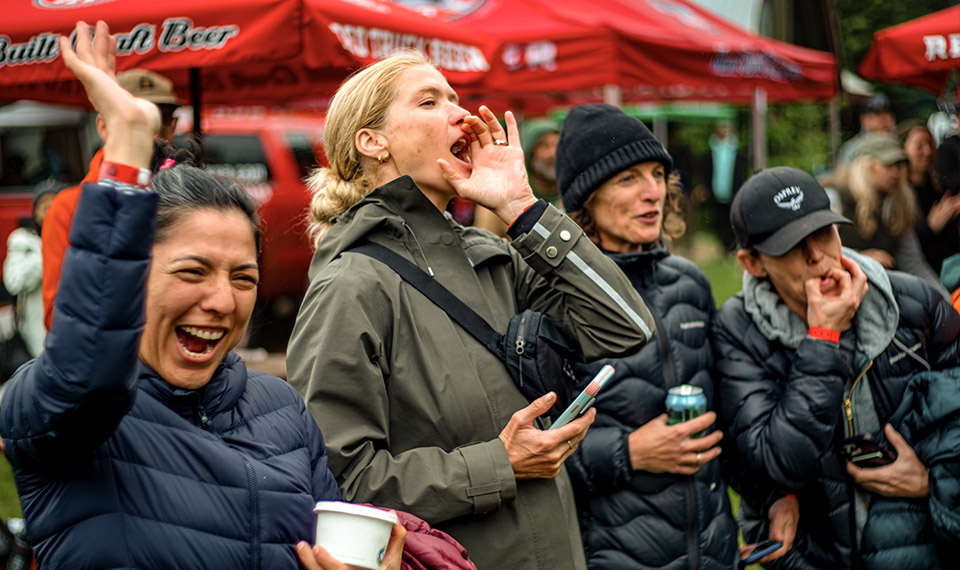 Celebrating collective achievements is the name of the game
The sport of road riding has something of a reputation for sharpness: whether it's efficiency, aero performance, tenths of watts, and so it's interesting and perhaps ironic given the irreverence that meets you throughout the day that the team behind this event come from that same world. Riders start in one of 3 waves, the inevitable catch being that it's a cleated 100m dash on foot to your bike before getting to cross the start line and its wall of cheering spectators. And for a ride that offers podium place prizing (no spoilers but last year's winners walked away with teddy bears that barely made it into some cars' trunks), you'll spend the first few kilometres on the flowing and just-plain-fun trails of Lost Lake in formation behind none other than Svein Tuft, ex-Orica GreenEDGE pro tour rider, Langley local and probably most likeable man you'll ever meet. At XFONDO, everyone's in it together.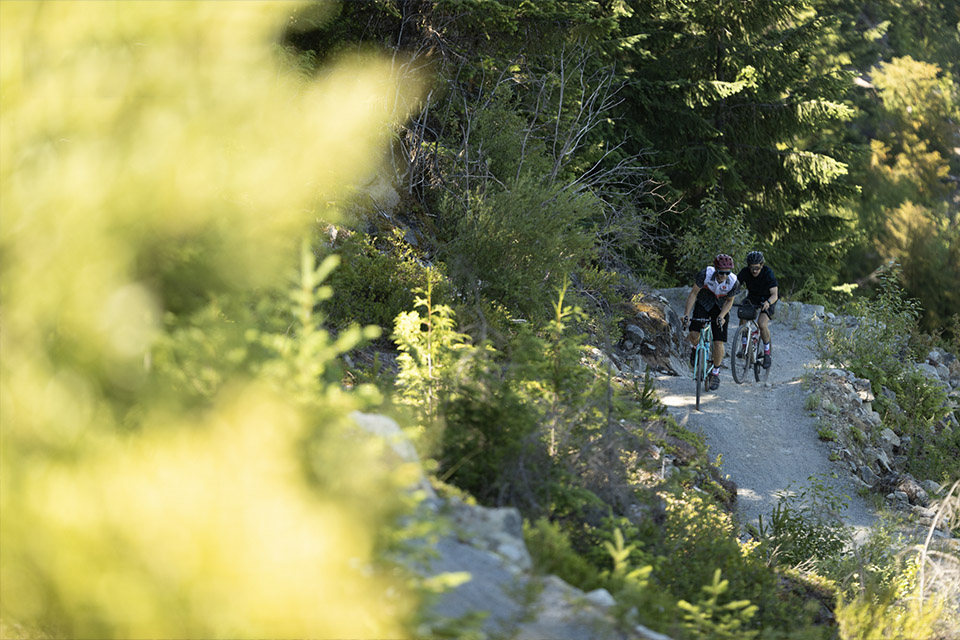 You'll make new friends riding together over unbelievable terrain that doesn't just go on for mindless hours
So what can you expect to ride at this mid-June event? All four of road, trail, gravel and dirt. And to do so, you're going to need a ride that can handle the challenge. Both gravel bikes and mountain are welcome here, but for OG roadies, a gravel steed might be the closest thing to your regular feel. You'll be grateful for the higher clearance and wider tires, and on the day the sound of the forest birdsong will be amply complimented by the chorus of damp disc brakes singing their song too. In return, you'll experience a riding day like no other.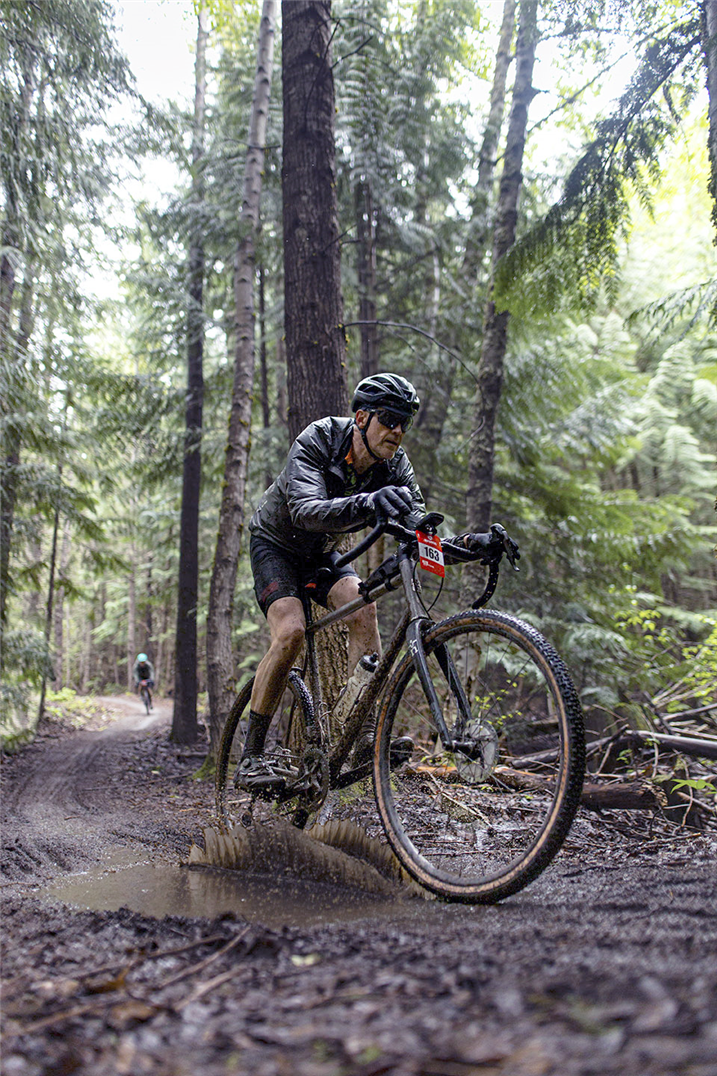 You'll get dirty but probably not bloody
Most take part for the fun rather than the timesheet, but you'll still find other competitive souls if that's your prime motivator. Riders can pick from 2 distance options named "Shorter" and "Longer", ranging between 42km and 60km. Don't be fooled by the headline low numbers though - the multitude of terrain as well as technicality and climbs involved mean you'll still be out in the woods for hours getting a full filling of your money's worth. "You'll pant, curse, and scream but finish with a shit-eating grin that would worry your mother. Then you drink beer", says their tagline.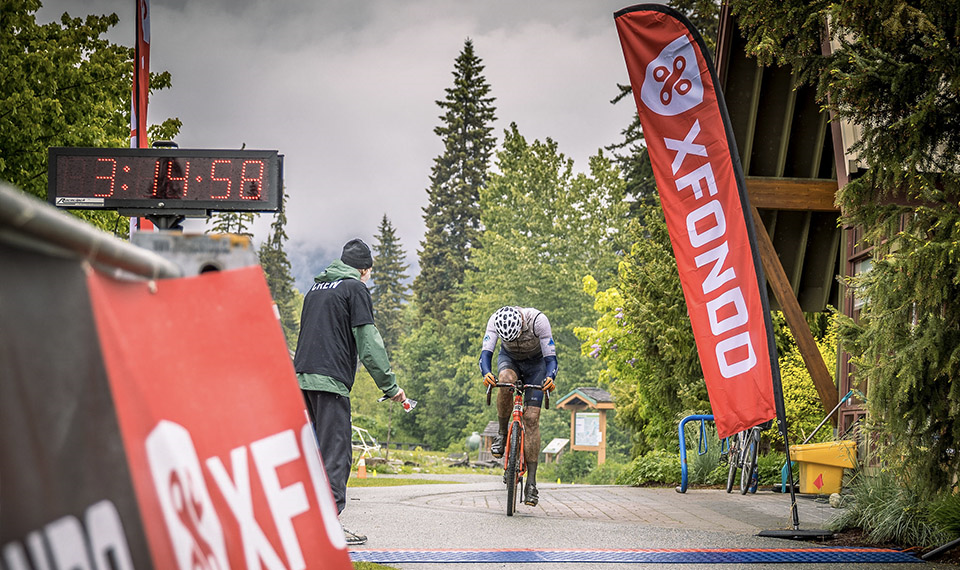 At 60km, the "Longer" course might not sound much, but it's a real test of your mettle
Speaking of which, you'll of course get the catered hot meal and cold beverage you'd expect when you park your bike up (not forgetting the provided pre-ride coffee too, caffeine fans!), but where the event also stands out is its highly selected bunch of official partners who blend local passion with values of quality. Squamish residents 7Mesh have been a founding partner, and their hosting and tryout section of the event village is known as a particular highlight.
The organizers know that nobody wants to say goodbye to Whistler in a hurry, so they've worked with local hotels to make sure riders get a fantastic rate and can enjoy the iconic village and all its fun for at least the next day afterwards. You can grab a special rate room at Blackcomb Springs Suites, minutes away from the start and right on the side of Blackcomb mountain (downhill mountainbiking, anyone?), and perhaps visit the impressive Squamish Lil'wat Cultural Centre also right next to Lost Lake to learn more about the cultural significance of the area. It's not only well worth a visit, but the following Wednesday June 21st is National Indigenous Peoples' Day in Canada, which you can find more out about here.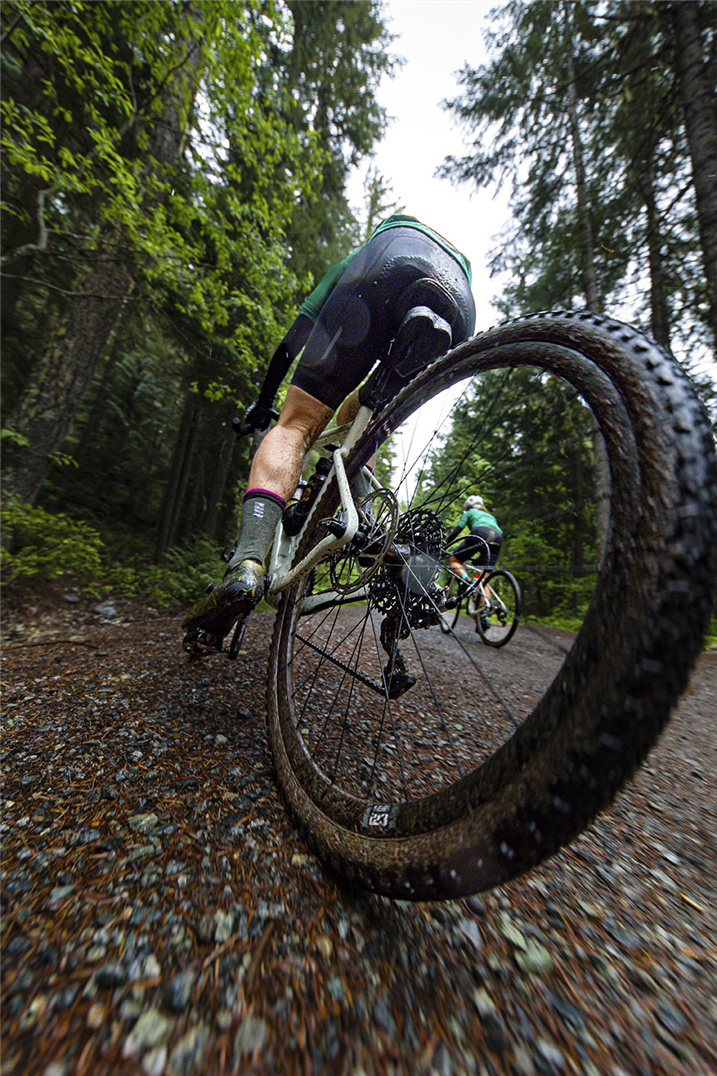 XFONDO hires photographers who know how to make you look awesome
What else do you need to know? Part of the cool factor here is that there are so many surprises you don't find out about until you're at the event. Last year riders crossed the line to find their medal was a commemorative metal drinking vessel on a lanyard - handy considering Red Truck Brewing were right there on-site - and that a ton of draw prizes were given out to the crowd simply to say thank you for being there. Did we mention the unofficial event mascot Yogi the dog who is given the credits for writing the rider guide? You get the idea.
As for criticisms, XFONDO holds a 100% rainy record. But given that last year was the first year the event took place, we think we can let the organizers off that one.
This year's XFONDO Whistler takes place Sat June 17, with limited spots remaining (capped entry of 300). Got your spot?
GranFondoGuide exclusive: Get C$15 off before April 5th, using code XFONDOGUIDE.
Event date: Sat June 17, 2023
Location: Whistler, BC Canada
To register, visit xfondo.com or go straight to Race Roster to sign up today.