7th Annual Bluewater International Granfondo opens registration
Ontario's Premier bike ride returns to the sunny shores of Lake Huron on August 6th 2023, raising funds to support palliative care
The exciting 7th annual Bluewater International Granfondo welcomes cyclists to Lambton County's Bluewaterland, starting and finishing in the City of Sarnia's beautiful Mike Weir Park.
There are four routes to choose from all of which will take in some outstanding views of Lambton County with the finish for all routes being along the stunning shores of Lake Huron. The four routes are 30k, (family) 50K, 100K, and 150K each with their own start time specifically designed to avoid mass start anxiety and allow riders of all routes to finish within a reasonable time of each other.
B.I.G. utilizes timed sections which is a format that prevents chaotic starts but still allows competitive juices to flow. This format allows all riders to receive a competition time for the timed sections (no overall time will be given) while also being able to take your time in between timed sections and regroup with friends upon completion of the timed sections.
Riders can cool off with a refreshing swim in Lake Huron prior to relaxing to a live band while enjoying a well-deserved beer or soft drink along with some very tasty food.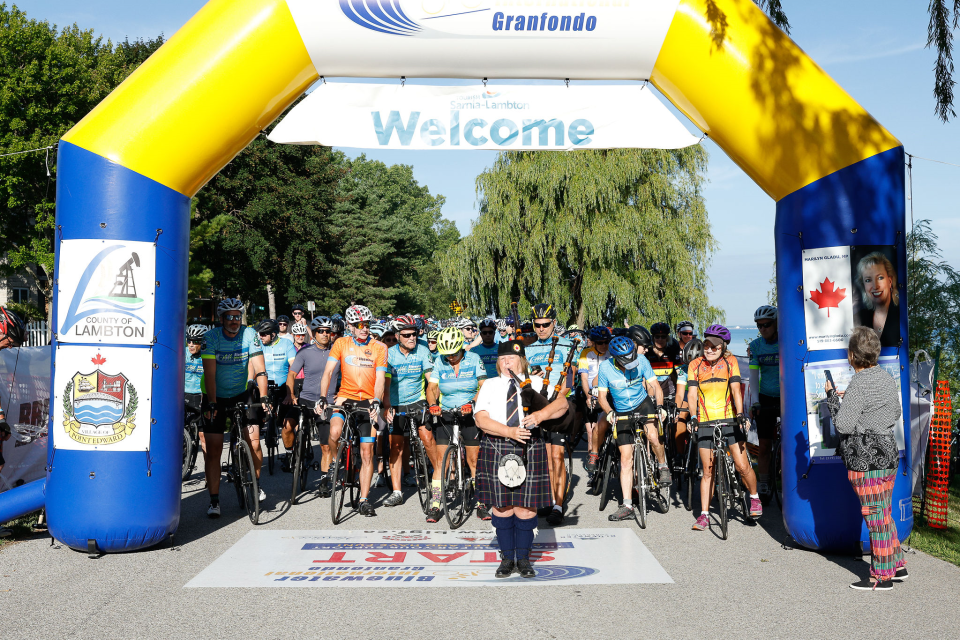 Whether you are looking to experience the enjoyment of riding on quite country roads or through thriving fruit orchards or challenge yourself on the rolling hills of Arkona you will find it all in this area of outstanding natural beauty.
The B.I.G. has been voted #1 Gran Fondo in Ontario and #2 in Canada by Gran Fondo Guide.
Entry includes; a Giordana Italian bike jersey, Mechanical support at start and on route, Four Fuel Stations on route, Timed Sections, Post ride hot food, Post ride live music, Post ride Lake Huron swim, Cowbell Beer Garden and Finishers medals.
B.I.G. is proud to continue to host the Ontario First Responder Road Cycling Championships (Fire - Police - EMS). Their ride consists of B.I.G.'s 100km route with three timed sections which can be raced to determine the fastest male and female who will be crowned champion.
OFRRCC is an excellent complement to Sunday's B.I.G. making Sarnia a special Canadian cycling weekend destination for both riders and fans.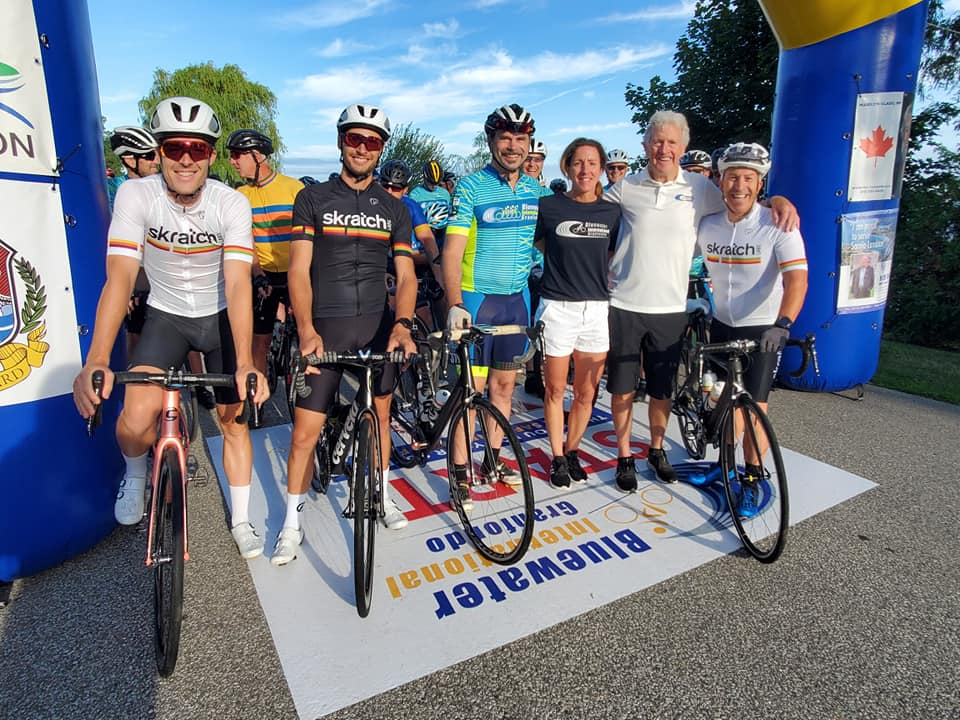 Photo: Co-founders, Ken MacAlpine and Kathy Johnson (second and third from the right) along with Phil White Cervelo co-founder at the start of the 6th annual event!
2nd B.I.G. Slow Roll!
The night before the Granfondo the streets of Sarnia will once again, be a 'Sea of Orange'. The 1st B.I.G. Slow Roll last year was a smashing success, over 500 cyclists participated and thoroughly enjoyed the route through Sarnia.
B.I.G. Slow Roll will be held on the Friday prior to B.I.G. and is a, free, community 10km bike ride designed for ages 4 - 104 and dedicated to contributing to the growth of bicycle culture in the Sarnia Lambton area.
The goal is to further cycling not only as a health initiative, but also to help enhance Sarnia's image as a cycling community.
Relax with good company and enjoy a leisurely ride!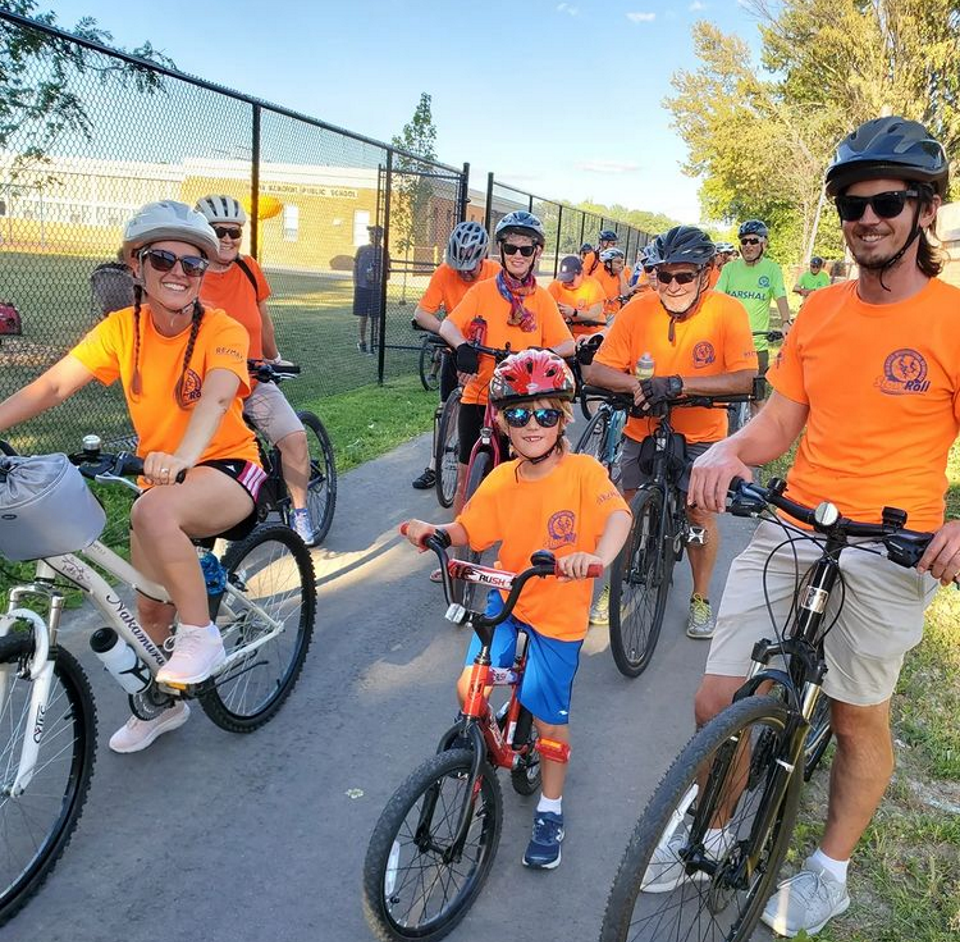 Midweek Training Rides
For 12 weeks prior to B.I.G. training/educational rides will be held on Monday and Wednesday evenings. The emphasis on Monday is assisting newer riders and Wednesday being for more advanced riders. Due to their popularity registration will be limited to 240 participants. Each participant receives a sponsored T shirt promoting the rides.
New Cycling Kit for 2023!
B.I.G. are pleased to announce their continued association with UNO Imports and Giordana Cycling Apparel for 2023. For this occasion they had a unique kit designed. EXTRA JERSEYS, BIB SHORTS and SOCKS are now available for sale at our online store when you register.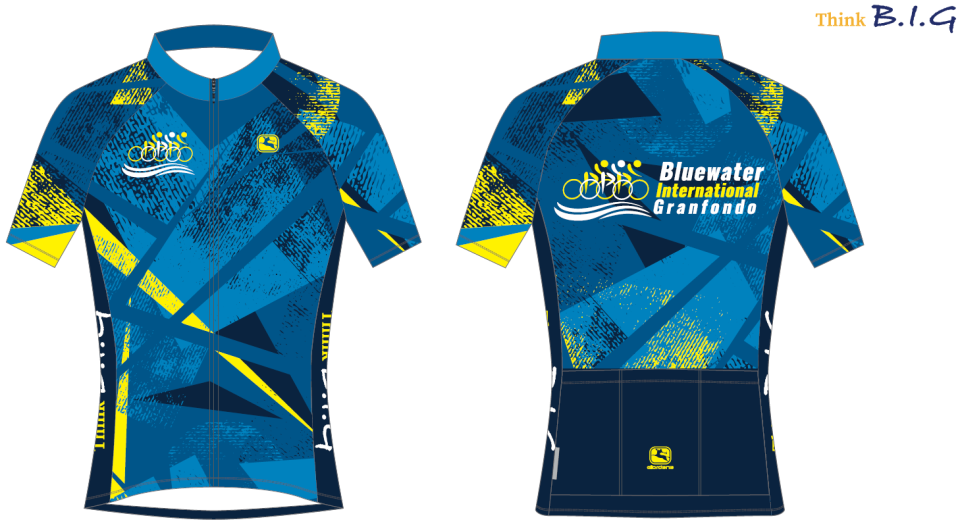 Over $350,000 Raised!
B.I.G. supports two charities, St. Joseph's Hospice and Bluewater Health's Palliative Care.
Since 2016, organizers have raised over $350,000 to support palliative care education in the community, with the emphasis being on further education of staff in the field of Palliative Care. This includes funding The Bluewater Palliative Care Retreat, a 2-day conference in Lambton County, featuring a number of world-renowned speakers in the field of Palliative Care.
Race committee chair Ken McAlpine said the money raised does a lot for the community, "We feel that we will have one of the best palliative care hospices and the best palliative care possibly in Canada and certainly Ontario."
Register NOW to Secure a Place!
Register now to secure an entry for the 7th edition on August 6th, 2023.
Since, its inception, the Bluewater International Granfondo has SOLD OUT well in advance, entries have increased to 1,200 places this year.
To avoid disappointment, register now before prices increase!
For more information, please visit: https://bigf.ca or click the button below to register.