Distances: 7, 17, 35, 54, 67, 104,126 miles
The 2022 Glassner Autumn Challenge has been tentatively planned for Saturday, October 22, 2022 on the campus of Alabama State University, pending the final ASU home football schedule.
The ride supports Montgomery Bike Club Cycling Safety Classes, Cycling Awareness Activities, and Bike Month. Pick from your choice of six routes: Historic Neighborhood Ramble (5 miles), Cruisin' in the City (17 miles), Smell the Roses (35 miles), Fabulous Fifties (55 miles), Mad Metric Century (67 miles), Capital City 100 (104 miles), or the Capital City 200K (126 miles).
We have completely redesigned the routes since 2019 touring from the Capital City and going South through Montgomery County and adding the Capital City 200K double metric century route. Who doesn't like live music? We have the Rusty Nuts band back for the enjoyment of our riders at the Rockin' the Hornets post-ride meal at the new ASU Football Stadium outside on the concourse!!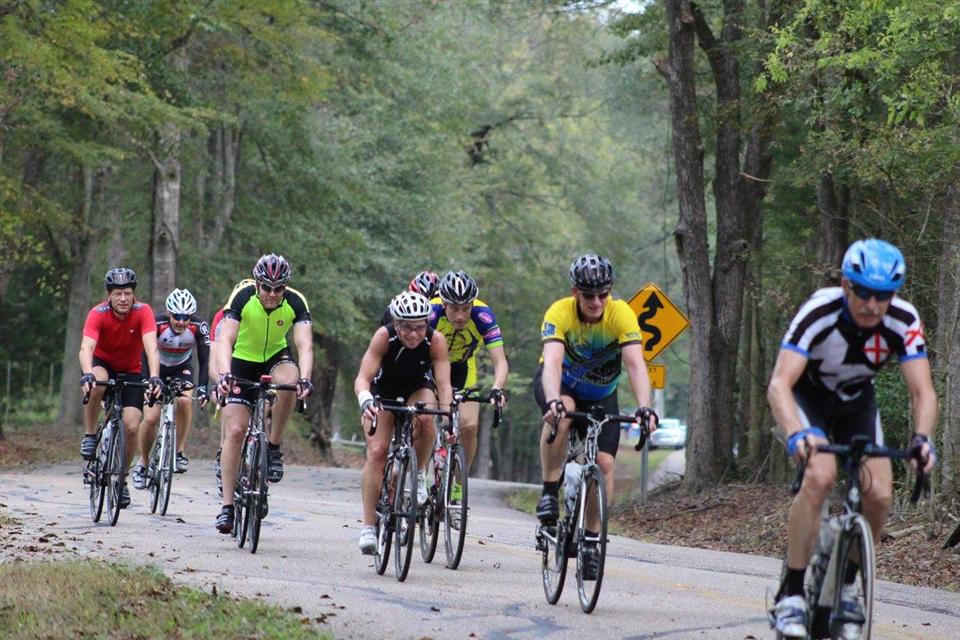 New ASU Football Stadium on Alabama State University - Pineleaf Street, Montgomery, AL 36106
BREAKFAST sponsored by Floyd Hunter
(HORNETS LOUNGE in new ASU Football Stadium on Alabama State University) - 5:30 AM - 8:45 AM

CHECK-IN AND REGISTRATION
(Concourse near Gate E) - 6:00 AM - 8:45 AM

RIDER STAGING
6:45 am - Capital City 200K Course (125.7 miles)
7:15 am -Capital City 100 Course (104.1 miles)
7:45 am - Mad Metric Course (66.5 miles)
8:10 am - Fabulous Fifties (54.2 miles)
8:30 am - Smell the Roses (34.5 miles)
8:50 am - Cruisin' in the City (17.0 miles) & Historic Neighborhood Ramble (5.5 miles)
RIDER START TIMES
7:00 am - Course opens for Capital City 200K (red road markings, 125.7 miles)
7:30 am - Course opens for Capital City 100 Century (white road markings, 104.1 miles)
8:00 am - Course opens for Mad Metric (green road markings, 66.5 miles)
8:20 am - Course opens for Fabulous Fifties (orange road markings, 54.2 miles)
8:40 am - Course opens for Smell the Roses Riders (yellow road markings, 34.5 miles)
9:00 am - Course opens for Cruisin' in the City (blue road markings, 17.0 miles) & Historic Neighborhood Ramble (blue road markings, 5.5 miles) road markings, 5.5 miles)
CHECK-OUT AND FINISH LINE REST STOP
9:30 AM - 6:00 PM
6:00 pm - Course closes, Check-out closes, and Finish Line Rest Stop Closes (This is a tentative time)
6:15 pm - Emergency contact notifications start for anyone not checked-out.
Food, Support, and Services
Arrival (5:30 AM to 8:45 AM)
Information Tent (Check-in and On-site Registration)
Restrooms all along the concourse of the new ASU football stadium and more restrooms in the Hornets Longue where Breakfast & Lunch will be served.
All you can eat breakfast buffet in Hornets Longue of the new ASU football stadium
Pancakes
Boiled Eggs
Grits
Oatmeal
Bacon
Fresh Fruit
Muffins
Coffee, Orange Juice, Ice Tea?
On the Road
SAG wagons and Montgomery County Sheriff Deputies on course for assistance. We have first aid kits and water/snacks in the SAG vehicles. We have first aid kit and mechanical bike help at the Rest Stops. If you need help, contact us using cell phone or flag down a SAG wagon, deputy, or go to a Rest Stop. We hope you have a safe, fun ride and that these people will be enjoying watching you ride for the entire day. If you need help, our SAG teams will transport you to the closest rest stop.
Call the number on your wristband for SAG support. Cell Phone coverage is uneven over much of the course. You may have to move to better coverage to complete the call. Of course, cyclists take care of each other so someone else can ride to better coverage and alert our SAG network. We have excellent HAM radio support between our Communications Center and the Rest Stops and SAG vehicles. If you need help, contact us and we will get you the help you need.
The courses are marked with signs with particular emphasis on the turns. The color of your wristband will remind you the color of the course you are on. Stay on the course and be aware of where you are on your course. Good info about where you are will make it a lot easier to find you if you need assistance! You may download the Life 360 app and it will tell us your exact location.
There will also be turn by turn course directions on color coded sheets in your registration packet. The color code on the sheet corresponds to the course and the sheets have mileages, both incremental and cumulative for your particular route. FREE spoken turn by turn directions are available to you at our Ride with GPS event page.
At the Rest Stops
Fresh fruit, munchies, Peanut Butter & Jelly sandwiches, Gatorade, Pepsi products, water, and restrooms.
Medical and tech support means "first aid" for bodies and bikes. Any medical problem even slightly serious, you need to call 911. SAG will bring you to the nearest rest stop and the rest stop people will arrange further transport, if appropriate.
If you are at a rest stop and need a ride back to the start/finish, let the rest stop volunteers know. They will arrange a ride as soon as they can, depending of course on the urgency of the situation and the availability of transport.
Come enjoy our Themed Rest Stops!
?Check-out/Finish Line Rest Area (10:30 to 6:00 PM):
Check-out: When you finish you will need to return to the check-out/sign-out so we know you have safely finished. The course will be swept after the last rider is finished. We will notify the emergency contact of any rider who has not signed out after the course is swept.
All door prizes will be handed out at the finish of the ride.
?We will take a finisher's photo for you that will be uploaded to our facebook site.
Meal: Tomato sandwiches with bacon, buffalo chicken wings and boneless chicken wings plus sandwiches donated by Beef 'O' Brady's, ice cream sandwiches, and more will be waiting for you after check-out. The New ASU Football Stadium Banquet Area is open to rest, relax, and recover after your ride!
There will be a massage therapist from Relief by Reeves available working for tips, if you are interested.
Showers
ASU has kindly offered to let Glassner Challenge riders use their showers after the ride. So, showers are available ON-SITE AGAIN THIS YEAR!
Saturday, October 24
Packet Pick-up and Registration
New ASU Football Stadium Concourse- 5:30 am - 8:45 am