THREE DISTANCES, SMOOTH AS BUTTER.
Get pumped for year three of the Spin the District Union City Gravel Grind and Gran Fondo! We've been called one of the best Gran Fondo values in the country, and so deeply has this honor touched our asphalty little hearts that we're doubling down in 2022 from what we already doubled down on. Even more weekend fun. Even more day-of challenges. Even more, more, more post-ride entertainment.
What's the road like?

Rural. Scenic. Smooth. Unpolluted. You're gonna like it.

Ride small, medium or large with our comfy Velour30, smooth-as-silk Rayon60, and fully-synthetic Polyester100.
MORE THAN A RIDE. IT'S A PARTY TOO!
We invite cyclists and spectators alike to join us in Union City after the ride for music, food trucks, and entertainment. We've got more surprises up our sleeve, so watch for updates on events (and join us on Facebook, Twitter and Instagram) as we continue to release details about the full day of fun.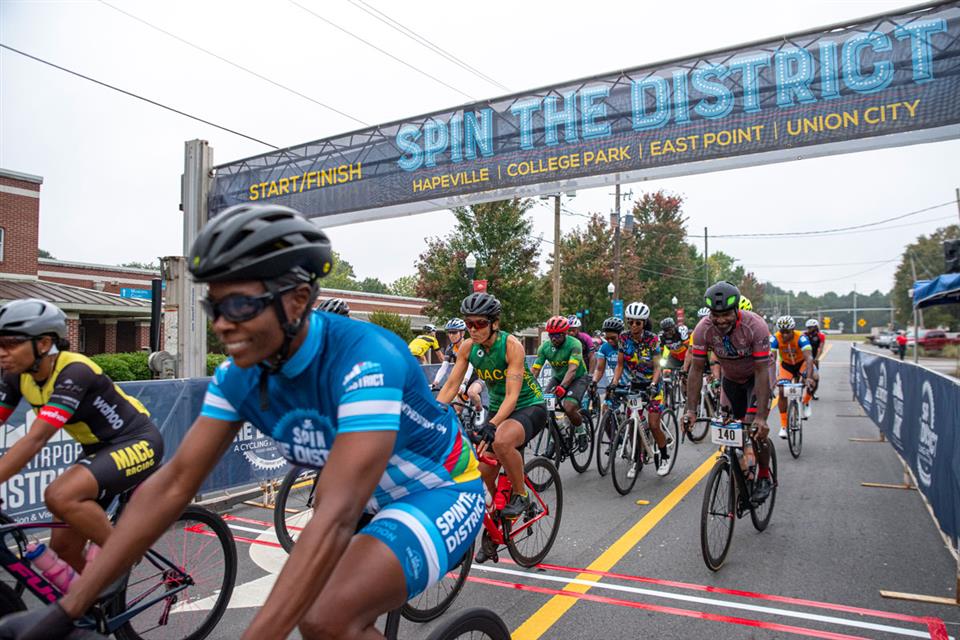 Registration Fees
Polyester 100: 100-mile road distance – $75
Rayon 60: 60-mile road distance – $60
Velour 30: 35-mile road distance – $45
60/120-mile Mixed Gravel Options available
Entry into the event, of course
Ride t-shirt and ride badge
Aid station snacks
Post-ride BBQ
Friday evening - location TBD
Saturday morning at event
Prize / Race Categories
PRIZES:
We want our Fondo participants to ride the ride the way they want to ride. Fast, slow, medium-fast, lightspeed—we're here for all of it. If you're the type to take your time, stop and smell the gravel, and really experience the route's stunning natural scenery, be our guest. All participants who complete this punishing course will receive the satisfaction of a tough job well done and an exclusive Spin the District embroidered patch. (Good luck finding either one on eBay.) If you want to skip the scenery and go for the gold, we'll cheer you on. The top three Polyester100 riders from each category will receive the patch, an event medal, and free registration for next year's event. In addition, the first-place finisher from the Time Segment Challenge, regardless of category, for both men and women will also receive a year of fame on our website and social media, and a giant, badass belt. (It won't fit through your belt loops, but your pants will stay up from sheer intimidation.)
TIME SEGMENT CHALLENGE:
Coming back for 2022 is the Time Segment Challenge for the participants of the road Rayon100 event and the mixed-surface Toughskin-Open version. The winner of each Time Segment Challenge will be rewarded a custom, giant badass belt. (Think All-star wrestling big) To win the Time Segment Challenge, you must have the fastest overall accumulative time of the segments provided for each event. See the Race Bible for full details.