ALL THE DISTANCES. ALL THE GRAVEL. ALL THE PARTY. ALL THE EVERYTHING!
Get pumped for year four of the Spin the District Union City Gravel Fondo! We've been called one of the best Fondo values in the country, and so deeply has this honor touched our gravelly little hearts that we're doubling down from what we're already double downed on. Even more weekend fun. Even more day-of funishment. Even more, more, more post-ride entertainment.
What's the gravel like?
Are you kidding right now? Georgia has some of the best gravel in the States. We may not have the five-mile climbs of Steamboat or the death shards of flint hills—and yeah, we've discussed these insecurities with our therapists—but the last ToughSkin Open route was 118-miles and over 8,000 feet of climbing, 55% Gravel & 10% Single Track, with two cat 4 climbs (You're racing in Chattahoochee Hill Country after-all) This year, we're tweaking it to be exactly that good, but also better by incorporating more gravel, more hidden ridable single track, and some badass cyclocross features. The two rides range from scenic and liberating to grueling and gnarly throughout each route, delivering a soul-satisfying ride whether you're riding for pleasure or punishment. The Denim 60 is all the Toughskin offers, just half the distance. 
Who's gonna be there?
In addition to being a blast in every way, one other thing majorly sets this event apart: the opportunity to test yourself against the best of the best in the men's and women's Toughskin-Open rides. Although our authentically rural setting requires field limits, we hold 50 additional slots open for riders who have proven their supreme mettle. (This is all covered in the Ride Bible.) So in addition to our 250 first-come-first-serve registrations, we invite riders with kickass resumes to contact us and demand special treatment. Are you out there, Ashton Lambie and Rebecca Rusch? We're waiting to hear from you!

Fun fact: John Croom, third and last year's Unbound and current 5x national track champion, has already penciled us in (assuming he's not in Europe still tearing up the velodrome. Our emotions are understandably a little conflicted - selfishly - but regardless, John is a great friend of Spin, and we're excited he's said yes
John Croom, or whoever signs up, will have their hands full with local legend John Atkins back to defend his title. 
Stay for the Weekend?
On Saturday, you'll ride until your metaphorical wheels fall off (we have SAG support for your literal wheels—it's all covered in the Ride Bible), and upon returning, you'll find the post-ride party in full swing: with food, beer, music, massages, and more. You'll be treated like royalty under our Rider Experience tent as you come down from your post-ride high. Filthy, sweaty royalty.
But this isn't just an amazing day of rides (although it is an amazing day of rides, if we haven't tortured that point enough yet). As in years past, we're planning a fun weekend for all our riders, spectators and visitors. (Think brewery tour, group rides, training seminars, etc)  In the meantime, watch for updates in the News, or connect with us on Facebook, Twitter and Instagram to keep up with the latest.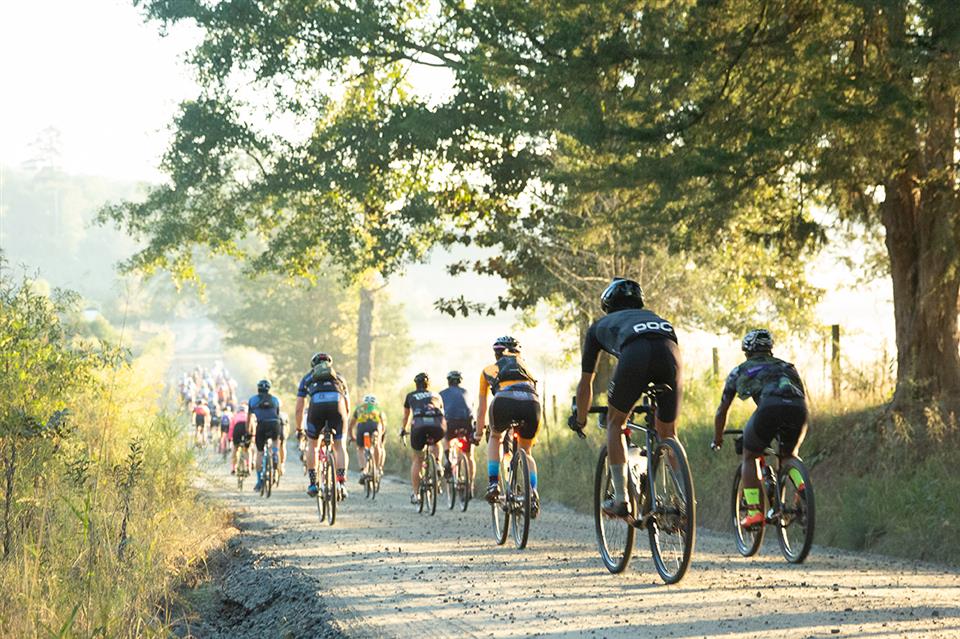 Entry into the event, of course
Ride t-shirt and ride badge
Aid station snacks
Post-ride BBQ
Friday evening - location TBD
Saturday morning of the event
Prize / Race Categories
PRIZES

We want our Gravel Grind participants to ride the ride the way they want to ride. Fast, slow, medium-fast, lightspeed—we're here for all of it. If you're the type to take your time, stop and smell the gravel, and really experience the route's stunning natural scenery, be our guest. All participants who complete this punishing course will receive the satisfaction of a tough job well done and an exclusive Spin the District embroidered patch (Good luck finding either one on eBay.) If you want to skip the scenery and go for the gold, we'll cheer you on. The top three ToughSkin-Open riders from each category will receive the patch, an event medal, and free registration for next year's event. In addition, the first-place finisher from the Time Segment Challenge, regardless of category, for both men and women will also receive a year of fame on our website and social media, and a giant, badass belt. (It won't fit through your belt loops, but your pants will stay up from sheer intimidation.)
TIME SEGMENT CHALLENGE

More challenging segments are in store for 2022 where we will offer a Time Segment Challenge for the participants of the road Rayon100 event and the Toughskin-Open versions. The winner of each Time Segment Challenge will be rewarded a custom, giant badass belt. (Think All-star wrestling big) To win the Time Segment Challenge, you must have the fastest overall accumulative time of the segments provided for each event.