Kings and Queens of the Mountains - the Vermont Gran Fondo
When it comes to climbing, Vermont came out top on Strava. It's one of the hilliest places to ride a bicycle in North America.
T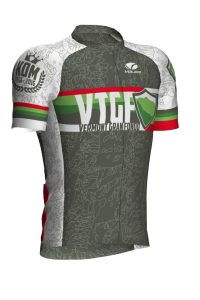 he Vermont Gran Fondo was established in 2014 as the "Green Mountains' Premier Cycling event" and named one of the U.S.'s Top 10 "Must-Do" Gran Fondos for 2016. The 3rd edition of this iconic and popular event took place on June 4th 2016, challenging hundreds of cyclists from all over the U.S., Canada and Internationally.
This year saw the Gran Fondo route tackle the Appalachian Gap, Moretown Mountain, Roxbury Gap, and Lincoln Gaps in succession. The event allowed participants to compete for the overall KOM and QOM titles, with each climb being timed. Riders on the Gran Fondo route climbed more than 10,500 feet over 105 miles making the Vermont Gran Fondo one of the toughest cycling challenges in the Northeast regions of both U.S. and Canada.
The fastest male and female riders were awarded one of eight Vermont Gran Fondo KOM/QOM Jerseys, one for each of the timed climbs.
Well done to the jersey winners and well done to the hundreds of riders who rode. As billed, this was a tough event no matter which of the 3 distances riders chose.
2016 App Gap Winners
At nearly 3 miles with an 8% gradient, the climb is rated an HC (Haute Category) 2 climb and riders climbed over 1,160 feet to the summit below Molly Stark Mountain.
Men – KOM
Patrick Luckow – 15:25
Lucas Gubinski – 17:13
Sam Stevens – 17:16
Women – QOM
Sandy Dupuis – 20:14
Joanna Wang – 21:08
Michelle Roy – 21:46

2016 Moretown Gap Winners
The Moretown Gap is a little less known climb in the Green Mountains, but with an average grade of 8% and over 730 feet of climbing, was a force to be reckoned with, obtaining a HC (Haute Category) rating of 2.
Men – KOM
Patrick Luckow – 10:22
Dan Ober – 11:47
Matt Mollo – 12:01
Women – QOM
Joanna Wang – 14:18
Sandy Dupuis – 14:18
Kristin Turon – 15:38

2016 Roxbury Gap Winners
At nearly 2.5 miles with an average gradient of 9% the Roxbury Gap packed a real punch!
Men – KOM
Patrick Luckow – 18:13
John Johnston – 18:36
David Kirkpatrick – 19:00
Women – QOM
Sandy Dupuis – 21:26
Joanna Wang – 22:24
Katy Olesnavage – 24:30
2016 Lincoln Gap Winners
Purportedly the steepest paved mile in the U.S., the timed section starts halfway up the Lincoln Gap Road climb from Warren. The 1.3 miles timed section to the top has an average gradient of 15% and has sustained gradients of up to 24% and climbs more than 1,000 feet.
Men – KOM
Patrick Luckow – 14:33
Jon Alford – 16:35
Brett Murno – 16:53
Women – QOM
Trish Vosburgh – 21:47
Joanna Wang – 23:20
Kris Turon – 25:54

Think You're Up to the Challenge?
The Vermont Gran Fondo has grown to become one of the best Gran Fondo's in the North East U.S. The course, the KOM /QOM are a serious test to any cyclist!
If you fancy taking part, then head over to http://vermontgranfondo.com/king-of-the-mountain were you can find details of the all the climbs.