Fourth annual Gran Fondo Baie Sainte-Marie ready to roll on Sunday, September 23rd!
(Saulnierville, NS - CANADA). Like lobster and spectacular ocean views? Join hundreds of cyclists and ride along Nova Scotia's enchanting Acadian Shore for an unforgettable cycling and cultural experience on Sunday, September 23, 2018! Our Gran Fondo has quickly grown to become a bucket list 'must-do' cycling and cultural experience. Now the largest cycling event in Atlantic Canada, the event hosted 917 cyclists in 2017 - and expect even more will ride in 2018! Participants registered by August 1 will receive an event jersey or t-shirt featuring a nautical theme. Early-bird registration ($99 CDN) is open until August 1st, however registration will be available up until the morning of the event. Register early and be one of the first 500 entries for a chance to win $250 Garneau cycling products!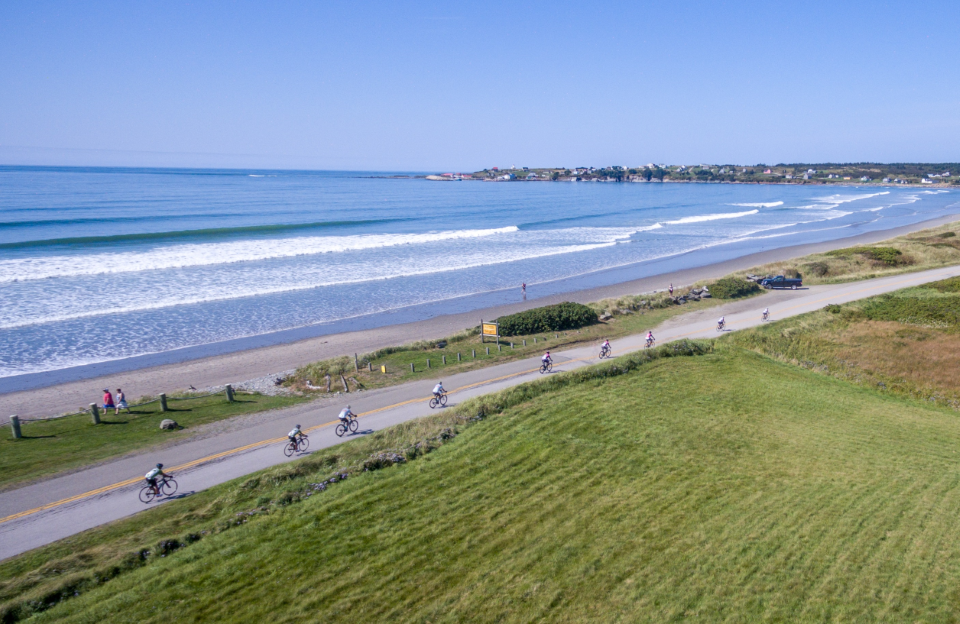 Gran Fondo Baie Sainte-Marie is offering four exhilarating rides on low-traffic roads in 2018. Experienced riders will be challenged by our 160 km Super Gran and 120 km Gran routes, while intermediate and novice cyclists may prefer the shorter 67 km Medio or 35 km Piccolo rides. Riders will navigate rolling inland roads along lakes and rivers, passing by towering wooden churches along the panoramic coastal route that hugs beautiful Baie Sainte Marie. New for 2018, a Children's ride will be offered on Saturday, Sept. 22.

VIDEO: 2018 Gran Fondo Baie Sainte Marie
Gran Fondo Baie Sainte-Marie offers a cycling adventure for community residents and visiting outdoor enthusiasts—an experience that highlights the region's Acadian culture and natural beauty. The entire community rolls out the welcome mat as residents enthusiastically cheer cyclists on from the roadside, waving Acadian flags and banging pots and pans. The finish line festivities and finisher's medals will be back for 2018. New for 2018, the names of participants will be announced as they cross the finish line. Gran Fondo Baie Sainte-Marie will appeal to those looking to ride for fun, for good health and to take on a personal challenge, all while enjoying the beautiful scenery in a safe environment. Although a timed event, this is more of a self-paced fun group event, rather than a race.
The event will start at 8:30 am Sunday at the Vélo Baie Sainte-Marie bike shop (9976 Highway 1, Saulnierville). Lunch is included and is a choice of vegetarian chilli, BBQ pork or the perennial favourite, fresh lobster in the shell. On Saturday, riders are invited to a social event for a taste of Acadian culture at the Clare Veterans Centre.
"It's an honour our Gran Fondo has been profiled in Canadian Cycling Magazine's 'Big Ride Guide' for 2018. I'd like to thank the organizing committee and our over 150 volunteers whose hard work helps to create this world class cycling experience", stated Ronnie LeBlanc, Warden, Municipality of Clare.
For more information and to register online, visit granfondobaiesaintemarie.ca/en