Phenominal growth of Gran Fondo Baie Sainte-Marie sees registration hit 1,000 riders
Cyclists advised to register now to secure a entry as Gran Fondo Baie Sainte-Marie become the largest road cycling event east of Quebec
When hundreds of cyclists zoom away from the starting line of the Gran Fondo Baie Sainte-Marie in September, organizer Louanne Doucet says you can hardly hear yourself think over the excitement.
"It feels like a parade," says Doucet. "People are jumping up and down in their lawns, cheering them on with signs, and the riders really appreciate it."
Every fall for the last four years, cyclists from all over the world travel to the tiny, predominantly French community of Clare on the shores of Baie Sainte-Marie (Saint Mary's Bay).
As of August 18, there are 937 registrations for the Gran Fondo Baie Sainte-Marie rides on Sept. 23, while 77 have signed up for the Mini-Fondo children's ride on Sept. 22.
Doucet and her husband, owners of the Vélo Baie Sainte-Marie bike shop, partnered with the Municipality of Clare to start the annual cycling event to bring more tourists to the area. They never imagined it would become such a phenomenon, and she insists it wouldn't have without the warmth and energy of the people of Clare.
"When you travel somewhere, it's how the people make you feel that stays with you," says Doucet. "The people of Clare are so friendly, they just fill the whole weekend with smiles and laughter."
Last year close to 1,000 cyclists raced in what's become the largest road cycling event east of Quebec, and Doucet says they couldn't have ordered a more perfect day.
Gran Fondo is Italian for grand tour or great distance, and the mass-start cycling ride gives participants the choice between 35k, 67k, 120k or 161k.
The cycling route winds its way through hills and valleys along the coast before dipping into forest where you ride past the tiny cottages of an old Acadian village. While the views are spectacular, they're often overshadowed by the fuel it takes to see them. Doucet says she laughs whenever one particular comment consistently pops up in their post-event surveys: "I never had to worry about food."
"It's a huge part of Acadian culture," says Doucet. "I always tell the participants 'You might be tired, you might be hot or cold, but you will never be hungry.'"
Saturday's registration event always includes Acadian music and dancing as well as fresh local seafood and servings of an Acadian delicacy: chicken fricot.
"It's kind of like a stew made from potatoes, chicken and dumplings," says Doucet. "It's a signature Acadian dish — what we'd serve at Christmas — and different Acadian regions make it differently, so it's fun to taste the different versions."
There's even a unique Acadian snack at each rest stop during Sunday's main event. Along with the water, Gatorade, fresh fruit and pretzels, cyclists can grab a handful of . . . dried fish?!
"It helps you maintain your salt intake, and people think it's neat to try it," says Doucet. "It also adds a little more local flair to the event."
When the tired cyclists finish their ride, Doucet promises they'll be greeted with a hearty lobster dinner with all the trimmings (with vegetarian chili or roast pork for those who don't like seafood).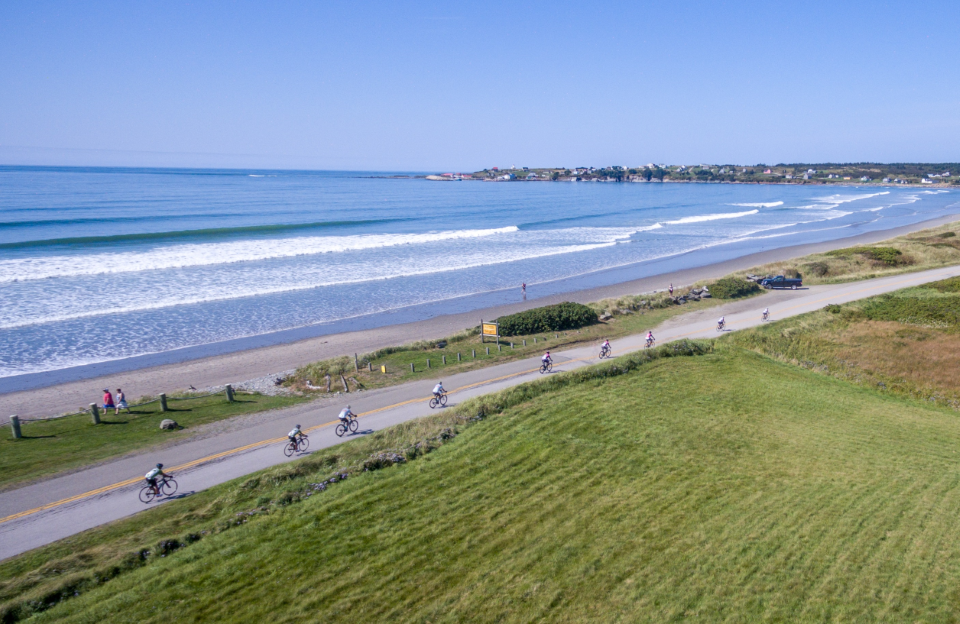 If you're traveling to Clare with a non-cyclist, they're welcome join you for the dinner for just $10. Doucet says many participants come to Clare for a long weekend — or even a full week — to experience the area's beaches, hiking trails, churches, golf courses, art galleries and restaurants.
Doucet says the Gran Fondo has even given local tourism a boost during other months of the year because participants want to practice on the real course.
"It's had a really positive impact on our community," says Doucet. "People are coming from Winnipeg, B.C., New Jersey, Alaska and even as far away as New Zealand."
Even the children are included. Doucet says they run a free day camp on Sunday so children can have a safe place to play while their parents are cycling. This is the first year they're also organizing a Mini Fondo for kids under 12. It's scheduled for the day before the Gran Fondo, and kids can choose from a 2k or 4k bike track that's free from any traffic.
While she's not able to participate in the Gran Fondo because she's busy running the event, Doucet says regularly cycles the courses all summer long and tries not to take the stunning views for granted.
"The views are beautiful, but it's really about the experience — the way we welcome everyone," says Doucet. "I still think Clare is the best-kept secret in the world."
WHAT: Nova Scotia's Gran Fondo (35 km, 67 km, 120 km or 161 km cycling courses, plus a Mini Fondo for kids on Sept. 22)
WHEN: Sunday, Sept. 23
REGISTRATION: $99 plus a processing fee. Includes a swag bag, a medal, and your post-ride meal. Bring a date to the meal for an extra $10.
For more information, please visit: granfondobaiesaintemarie.ca/en