Wow! What a Great Weekend of Cycling with Phil Gaimon!
Hillclimb World Championships p/b by MAVIC a huge victory for fun, pain, and community
Last weekend, hundreds of riders enjoyed the American Riviera, Santa Barbara, the gorgeous backdrop to the fierce climb up Gibraltar road, made famous by the Amgen Tour of California.
The very talented pro cyclist Margot Clyne (Sho Air) took part and was fastest female in the Open Pro category.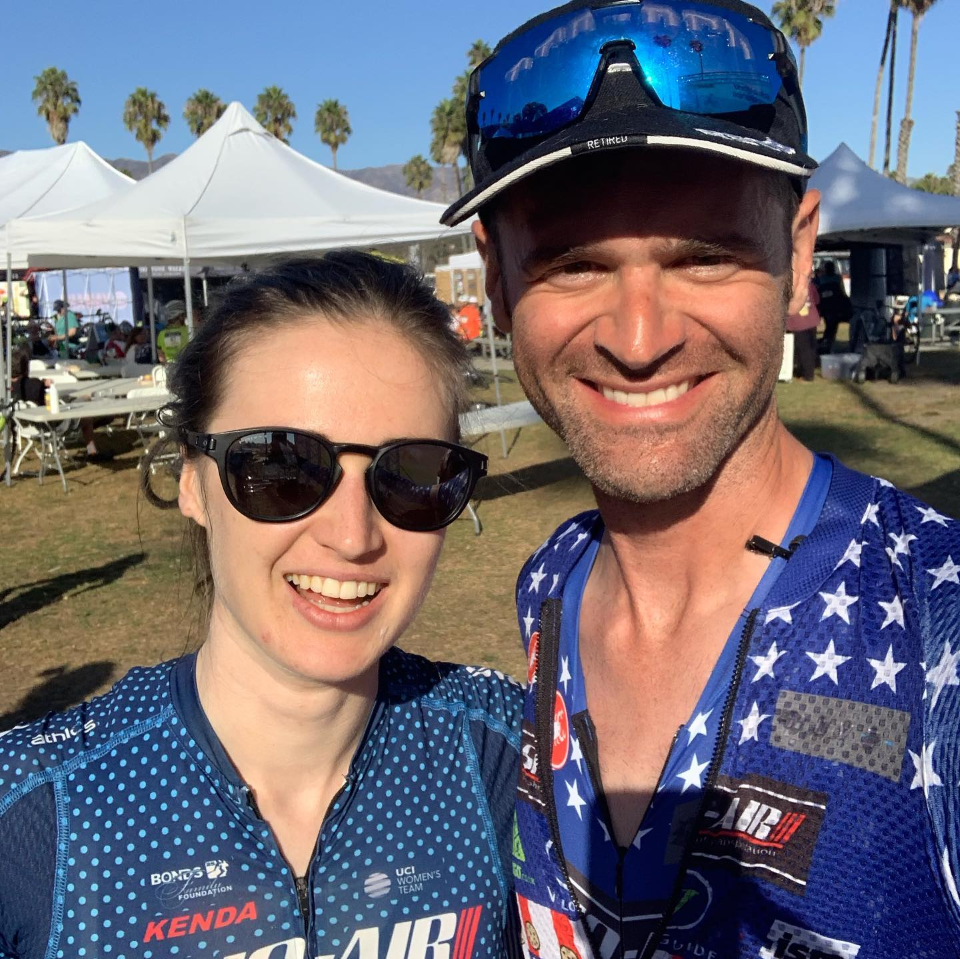 In the men's race, Phil Gaimon took a narrow victory over close rival Aria Kianii. Gaimon commented "I had to adjust a lot of plans and expectations, but after 6 weeks riding outside, I lost the 9 lbs I put on from being injured, and got my power to a decent level. Not where I wanted to be to defend at my own event in my favorite discipline, but to quote Draft Animals, you don't go to the start line because you're ready."
"It was a narrow victory for me, but a big victory for the cycling community and people who love riding uphill, thanks to MAVIC for making it happen!"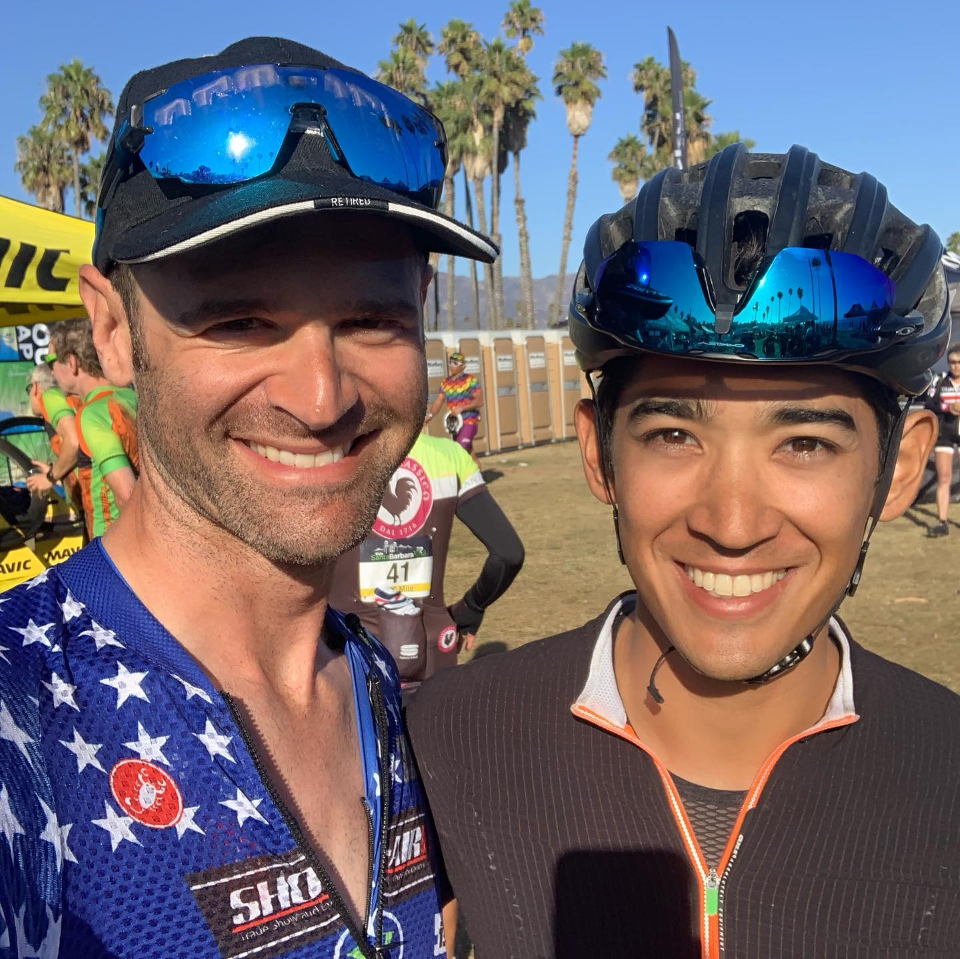 Winners, like Lorraine Kuemerle who won the fixed-gear were rewarded with a cuddle with Ben the podium puppy from the Santa Barbara Humane Society. Ben is available for adoption (with many others) if you contact them.
The Castelli World Champion jersey and medal well deserved by each champion.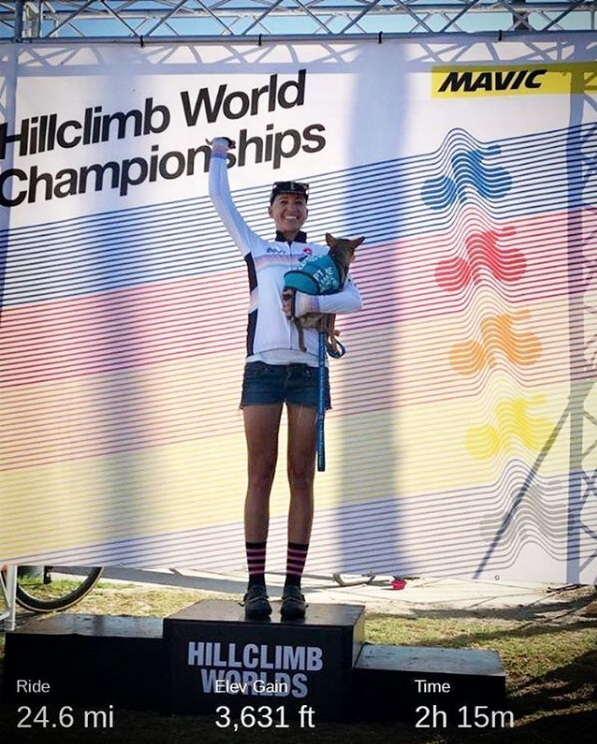 2019 Hillclimb World Championships Results
Open Pro Male
1 Phil Gaimon 29m 47s
2 Aria Kiani 29m 48s
3 Jason Pedersen 31 09s
Open Pro Female
1 Margot Clyne 40m 24
2 Maria Luz Poblete 41m 21a
3 Aimee Vasse 42m 09s
Male Overall
1 Phil Gaimon 29m 47s
2 Aria Kiani 29m 48s
3 Todd Markelz 30m 44s
Female Overall
1. Andrea Strand 39:15
2. Margot Clyne 40m 24s
3. Stephanie Bissonnette 41:00
Collegiate
1. Noah Hayes 35m 54s
Clydesdale
1. Collen Kelton 42m 20s
Fixed Gear Male
1. Zach Morvant 34m 17s
2. Scott Piercefield 37m 11s
3. Cameron Bond 39m 32s
Fixed Gear Female
1. Lorraine Kuemerle 51m 01s

Tandem
1. Jack Nosco 43m 36s
2. Dave Lettieri 43m 37s
3. Cara Applegate 44m 37s
Male 15-19
1 Tydeman Newman 35m 29s
2 Christopher Morrison 36m 31s
Female 15-19
1 Hannah Jordan 52m 37s
Male 30-39
1. David Barr 37m 42s
2. Lewis Elliott 38m 01s
3. Andrew Johnson 38m 06s
Female 30-39
1. Julianna Bednar 43m 10s
2. Lauren Yal 45m 56s
3. Tina Grant 59m 17s
Male 40-49
1. Todd Markelz 30m 44s
2. Jason Siegle 35m 13s
3. Joseph Sullivan 37m 17s
Female 40-49
1. Andrea Strand 39m 15s
2. Stephanie Bissonnette 39m 15s
Male 50-59
1. Daniel Quirk 37m 53s
2. Roger Moore 38m 02s
3. Giles Healey 43m 46s
Female 50-59
1. Jenny Slawta 44m 48s
2. Lori Hoechlin 44m 48s
3. Valerie Favrebonvin 58m 32s
Male 60-69
1. Carl Nielson 35m 47s
2. Ron Brown 37m 10s
3. Richard Mull 37m 55s

Female 60-69
1. Barbara Sullivan 43m 28s
Male 70-99
1. Wink Saville 55m 32s
2. Gary Wilkerson 1h 19m 01s
Female 70-99
1. Roberta Chatard 1h 5m 57s
Link to official results (unofficial): https://www.athlinks.com/event/325330/results/Event/888679/Course/1713131/Division/1538022/Results
For more information on the Hillclimb World Championships, please visit: https://www.hillclimbworlds.com