Register NOW for the 5th Annual Bluewater International Granfondo
The fifth annual Bluewater International Granfondo (BIGF) welcomes cyclists to Lambton County's Bluewaterland, with a start and finish along the shores of Lake Huron in Sarnia's beautiful Mike Weir Park. The BIGF is part personal challenge and part serious competition.
Voted #1 Granfondo in Ontario and #2 in Canada, the Bluewater International Granfondo in Sarnia-Lambton held off for a year, like many other cycling events amid complications due to Coronavirus.
Rated as one the Top Gran Fondo's in North America, there are now four routes of 30, 50, 100, and 150 km available to suit all abilities of cyclists.
The event has SOLD OUT for four years in a row, attracting over 1,000 cyclists. Over 500 people have already registered in advance or had their entry rolled forward from 2020.
The event will not be timed from start to finish as in traditional racing formats but instead will have timed sections.
Each route will have its own start time specifically designed to avoid mass start anxiety and allow riders of all routes to be able to finish within a reasonable time of each other.
This structure allows for the focus to be about enjoyment while allowing your competitive juices to flow during the timed sections. It also allows for regrouping with friends in between the timed sections or riding your own comfortable pace. Participants will compete in the following categories: Men/Women Individual, Masters (over 40) Men/Women, and Teams. Teams will consist of 2 riders and the team time will be based on the 2nd rider finishing each timed section.
At the finish relax to live music while enjoying a well-deserved hot meal, beer and non-alcoholic beverages followed by an optional refreshing swim in Lake Huron. Whether you are looking to experience the enjoyment of riding on quiet country roads or through thriving fruit orchards or challenge yourself on the rolling hills of Arkona you will find it in one of Canada's best Granfondos.
B.I.G. supports two charities, St. Joseph's Hospice and Bluewater Health Palliative Care with the emphasis being on further education of staff in the field of Palliative Care.
Since inception 4 years ago Bluewater International Granfondo has raised over $200,000 to support Palliative Care Education for front line workers at Bluewater Health Palliative Care, St. Joseph's Hospice as well as nurses and support workers within the community of Sarnia Lambton.
2021 Registration Now Open
Register now to secure an entry for the 5th edition on August 1st, 2021.
1,200 participants are expected, and the ride will sell out in advance of next year's dates with 500 participants already entered.
The remaining places are now limited! To avoid disappointment, register now before prices increase.
For more information, please visit: http://bigf.ca or click the button below to register.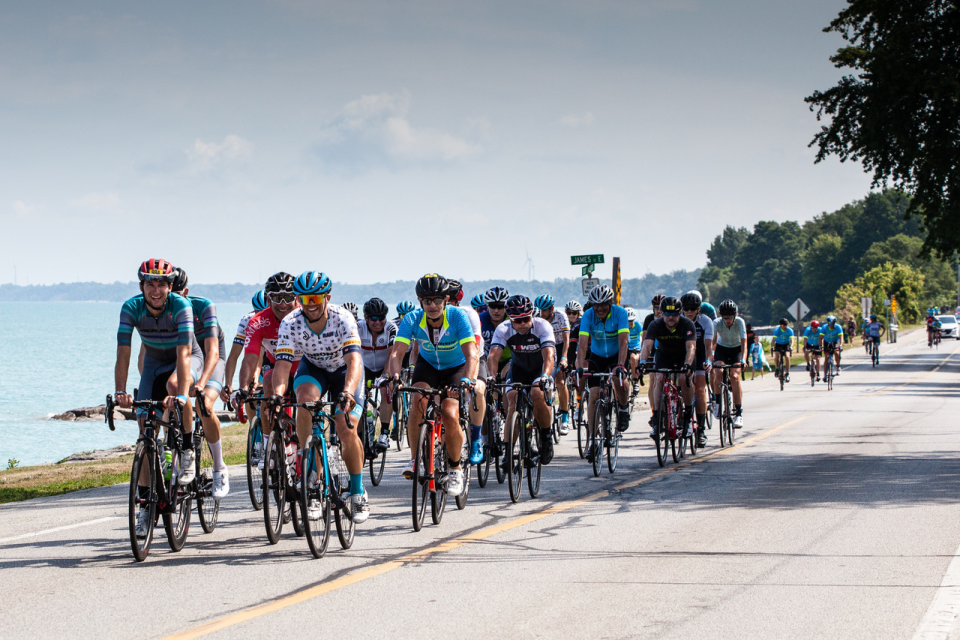 Ontario First Responder Road Cycling Championships
BIG is proud to again host Ontario First Responders Road Cycling Championship (OFRRCC).The OFRRCC will give First Responders an opportunity to showcase their dedication to the sport of cycling, while taking part in a terrific community event. The OFRRCC is open to active and retired sworn and civilian members of the police, fire and paramedic communities.
The unique format of the Championship allows the riders to enjoy a casual ride or "ride to win". Within the 100km route, there are three timed sections which can be raced for the championship. The winners will be riders who finish the 100km route and post the fastest cumulative time in the three sections. Only the sections are timed, so riders can re-group, ride together, and enjoy the support of the Bluewater International Granfondo.