The 28th Annual Cheaha Challenge is Definitely Happening!
"The focus is on having a safe, fun and enjoyable weekend," says lead organizer Brooke Nelson
"The toughest ride in the South," the Cheaha Challenge has been confirmed to take place on the weekend of May 15-16th, 2021 in Jacksonville, Alabama!
Photo: Brooke Nelson, lead organizer of the Cheha Challenge enjoys a bike ride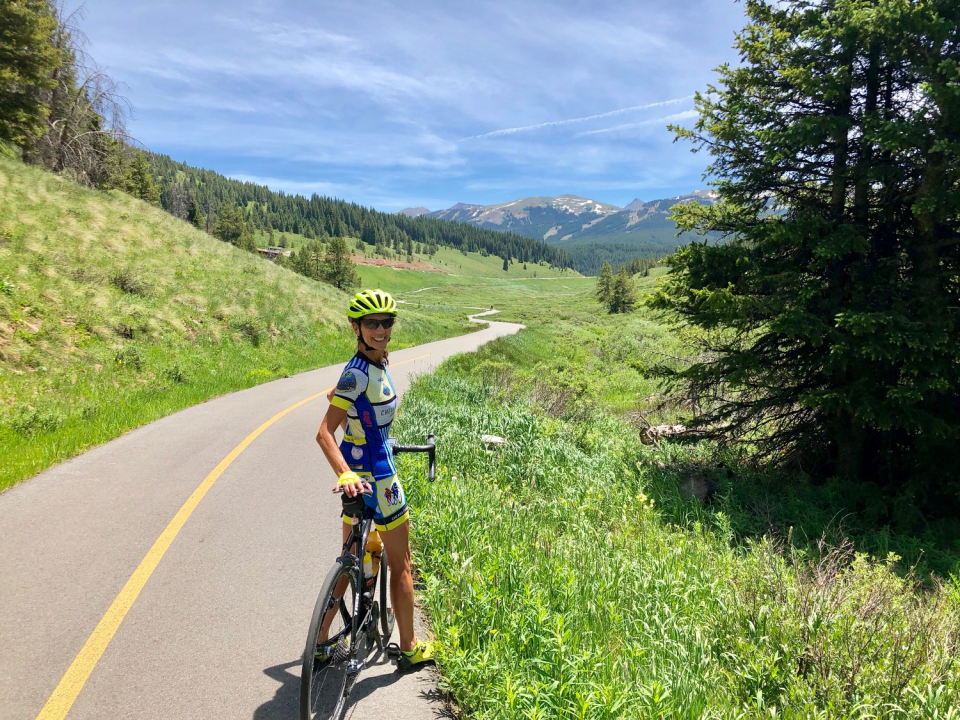 Unfortunately last year's event had to be cancelled, Brooke Nelson said reluctantly "I was devastated in 2020 when we had to cancel the event, but it was the right thing to do. We decided to offer all our registered participants the options of a full refund, defer to 2021 or donate their entry to charity."
The challenge is unarguably adored across North America and beyond as Brooke conveyed, "I was completely overwhelmed that over 74% of participants deferred their entry from 2020 to 2021. Of course we are all really excited ahead of May, it's going to be one fantastic weekend of cycling. Hopefully by then I'll be able hug people again!"
Since 1992, the annual cycling event challenges riders over Mount Cheaha, the highest point in Alabama. Brooke stated "It's a huge event for our area, the City of Jacksonville and Jacksonville State University have fully supported our return. All our sponsors have stepped up and invested even more to support our return, we are truly blessed!"
There are six routes for all abilities of cyclists and their families. For those up to the challenge of the climbs, there are routes of 24, 44, 62, 84 and 100 miles, extending up to the 126 mile Ultra with 13,492 feet of climbing!
The Chief Ladiga Cruise is kinder, gentler family style ride that offers distances of 12, 25 or 50 miles on the Chief Ladiga rails-to-trail. There will be Rest Stops on the course, which is all on the paved bike path through Alabama's countryside with Dugger Mountain as the backdrop.
All rides start and finish on campus at Jacksonville State University and already, over 650 cyclists are registered in advance, and the event anticipates breaking the registration record of 1,100 set in 2019.
"Our event is on GO! We are so excited in anticipation of holding our 28th Annual Cheaha Challenge Gran Fondo Century & ULTRA, Chief Ladiga Cruise family ride, and Time Trial the weekend of May 15-16, 2021 in Jacksonville, AL. We have missed our riders, and we are fully committed to adhering to all restrictions required of our event to keep our riders and volunteers safe. And we plan to have a lot of fun, too!" said Brooke.
The 28th edition is also confirmed as a qualifier for the 2021 UCI Gran Fondo and Time Trial World Championships that will take place in Banja Luka (Bosnia-Herzegovina) from 1st to 5th September 2021.
The Cheaha Challenge is also a qualifier for the Colnago Gran Fondo National Series. This provides the opportunity for riders who participate in Cheaha Challenge to earn Series Points and qualify for the 2021 USA Cycling Gran Fondo National Championship which is also confirmed be held on July 18th, 2021 in Asheville, NC.
Unfortunately not all cycling events will be able to return in 2021 as Brooke pointed out "My heart goes out to the organizers and riders of The Assault on Mt Mitchell. When we had to cancel the Cheaha Challenge & ULTRA for 2020, I hated to disappoint everyone. I was heartened by a fellow ride director offering a discount to our riders for his ride that was scheduled later in the year, and he actually was able to hold his event. I'd like to pay that kindness forward by offering a discount code for $10 off the current registration of our event. I feel it is vitally important to support our fellow organizers, because at the end of the day, we all just want people to be able to ride!"
"Please use discount code: 21MNTMIT to save $10 off the current registration prices."
Register NOW and SAVE!
Register now and save, before prices rise May 2nd!
For detailed information and registration, please go to: http://www.cheahachallenge.com

Photo: The 28th Annual Cheaha Challenge is Definitely Happening!