Cheaha Challenge gears up for HUGE Cycling Celebration
The "Toughest Ride in the South", the Cheaha Challenge has seen its strongest uptick in registrations in addition to the rollover of entries from last year, as it prepares for a huge weekend of cycling!
Brooke Nelson, lead organizer of the Cheaha Challenge enthused, "We are seeing an uptick in registrations from the Time Trial on the Saturday, through to the main Challenge, ULTRA and family focused Chief Ladiga Cruise on the Sunday". She continued, "This gives our whole team and the Northeast Alabama Bicycle Association HUGE confidence, as we see a decrease in COVID19 cases and an overwhelming increase of the vaccine."
"People who know me locally, know that I live just off Cheaha Road and ride the course every weekend with family and friends. I'm absolutely thrilled to see so many locals and an increasing number of out of town cyclists riding around the course. It's wonderful when you see so many people out there."
Very sneakily she stated "It's really great to see so many out there in advance training, I stop and chat, but I never divulge that I'm the ride director!"
On a serious note she said, "I feel its time for everyone to come out of hibernation and come and visit us."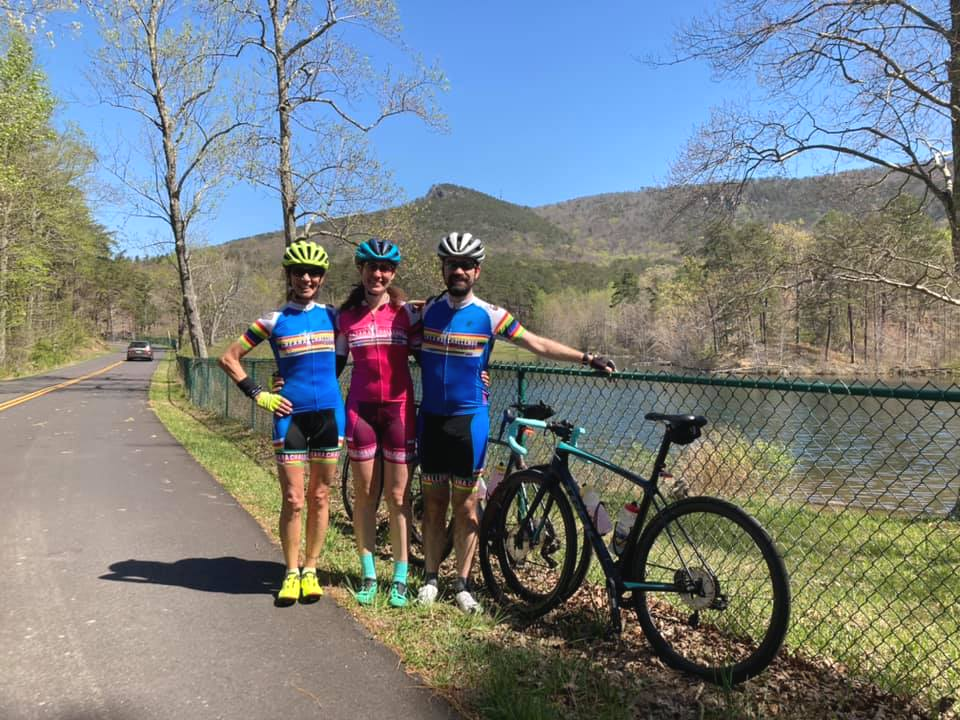 Photo Above: Lead Organiser Brooke Nelson on the left sporting the fabulous Hincapie made 2021 Velocity Cheaha Challenge Kit in Blue, with Jessie Nelson in the Raspberry Pink edition (middle) and Drew Nelson (right) in blue, out on course last weekend!
2021 Jerseys
Brooke continued, "We made a big kit order with Hincapie for those who ordered in advance. If you didn't order any, there will be some limited inventory for sale at the event on May 15-16th and there will be a post event online order made too. The online store opens up on the May 16th-30th."

There are six routes for all abilities of cyclists and their families. For those up to the challenge of the climbs, there are routes of 24, 44, 62, 84 and 100 miles, extending up to the 126 mile Ultra with 13,492 feet of climbing!
The Chief Ladiga Cruise is kinder, gentler family style ride that offers distances of 12, 25 or 50 miles on the Chief Ladiga rails-to-trail. There will be Rest Stops on the course, which is all on the paved bike path through Alabama's countryside with Dugger Mountain as the backdrop.
This huge festival of cycling takes place on the weekend of May 15-16th, 2021 in Jacksonville, Alabama, starting at Jacksonville State University, which also provides inexpensive dormitory accommodation, there's also RV camping and tent camping with 15-20 minutes of the University.
The 28th edition is also confirmed as a qualifier for the 2021 UCI Gran Fondo and Time Trial World Championships that are scheduled to take place in Banja Luka (Bosnia-Herzegovina) from 1st to 5th September 2021.
The Cheaha Challenge is also a qualifier for the Colnago Gran Fondo National Series. This provides the opportunity for riders who participate in Cheaha Challenge to earn Series Points and qualify for the 2021 USA Cycling Gran Fondo National Championship which is also confirmed be held on July 18th, 2021 in Asheville, NC.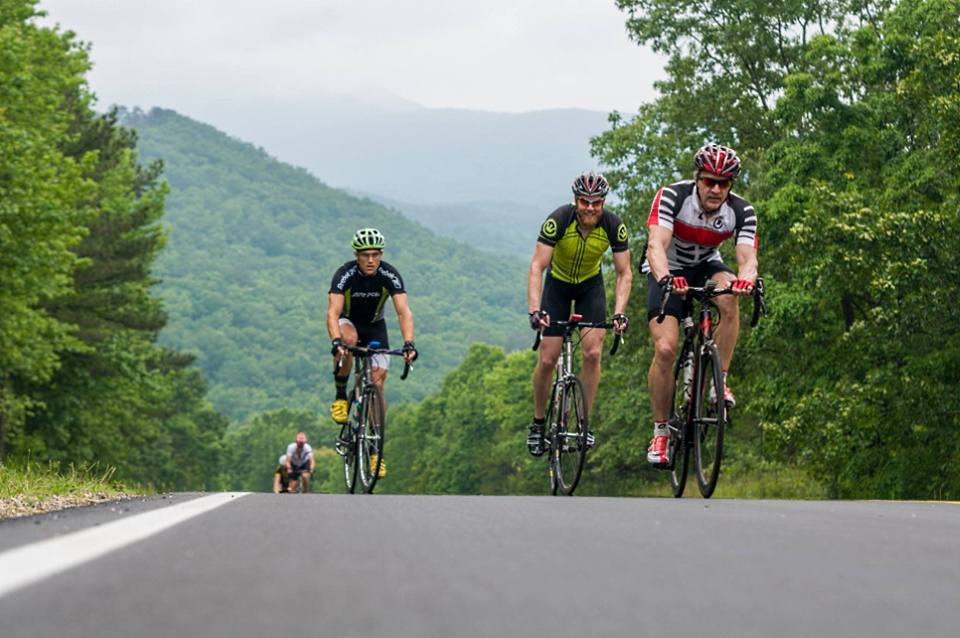 Brooke conveyed "The dormitory accommodation is super nice and good value for the weekend, those looking for a whole outdoor experience can RV and tent close by too."
"We're stoked that we can provide our FREE Sunday morning breakfast to all participants which includes everything including cereal, fruit and bagels."
"We also have the pre-ride buffet on Saturday evening (May 15) from Effina's from 5-8 p.m. at Pete Mathews Coliseum, Jacksonville, AL. Dinner buffet is $10 (discounted pricing) for both riders and non-riders, and is catered by Effina's. Buffet includes a pasta bar with multi-options of pasta, sauces, protein, vegetarian and gluten-free options, salad, bread, and dessert."
"We also have the Post-Ride Buffet by Cooter Brown's BBQ on Sunday evening (May 16) from 11 a.m. – 7 p.m. at Pete Mathews Coliseum, Jacksonville, AL. Post-Ride Buffet is FREE for all registered riders as it is included in your registration fee. Do not purchase a ticket for yourself if you're a registered rider, but do purchase for your guests at $10 for non-riders (discounted pricing). The Buffet will include barbeque, salad, veggies, vegetarian and gluten-free options, bread and dessert."
We also have a limited number of tickets left for Transport to the Top of Alabama on Sunday (May 16) to Rest Stop #4 inside Cheaha State Park at Bunker Tower. Guest can see the start of the Challenge or ULTRA and hang out at Rest Stop 4 until they see you, ring a cowbell or two, then they will be transported back in waves to the finish at Pete Mathews Coliseum. Guests will receive a goody bag with drink and snacks. Tickets are $10 per adult. Free for guests age 12 or younger. Deadline to purchase tickets is Friday, May 14 at 6 p.m., when online registration closes by I would advise everyone to book this now as it will likely sell out in advance.
"Our event is on GO! We are so excited in anticipation of holding our 28th Annual Cheaha Challenge Gran Fondo Century & ULTRA, Chief Ladiga Cruise family ride, and Time Trial the weekend of May 15-16, 2021 in Jacksonville, AL. We have missed our riders, and we are fully committed to adhering to all restrictions required of our event to keep our riders and volunteers safe.
"2 weeks ahead we will email all participants with any final health and safety guidelines, but for the most part tables will be spread out, mostly outside, with hand sanitizer at every point and probably face masks at the start."
Currently, we are expecting this May weekend to break the registration record of 1,100 set back in 2019.
"And we plan to have a lot of fun!" said Brooke.
2021 Finishers Medal
Everyone who finishes the Gran Fondo and Chief Ladiga Cruise will receive a special medal. Check out what is included in the ride registration here. There's over $3,250 in prize money with individual awards for the time trial, KOM/QOM Competitions, Century, Ultra and team awards too.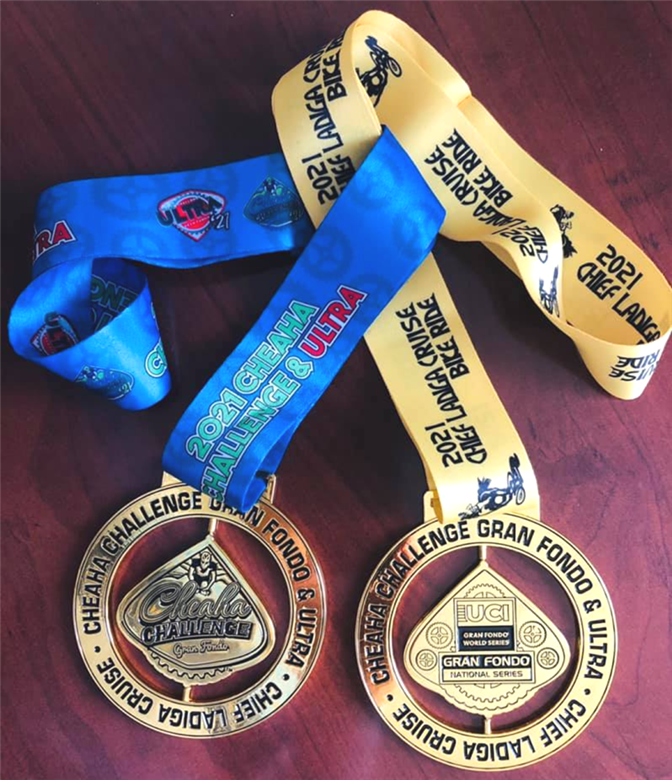 Register NOW and SAVE!
Register now and save, before prices rise May 15th!
For detailed information and registration, please go to: http://www.cheahachallenge.com