America's Finest: Cheaha Challenge draws Record Numbers this Year
Over 1,250 riders registered for all Six Challenge rides including the UCI Gran Fondo World Championships, the USA Cycling National Gran Fondo Championships and the Chief Ladiga Cruise
After the terrible pandemic, the 2019 registration record of 1,100 was broken with over 1,250 signing up as cyclists returned to roads to celebrate being outdoors together again.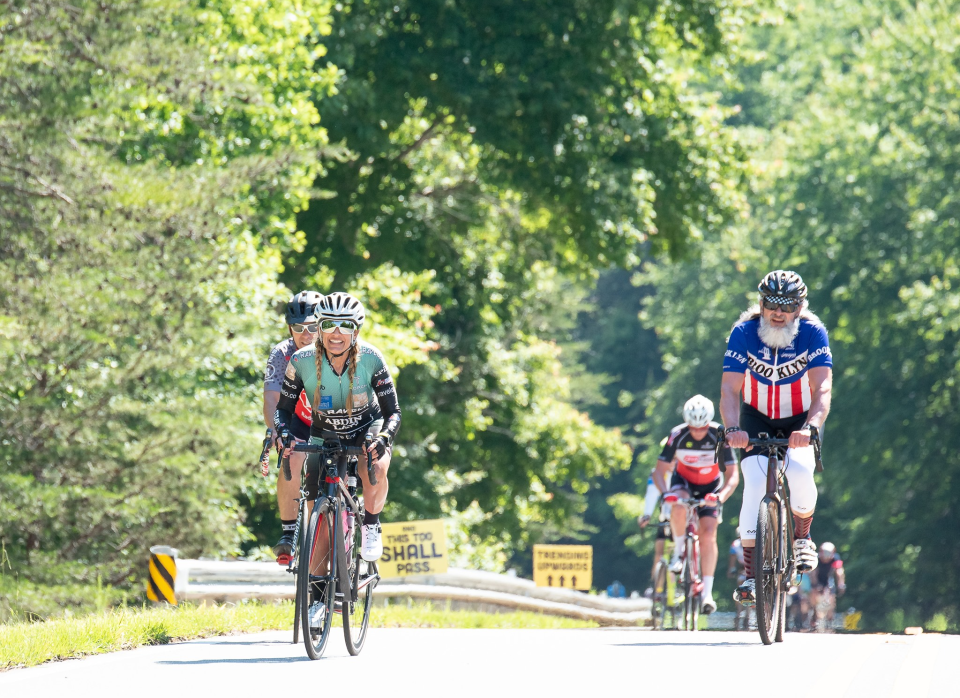 Cheaha Challenge Results
There were six routes for all abilities of cyclists and their families. For those up to the challenge of the climbs, there were routes of 24, 44, 62, 84 and 100 miles, extending up to the 126 mile Ultra with 13,492 feet of climbing!
The weekend also included the very popular Chief Ladiga Cruise ride of 12, 25 and 50 miles with riders as young as 10 up 78 years old enjoying the Chief Ladiga rails-to-trail!
24 miles overall
1st Wiley Turnipseed, Birmingham, AL - 1h 41m
2nd Derek Stipes, Moody, AL - 2h 12m
3rd Janet Standaert, Birmingham, AL - 2h 22m
44 miles overall
1st Katie Pothier, Johns Creek, GA - 2h 19m
2nd Timothy Johnson, Moody, AL - 2h 27m
3rd Dale Pitts Anniston, AL - 2h 27m
62 miles overall
1st P J Landers, Covington, LA - 3m 6s
2nd Luc Frenette Hoover, AL - 3h 14m
3rd Mike Poe Anniston, AL - 3h 15m
84 miles overall
1st Durward Higgins, Chattanooga, TN - 5h 2m
2nd Dave Labo, Saraland, AL - 5h 2m
3rd John Hodgson, Brookhaven, MS - 5h 2m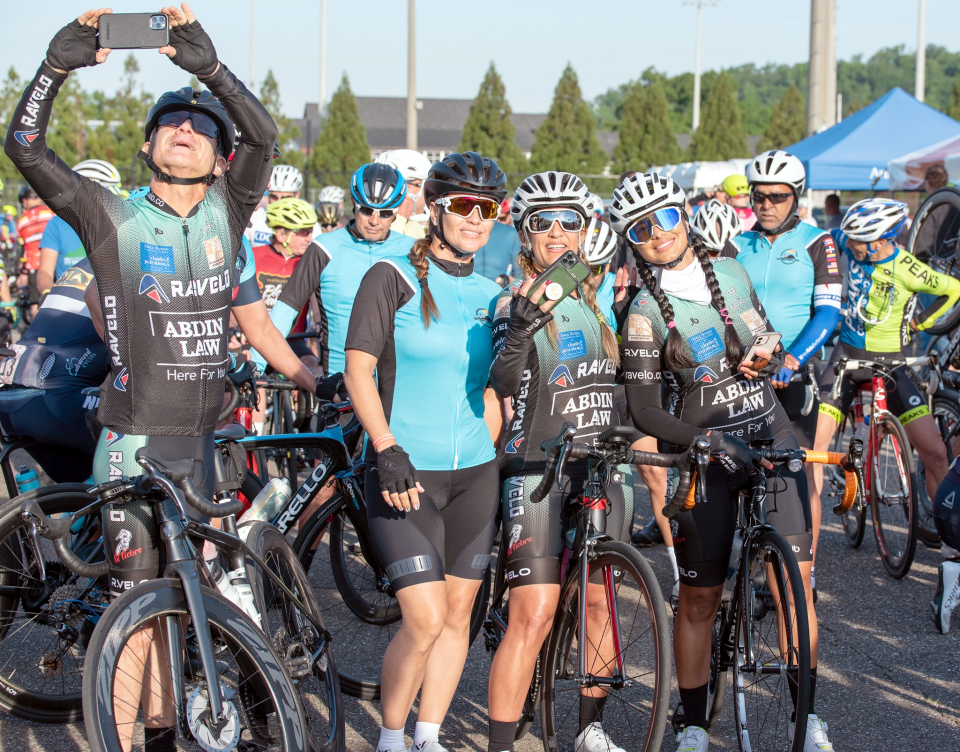 100 miles under 45
1st Aaron Boyleston, Thousands Oaks, CA - 4h 35m
2nd Ralph Buckingham, Grand Rapids, MI - 4h 35m
3rd Alex Tenelshof, Caledonia, MI - 4h 35m
100 miles under 54

1st Dan Netzer Norfolk, VA - 4h 32m
2nd Bernardo Kochen, Aventura, FL - 4h 32m
3rd Robert Binkey, Chattanooga, TN - 5h 11m

100 miles over 55
1st Brendan Sullivan, Atlanta, GA - 5h 7m
2nd Joseph Foster, Alamo, CA - 5h 8m
3rd Carlos Morejon, Apison, TN - 5h 8m
Ultra 126 miles
1st Eric Nelson, Chickasaw, AL, - 6h 15m
2nd Dado Slezak, Greenwich CT, - 6h 33m
3rd Scott Mcneil, Germantown TN, - 6h 47m
Full 2021 Cheaha Challenge Results - https://www.topviewsports.com/cheaha-21/#0_3EF1B7
For a full set of 2021 photos, please visit; https://www.facebook.com/CheahaChallangePhotos2021
UCI Gran Fondo World Championship Qualifier
It was the 100 mile century route that was the UCI Qualifier, and featured nearly 10,000 feet of climbing in the Talladega Mountains.
The time trial on Saturday was held on a 12 miles fast and straight course from Piedmont towards Jacksonville. Fastest male rider of the day was Brock Mason (GA) in the M19-34 category in a time of 24m31. Fastest female over the same distance was Leigh Ruston (TN) from the F40-44 category in a time of 29m52.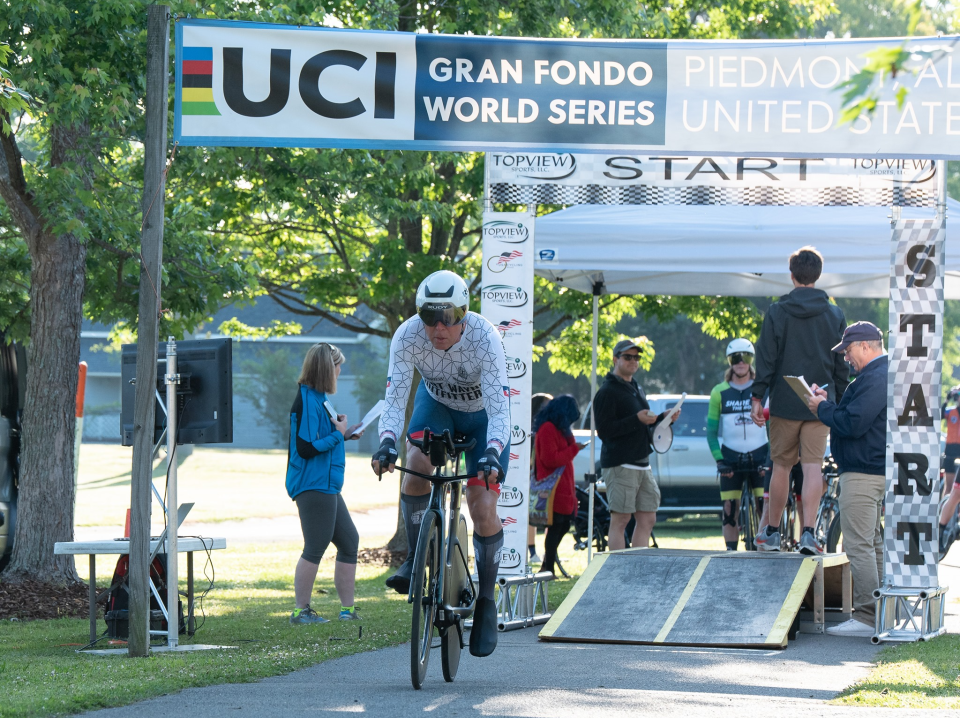 In the Granfondo on Sunday over the highest mountain in Alabama, Dan Netzer (VA) from the 45-49 age group bridged the 3 minutes gap to the earlier 19-44 start to have the overall fastest time of the day before Aaron Boyleston (CA) who won the sprint before Ralph Buckingham (MI), both riders from the M40-44 age group. Amy Phillips (TN) from the F45-49 age group was the fastest female in the century ride with time trial winner Leigh Ruston as second and Lisa Houser (LA) in third.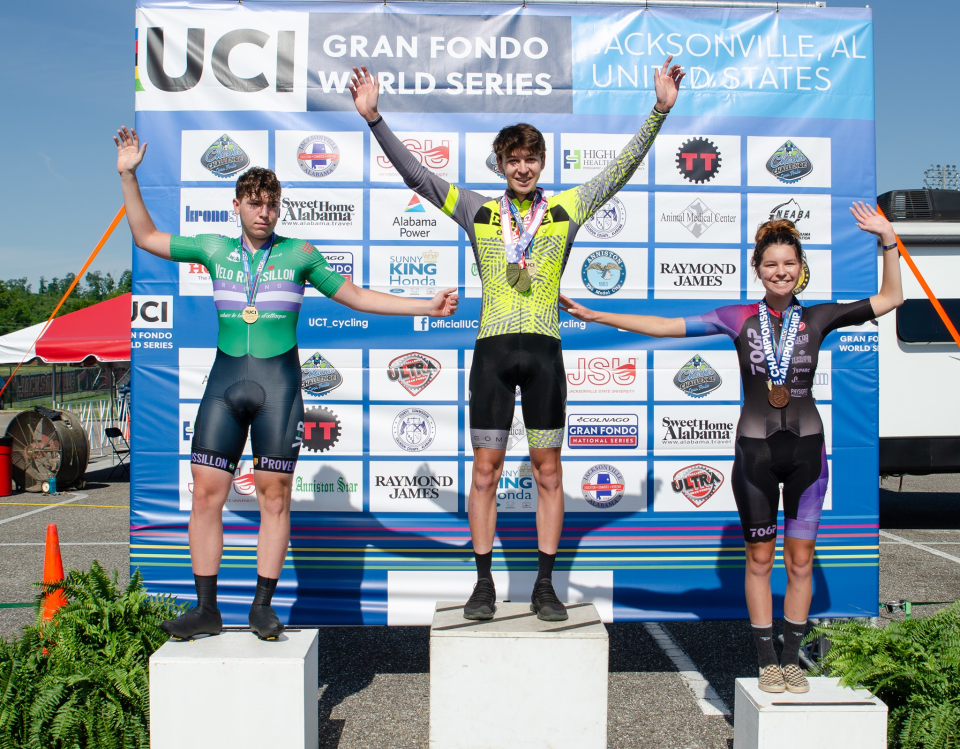 2021 USA Cycling Gran Fondo National Series Qualifier
The Cheaha Challenge was an official 2021 GFNS event. This includes an opportunity for riders who participate in Cheaha Challenge to earn Series Points and qualify for the 2021 USA Cycling Gran Fondo National Championship, which will be held on July 18, 2021 in Asheville, NC.
Scoring for GFNS points at Cheaha Challenge was determined by adding each riders' overall Start-to-Finish time with their segment-times. Age-groups for scoring were matched to GFNS age-groups.
62 miles GFNS results
84 miles GFNS results
100 miles Under 45 results
100 miles Under 54 results
100 miles Over 55 results
Full GFNS Cheaha Challenge Race results - https://my.raceresult.com/170155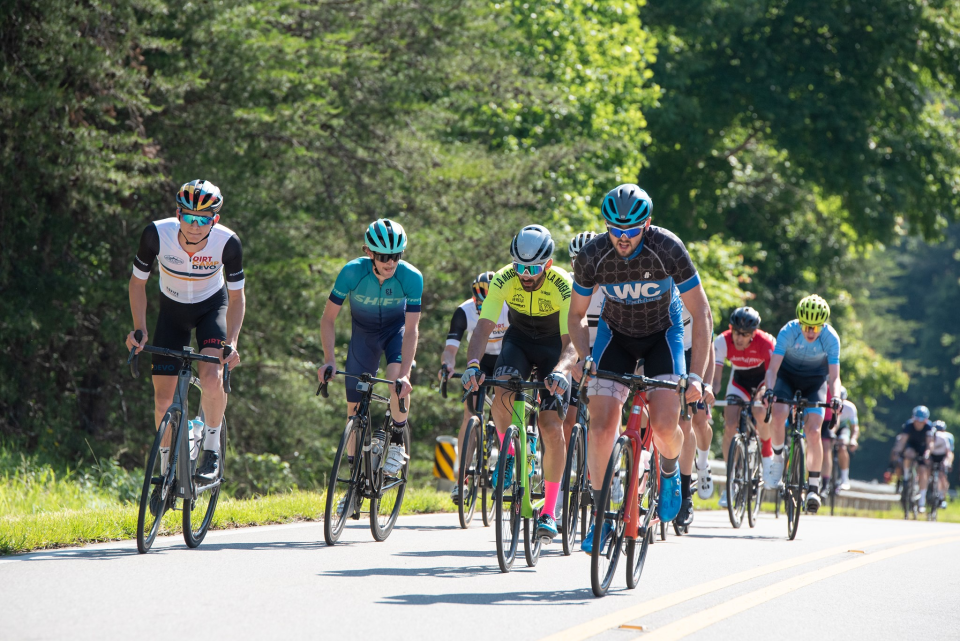 Save the Date for 2022!
The 29th Cheaha Challenge/ULTRA/Cruise/TT is the weekend of May 14-15, 2022
The 2021 Merchandise Store is now open (5/16/21 - 5/30/21): https://www.bikereg.com/50635
Order your 2021 Event Kits and/or the ULTRA Finisher kits!
Benefiting the Local Cycling Community
Proceeds from the Cheaha Challenge & ULTRA go to maintain the Chief Ladiga and Black Creek Trails as well as the Coldwater Mountain Trail.
It also funds a grant program for local High School Mountain Bike Teams.
These trails became a lifesaver for local community during the pandemic when staying local, socially distant and maintaining your mental health.
Congratulations to Brooke Nelson, the Nelson family, Jacksonville State University, the Northeast Alabama Area Biking Association, all the Volunteers and most importantly every single cyclist who showed up and rode their heart out.